This is the TDMST Weekly Round-Up of news affecting professional truck drivers, written by Vicki Simons for the week ending April 6, 2019.
We welcome your comments, thoughts and feedback on the items of your choice below.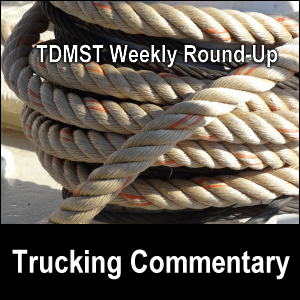 1. Regarding "Drug and Alcohol Clearinghouse":
Numerous articles this week addressed a federal "clearinghouse" of "truck drivers who have failed or refused a drug or alcohol test" (link).
The articles ranged
from saying that drivers have been "asked" to register for it
to saying that drivers "need" to register for it in order to "apply for driving jobs".
You may read more here and here.
In response to this article about the clearinghouse, I wrote on one truckers' Facebook group:
Quote from the article: "The Federal Motor Carrier Safety Administration (FMCSA) has set out new rules that will require truck drivers to register with a federal database before they are allowed to change jobs."

This is another layer of bureaucracy that I feel is going to hurt truckers and keep the trucking industry in a position of want.

Some folks may ask, "What's so wrong with requiring truckers to register with the FMCSA's Commercial Driver's License Drug and Alcohol Clearinghouse?"

… My two-cents' worth:
1. What other job/industry in the entire USA has to undergo this kind of registration?
2. How is registering with this database going to keep anyone from using drugs or alcohol?
3. How will the database be monitored — and how easily will false or inaccurate information be corrected?
4. What percentage of truck drivers have been found guilty of using drugs and/or alcohol while driving compared to the general public?
5. How will this make the roads any safer?
6. How much is this bureaucracy going to cost the taxpayers?
7. How much time will it take truckers to go through whatever red tape is involved with this beyond the time it takes them to get a DOT physical?
2. Regarding Hours of Service regulation:
Numerous articles about the Notice of Proposed Rulemaking regarding the Hours of Service regulation have been published recently, including here, here, here and here.
3. Regarding autonomous trucks:
A March 29, 2019, article stated, "DTNA's Roger Nielsen and Torc Robotics' Michael Fleming announce the companies' partnership to develop SAE Level 4 self-driving technology within a decade".
Meanwhile, it was reported on April 3, 2019, that hackers have identified two methods of tricking Tesla autopilot technology into "driving into wrong lanes or towards oncoming traffic."Until autonomous vehicle manufacturers develop some kind of "hack-proof" system of operating vehicles, this technology isn't going to go far.
4. Regarding detention at the U.S./Mexican border:
According to an April 3, 2019, article, truckers have been "facing 12 hours of gridlock at [the U.S./]Mexican border crossing", which has been "blamed on staffing problems after the U.S. Department of Homeland Security reassigned 750 border crossing workers" elsewhere.
The article further stated that price spikes and even food shortages could result from this reassignment issue.
The ATA has estimated that a "a total border closure would cost trucking $18 million per day."
One article addressed the "System-Wide Failure" associated with this situation.
Other articles citing statistics regarding trucks and commerce affected by the border situation are here and here.
Let's hope a total shutdown doesn't occur.
5. Regarding truck tolls:
According to an April 3, 2019, article, "The American Trucking Associations is appealing a federal judge's decision to dismiss the group's lawsuit against Rhode Island's truck-only toll plan."This was also reported here.
Meanwhile, we read in an April 2, 2019, article that New York is the "first city to introduce 'congestion pricing' for cars and trucks" and "Trucking groups are already calling for New York officials to provide them with exemptions to the congestion pricing."
6. Regarding idling:
Truckers, how would you feel if your idling was controlled by someone or something else?It came as a surprise to me to read about a product that provides for "remote management of idle reduction".
Meanwhile, we learn that "New York City residents can earn thousands of dollars [25% of the fine] by reporting idling trucks and busses to city officials."
7. Regarding truck corrosion:
Here's the first of a two-part series about fighting truck corrosion.
And here's the second part about truck inspections being critical in a preventive maintenance program.
An interesting quote from the second article reads, "corrosion will eventually eat through components on any steel structure".
What does that say about bridges made out of steel?
And speaking of bridges…
8. Regarding a bridge collapse and many bridge deficiencies:
On Monday, April 1, we read that "a railing from a bridge collapsed onto I-75 at the I-24 split" in Chattanooga, Tennessee.This bridge railing collapse was also covered here.
This article, this one, and this one have highlighted the problem with 47,052 structurally deficient bridges across the USA, some 1,100 miles of them.Is it going to take multiple fatalities following bridge collapses for these bridges to be fixed?
9. Regarding out-of-service violations:
An April 3, 2019, article stated, "The Commercial Vehicle Safety Alliance (CVSA) has updated their out of service criteria" and then listed the changes that went into effect April 1.
I couldn't help but laugh out loud when I read that one of the violations was the "driver's seat" being "missing".
How is a driver supposed to drive without a seat being in place?
How many drivers install a "temporary seat" instead of a permanent one?
Other articles about this are here(a), here and here.
10. Regarding state trooper's common sense lessons:
There's a short, no-nonsense video from embedded in a March 29, 2019, article from Colorado State Trooper Josh Lewis about what the left lane is for.
You may search the Colorado State Patrol Facebook page for videos to share to encourage others to drive safely.
11. Regarding cell phone GPS navigation:
OK, a March 29, 2019, article shed some light on why it seems that more and more truckers are winding up on up on non-truck routes (and consequently having problems):
Local authorities say that "drivers following their cell phones map intended for passenger vehicles are becoming more of a problem."
So, truckers aren't necessarily buying passenger vehicle GPS units for use in their Commercial Motor Vehicles (CMVs), but rather they're using the maps and GPS systems on their cell phones!
Truckers, don't use any non-CMV GPS system on your cell phone because
it does not have truck routing and
therefore, it is not intended for use by Commercial Motor Vehicles.
Trucking companies, if you are smart, you will
immediately institute a rule forbidding non-CMV GPS use in your trucks; and
make sure that your drivers all know how to use a truckers atlas for navigation!
12. Regarding safe drivers and honored drivers:
We appreciate the hard work of all professional truck drivers.
We further applaud
those who have been recognized for safe driving; and
those who have gone above and beyond the call of duty.
Please see those listed in these articles:
Great going, one and all!
My husband Mike and I wish you — and all professional truck drivers — safe travels and lots of money saving opportunities on the road.
---
---
Return from TDMST Weekly Round-Up: 2019.04.06 to our TDMST Weekly Round-Up Trucking Commentary or our Truck Drivers Money Saving Tips home page.
---
Reference:
a. www.landlinemag.com/Story.aspx?StoryID=73995 (no longer online)
b. www.landlinemag.com/Story.aspx?StoryID=74003 (no longer online)