This is the TDMST Weekly Round-Up of news affecting professional truck drivers, written by Vicki Simons for the week ending March 2, 2019.
We welcome your comments, thoughts and feedback on the items of your choice below.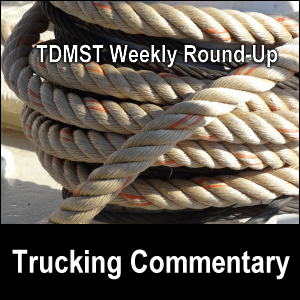 1. Regarding trucker pay:
According to a February 28, 2019, article, "Owner-operators in 2018 on average earned $65,360 in take-home pay for the year — a record-high income for a segment that saw a big boost from strong economic growth and robust per-mile rates."
The article provides more income info broken out by segment.
2. Regarding regulation and politics:
In the news this week were the following:
From a February 27, 2019, article, we read that bills introduced into both chambers of Congress "would allow CDL holders under the age of 21 to cross state lines and drive in interstate operations."Another article about this is here.OOIDA has "fired back" about bills that would lower the age of truckers.(a) (See also this article.)
Rep. Collin Peterson (D-Minn.) is preparing to file a bill dubbed the Small Carrier Electronic Logging Device Exemption Act "to allow small carriers, including single-truck owner-operators, to forgo use of electronic logging devices and return to using paper logs".What surprises me about this is that after this legislation was filed last year, it gained 33 Republican co-sponsors.Why didn't one of the Republicans introduce the bill and why did no other Democrats co-sponsor it? Hmm…Another article about the ELD roll back bill is here.
For those "professional truck drivers [who] have had assets seized" in state property seizures, the report about the Supreme Court's ruling that they can't be "excessive" may be good news.(b)But then again, "excessive" wasn't defined.Hmm…
An article reported that the FMCSA has confirmed that changes are soon coming to the Hours of Service regulations.
However, we learned from a February 27, 2019, article that "none of the Federal Motor Carrier Safety Administrations (FMCSA) top administrators have ever held a commercial drivers license."Hmm…
"More than 500 communities in the U.S. employ the use of red-light or speed cameras to nab drivers who disobey traffic rules, the Insurance Institute of Highway Safety reports", according to a February 26, article.(c)
Following a move to try to authorize the use of 33-foot trailers, "another coalition, which includes the Owner-Operator Independent Drivers Association, sent a letter urging Congress to oppose any such legislation".(d)Another article about this is here.
The "Administrator of the Federal Motor Carrier Safety Administration (FMCSA) said the agency prefers the deployment of safety technologies instead of adding more regulations in order to achieve greater levels of safety on U.S. roadways", according to a February 26, 2019, article.Do you agree?
3. Regarding operating as a trucker in California:
"Swift is reportedly ending its arrangements with leased owner-operators based in California", according to a February 25, 2019, article.
4. Regarding snowy, icy and treacherous driving winter conditions:
Please drive safely and if it is dangerous to drive, park safely until it is safe to travel.
Numerous articles this week have reported problems that truckers have encountered in winter weather:
5. Regarding truck recalls:
"Paccar has issued a recall of thousands of semi trucks for a clutch defect that could increase the risk of a crash", stated a February 26, 2019, article.
The article included the model numbers of Kenworth and Peterbilt trucks affected.
6. Regarding the "move over" law:
Illinois state troopers plan "to use semi trucks to conceal squad cars so that they can catch drivers who don't move over", according to a February 25, 2019, article.
Just so you know, the article further stated, "Troopers warn that violating Scott's Law means drivers will face a mandatory court appearance and can come with a fine of up to $10,000."
7. Regarding mandatory detours:
After a landslide or mudslide happened on I-24 north of Nashville, Tennessee, officials at first indicated that the interstate would be closed for "at least a week".
Separate articles here and here stated that the road would be closed until March 15.
8. Regarding GPS problems:
What kind of GPS unit (manufacturer, model and year) was the trucker using and following that led him to drive out "onto a frozen-over lake in Minnesota" where he could have fallen through the ice?
Another article about this is here.
I've never heard of even a passenger car-type GPS unit causing that much of a routing error.
If you know the answer to this question, please contact us to provide some answers.
Thanks.
9. Regarding trucker training:
OK, is it a good thing or a bad thing for C.R. England to double-up trucker trainees in their trucks?
A video embedded in a February 23, 2019, article shows how a third bunk has been installed in one of their trucks, allowing 3 people to ride at a time.
Will trainees learn faster from each other or is England attempting to earn money faster at trainees' expense (since only one person can drive the truck at a time)?
The trainer has to sleep sometime.
Hmm…
If you're a student driver or trucker who has been trained in such a set-up, please contact us, as we'd like to interview you.
10. Regarding technology:
According to a February 21, 2019, article, "Dash cam footage not only provides evidence of what happens on the road, but it can also enable safety managers to identify at-risk drivers with poor driving habits."The article also says that dash cams "protect drivers from false claims when accidents occur" and provides "5 tips to help you facilitate more effective driver coaching programs with the help of dash cams".
If only the semi that was run off the road and overturned had had cameras installed on his truck, he might have been able to identify the logger who was responsible.
11. Regarding safety as a trucker:
"Heavy and tractor-trailer truck drivers had the largest number of fatal injuries of any industry in 2017, according to the Bureau of Labor Statistics", stated a February 15, 2019, article.
Do you agree or disagree with the "7 ways to create and maintain a culture of safety with your drivers" listed in the article?
Do the tips go far enough?
Please comment below.
12. Regarding smuggling near the border:
If you drive a tractor with a hollow air deflector and you're traveling anywhere near the U.S./Mexican border, always inspect the space inside it for unintended riders.
As the photo of an X-ray embedded in a March 1, 2019, article shows, "While inspecting the truck, a Border Patrol agent detected two individuals hiding in the windjammer [air deflector] above the truck driver's head."
In this particular case, "the truck driver is a Mexican national who is the in the U.S. legally", but all three people were arrested "on charges related to human smuggling".
Don't become an unwitting accomplice to human smuggling.
13. Regarding cellphone use:
Does it matter to you which "Roads [had] the highest observed cell phone use by commercial drivers in 2018″?
14. Regarding taxation:
According to a February 27, 2019, article, "this tax season [truck drivers and trucking companies] are facing the most far-reaching changes in tax law since the 1980s, thanks to the December 2017 tax code legislation."
The article lists "five questions to answer before filing taxes this year".
Some truckers prefer to use the services of a competent tax professional.
Just saying.
My husband Mike and I wish you — and all professional truck drivers — safe travels and lots of money saving opportunities on the road.
---
---
Return from TDMST Weekly Round-Up: 2019.03.02 to our TDMST Weekly Round-Up Trucking Commentary or our Truck Drivers Money Saving Tips home page.
---
Reference:
a. www.landlinemag.com/Story.aspx?StoryID=73822 (no longer online)
b. www.landlinemag.com/Story.aspx?StoryID=73826 (no longer online)
c. www.landlinemag.com/Story.aspx?StoryID=73815 (no longer online)
d. www.landlinemag.com/Story.aspx?StoryID=73809 (no longer online)