This is the TDMST Weekly Round-Up of news affecting professional truck drivers, written by Vicki Simons for the week ending January 12, 2019.
We welcome your comments, thoughts and feedback on the items of your choice below.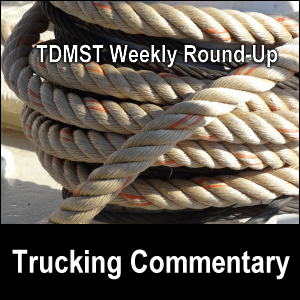 1. Regarding last mile delivery driverless vehicles and delivery robots:
A January 9. 2019, article stated, "The Continental Urban Mobility Experience (CUbE) combines a robot-taxi with package delivery robots to reduce idle time during non-peak hours".
The video embedded below shows how an Anybotic quadruped robot dog "walked" off a delivery van, navigated its way to a customer's front door, rang the doorbell, and dumped a package a bit roughly both sideways and upside down.
Another article about this is here.
Watch for more of this type of innovation to come into the marketplace in the future.
Here's another article about "last mile" delivery service.
2. Regarding shippers, receivers, and detention:
By way of background regarding unfair treatment of truckers:
Back in 2013, I provided commentary about "shippers/receivers who insist on putting conditions in their terms that personally penalize truckers for late arrivals and missed appointments"; and
In my October 10, 2018, Comments to FMCSA on Hours of Service, I included a link to a February 7, 2018, article that stated, "the U.S. DOT has concluded that time spent detained at shipper or receiver facilities cuts truck driver pay by between $1.1 billion and $1.3 billion annually."
A January 6, 2019, article reaffirms these points:
"A new survey found that an increasing number of truck drivers are so frustrated with working with grocery retailers"; and
"Zipline surveyed workers from approximately 150 trucking companies and found that 77% of carriers say that they have become much more selective about what shippers and carriers they are willing to work with since the ELD Mandate went into effect."
Shippers and retailers are going to have to improve their trucker customer service regarding:
queuing freight to be shipped,
loading the freight on trucks (shippers), and
unloading the freight from trucks (receivers).
And if that includes using robotic systems like those described in the preceding point, so be it.
3. Regarding ZANZEFF (Zero and Near-Zero Emissions Freight Facilities) and electric trucks:
According to a January 9, 2019, article,
"Kenworth and Toyota are collaborating to build and place 10 fuel cell electric trucks into operation in the L.A. basin as part of a grant program from the California Air Resources Board"; and
"The new truck configuration on display at CES requires only 12 kW of battery power and is capable of achieving a range of 300 miles."
Separately, we read that "Peterbilt [added a] third model to [their] electric truck lineup" and that the "Model 220EV has a 100-mile operating range".
So, obviously, these trucks are not meant for over-the-road use and my initial concern about electrification of the truck for trucker use has been allayed.
However, I am still concerned about in-truck comfort in these fuel cell-powered trucks during summer heat and winter cold.
4. Regarding labor law violations in California:
A state law enacted last September requires the posting of drayage carriers that have committed "labor law violations against their drivers" including "wage theft and misclassifying company drivers as independent contractors", says a January 8, 2019, article.
The last paragraph of the article cites California state law as reading, in part, "California's port drayage drivers are the last American sharecroppers, held in debt servitude and working dangerously long hours for little pay."
Other articles about this are here(a) and here.
Good!
It is time for truckers to stop being exploited.
5. Regarding autonomous trucks:
During the 2019 Consumer Electronics Show (CES) in Las Vegas, "Daimler Trucks North America (DTNA) … introduced updates to Freightliner's flagship Cascadia tractor that will enable SAE Level 2 automated driving", stated a January 7, 2019, article.
The article provides specifics that are were summarized as, "Level 2 automation means the truck can accelerate, decelerate and steer independently."
Another article about this is here.
Separately, an "Autonomous Vehicle Coalition" has been formed to educate people about safety and compliance.
And TuSimple plans to "increase the number of trucks in fully autonomous operation [in Arizona] from 11 to 40 by June of this year."
6. Regarding truck accidents:
I was distressed to read about a farm tractor operator who died from his injuries after a semi truck driver rear-ended him because the trucker was distracted by reaching for a "dropped electronic cigarette".Please don't let anything distract you from the task of driving.
A preliminary accident report from the Florida Highway Patrol revealed that a recent "fatal crash on I-75 near Gainesville, Florida, that claimed seven lives was likely started when a truck driver moved left out of the right lane and collided with a passenger car".Two truck drivers were among the 7 people who were killed.Please pay attention to your lane control and be sure that you have proper clearance before changing lanes.
A Texas trucking company was required to pay a substantial fine after one of its trucks overturned and spilled 1,000 gallons of a foaming agent chemical that led to a "major fish kill".(b)Interestingly, the chemical that killed the fish is used in "shampoos, and other bath and shower products", which means that it doesn't support good health.Just saying.
7. Regarding truck parking:
A January 4, 2019, article stated, "A group of midwestern states are launching a new system [called Trucks Park Here] to give truck drivers access to real time information about truck parking availability".
I'm wondering
when this service will be available in other parts of the country (especially in the northeastern USA) and
when more truck parking will be added when it becomes apparent that all (or the vast majority) of current nearby truck parking spaces are filled on an ongoing basis.
8. Regarding per diem changes in the federal tax law:
Land Line Magazine published the following on January 7, 2019:(c)
The Owner-Operator Independent Drivers Association is asking congressional leaders in both the House and Senate to make sure the new tax law's elimination of the ability of employee drivers to deduct 80 percent of up to $63 in daily expenses for meals on the road won't result in those drivers "sending more of their hard-earned money to Washington."
Good!
9. Regarding tolls:
The governor and lawmakers in the state of Virginia have proposed "tolls for [the] I-81 corridor", states a January 9, 2019, article.(d)
The article states specifics: "If the proposal follows the plan adopted by the transportation in December, trucks will be tolled at 15 cents per mile from 6 a.m. to 9 p.m. and 7.5 cents from 9 p.m. to 6 a.m. Other vehicles will be tolled 7.5 cents per mile during the day and 5 cents during nighttime hours."
Hmm… This will require either the construction and operation of tolling gantries or vehicles to install an electronic tolling device similar to a PrePass unit.
Another article on this topic is here.
You may follow all legislation on OOIDA's website here.
And, separately, Pennsylvania's "annual toll increase" went into effect on January 6, 2019.(e)
10. Regarding idling regulations:
The American Transportation Research Institute (ATRI) recently updated their compendium of "state and local idling regulations".
The fines for violations can be stiff.
11. Regarding load transparency and owner-operators:
A very interesting article about "load transparency" reveals that 49 Code of Federal Regulations part 371.3 states (in part) that "carriers [have] the right to know [from brokers] what the shipper has paid for any load".
Separately, I found two articles:
12. Regarding trucker exercise:
An article in a trucking publication about being able to get the exercise you need in only 7 minutes did not take into account the facts that:
a "chair" with sufficient room nearby is required for at least two of the exercises (and based on the exercise descriptions, a trucker's seat won't do); and
a "wall" and/or hard, flat surface are required for doing other exercises.
Please use your own best judgment regarding doing physical exercises for health and wellness.
13. Regarding truck fuel:
I'd previously known about CNG and LNG, but then I read a January 8, 2019, article about how "RNG" ("renewable natural gas") is to be used in California ports.
Huh!
I found a short, helpful video about RNG on this website.
My husband Mike and I wish you — and all professional truck drivers — safe travels and lots of money saving opportunities on the road.
---
---
Return from TDMST Weekly Round-Up: 2019.01.12 to our TDMST Weekly Round-Up Trucking Commentary or our Truck Drivers Money Saving Tips home page.
---
Reference:
a. www.landlinemag.com/Story.aspx?StoryID=73545 (no longer online)
b. www.landlinemag.com/Story.aspx?StoryID=73569 (no longer online)
c. www.landlinemag.com/Story.aspx?StoryID=73561 (no longer online)
d. www.landlinemag.com/Story.aspx?StoryID=73574 (no longer online)
e. www.landlinemag.com/Story.aspx?StoryID=73543 (no longer online)