This is the TDMST Weekly Round-Up of news affecting professional truck drivers, written by Vicki Simons for the week ending April 22, 2017.
We welcome your comments, thoughts and feedback on the items of your choice below.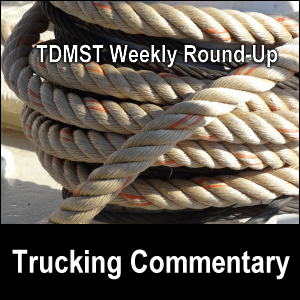 1. The focus of the "annual 72-hour International Roadcheck inspection blitz" — to be conducted by the Commercial Vehicle Safety Alliance (CVSA) from June 6-8 throughout North America — will be cargo securement.
Some tips to help you prepare were provided in this April 21, 2017, article, which stated, "Brakes and hours were the top out-of-service violations in 2016."
2. An April 20, 2017, article stated that "Women and Men Leave Truck Driving Jobs for Different Reasons", and then gave the "top 15 predictors of turnover for women drivers".
3. "Landstar System's Gary Buchs … [has] worked out a system that dictates which loads he chooses, based on his annual goals for earnings and downtime", according to an April 19, 2017, article.
If all owner-operators begin to implement his system, will it lead to a change in the trucking industry?
4. Of the "5 Regulations That Affect Your Trucking Business the Most" — according to Team Run Smart's April 19, 2017, article — which one affects (or will affect) you the most and why?
Please share.
5. Do you use or are you thinking about using aerodynamic wheel covers on your tractor or trailer or both?
Be aware that there could be "unintended negative consequences … [and] … unexpected increases in maintenance and operational costs."
Read the April 2017 article for more info.   6. When it comes to organizing things on your Smartphone, which app do you prefer:
Wunderlist (as showcased in an April 18, 2017 article),(1)
Trello, or
a different app?
7. Who or what are responsible for the death of a cyclist: the box truck driver or a combination of "mixing zones", blindspots and a "deadly traffic signal design flaw"?
I'd like to know: Whatever happened to the "No Zone" initiative?
More info about this accident was written in an April 21, 2017, article.
8. I just became aware of an article written on March 13, 2017, entitled, "So many open jobs for truck drivers! It's another bogus skills shortage story."
Quoting the article: "Oddly the ATA does not mention the most logical theory. Shortages of goods, labor, or services indicate that their prices are too low to attract new entrants to the marketplace. For truckers that means offering wages that drivers consider worthwhile for the services and conditions demanded. As usual in these bogus 'skill shortages stories', the truth is easy to find. The trucking industry runs a state-of-the-art worker exploitation model."
Please share why you agree or disagree below.
9. We empathize with the family of the trucker who "failed to negotiate a curve" and died in the resulting accident, as was described in an April 22, 2017, article.(2)
When you're making turns with a truck, slow down.
10. Are you thinking of entering into an "owner-operator's lease agreement"?
If so, read the fine print and make sure that you understand everything concerning your pay.
After the fact, if you think you've been stiffed, your trucking company may end up being the winner.
11. There are at least two lessons to learn from the accident reported in an April 21, 2017, article:
Change lanes safely; and
Watch to make sure that you don't drag a vehicle down the road behind your truck.
12. Werner Enterprises is considering a merger, in part because of "low freight rates", according to an April 20, 2017, article.
For the sake of speculation, if their merger goes through and their freight rates increase, what part of that rate increase do you think their truckers will receive?
13. Since the drug was "hidden" in two compartments of the truck, according to an April 18, 2017, article, is there any doubt that the trucker who crossed the Pharr-Reynosa International Bridge is guilty of "attempting to import cocaine and possession with intent to distribute cocaine"?
According to Wikipedia, "Because of the drug's potential for addiction and overdose, cocaine is generally treated as a 'hard drug', with severe penalties for possession and trafficking. Demand remains high, and consequently, black market cocaine is quite expensive."
This trucker may very well have disqualified himself from ever driving professionally again.
Was hauling the drug worth it?
14. A small fleet owner wrote a letter to the editor posted on April 18, 2017, decrying "pending legislation in the Ohio House and Senate that ask taxpayers to subsidize the training of entry-level truck drivers under the premise that there is a driver shortage".
dispatch.com/opinion/20170418/letter-theres-no-shortage-of-truck-drivers (no longer online)
Refer to the bullet point #8 above for corroborating info.
On behalf of my husband Mike and me, we wish you safe travels and lots of money saving opportunities on the road.
---
---
Return from TDMST Weekly Round-Up: 2017.04.22 to our TDMST Weekly Round-Up Trucking Commentary or our Truck Drivers Money Saving Tips home page.
---
Reference
1. www.teamrunsmart.com/the-pros/joey-slaughter/april-2016/wunderlist?feed=blogs (no longer online)
2. thecourier.com/breaking-news/2017/04/22/trucker-dies-in-putnam-county-crash/ (no longer online)