This is the TDMST Weekly Round-Up of news affecting professional truck drivers, written by Vicki Simons for the week ending January 22, 2022.
We welcome your comments, thoughts and feedback on the items of your choice below.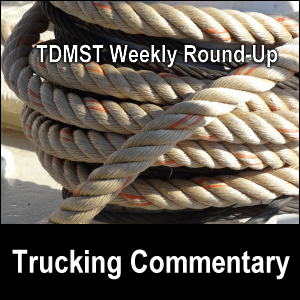 1. Regarding COVID-19 and ports:
COVID-19
Sometime before June 10, 2011, I wrote the following on our Trucker Protest page:
The only way for a trucker protest to make much of a dent is if every truck stopped (particularly fuel tankers) for a few days. When there is no fuel, no food and no toilet paper, that's when people will take notice. A total shutdown of trucks will have to take place across the board…
Well, this situation may be closer than a lot of people think, what with many truckers refusing to be forced to surrender their medical sovereignty through a poison death shot. Folks may have only seen the beginning of a "supply chain" issue if thousands or tens of thousands of truckers refuse to drive rather than either have their health compromised or have their lives shortened. I know this is a tough time, friends, but do not compromise your values — or your health! Here are a number of the most recent articles on this topic:
---
Ports
I congratulate the truckers who worked on moving the cargo from the ports to where it needed to go. These "record" numbers would mean nothing without you!
2. Regarding accidents, fatalities, Tesla, roads and bridges, tires, sentencing, staged, safety, and insurance:
Accidents
Drivers who drive in winter weather, please take extra precautions.
---
Fatalities
---
Tesla
Tesla owner is the first to face felony charges for deadly Autopilot crashQuote from article: "'NHTSA reminds the public that no commercially available motor vehicle today can drive itself,' a spokesperson said. 'Whether a L2 automated driving system is engaged or not, every available vehicle requires the human driver to be in control at all times, and all State laws hold the human driver responsible for the operation of their vehicles.'"Which leads me to ask about all of those so-called "autonomous trucks" about which we've been reading for months. Hmm…
---
Roads and bridges
---
Tires
---
Sentencing
---
Staged
---
Safety
---
Insurance
3. Regarding weather and HOS:
Weather
No matter what time of year you drive, always pay attention to the need to adjust your truck's speed based on travel conditions. The wetter or slicker the roads, the slower you need to go — with the understanding that some travel conditions are simply too treacherous to drive in and the wise driver will park until conditions improve.
---
HOS
4. Regarding age, training, testing, detention, retention, recruitment, burnout, vision, and veterans:
Age
While I am sure that there are some more mature teenagers who want to become professional truck drivers, I stand behind my previous statements that I think it is a bad idea to let teenagers drive a commercial motor vehicle. Insurance rates tell most of the story, but as NPR states:
"emerging science about brain development suggests that most people don't reach full maturity until the age 25"; and
"critical parts of the brain involved in decision-making are not fully developed until years later at age 25 or so."
Here are some of the most recent articles on this topic:
---
Training
---
Testing
---
Detention
---
Retention
---
Recruitment
---
Burnout
---
Vision
I hope it isn't the case that lowering the vision standards for professional truck drivers is a result of not being able to address the so-called "shortage" problem.
---
Veterans
5. Regarding technology and ELDs:
Technology
---
ELDs
6. Regarding autonomous vehicles, electric vehicles, fuel, and emissions:
Autonomous vehicles
I totally oppose the operation of autonomous, self-driving, or driverless trucks on the roads with the motoring public, but share these articles as a courtesy to help you stay current with the topic.
---
Electric vehicles
---
Fuel
---
Emissions
7. Regarding pay, rates, taxes, UCR fees and FMCSA:
Pay
---
Rates
---
Taxes
---
UCR fees
---
FMCSA
8. Regarding operations, maintenance, recalls, and snow removal:
Operations
---
Maintenance
---
Recall
---
Snow removal
9. Regarding smuggling and DUI:
Smuggling
---
DUI
10. Regarding economy, employment, shortage, predictions, and peak:
Economy
---
Employment
---
Shortage
---
Predictions
---
Peak
11. Regarding innovation, inspection, intermodal, and leasing:
Innovation
---
Inspection
---
Intermodal
---
Leasing
12. Regarding awards, recognition, and Road Team:
Awards
Congratulations to this trucker for his amazing accomplishment!
---
Recognition
We recognize those who helped others in a time of need.
---
Road Team
Described as "the best of the best in the trucking industry," one of the articles below states: "The 34 finalists are industry veterans, many of whom are state-level road team captains, national truck driving championship winners, and role models at their companies and in their communities. They have a combined total of 75 million safe-driving miles and 923 years as professional truck drivers." We congratulate all finalists!
My husband Mike and I wish you — and all professional truck drivers — safe travels and lots of money saving opportunities on the road.
---
---
Return from TDMST Weekly Round-Up: 2022.01.22 to our TDMST Weekly Round-Up Trucking Commentary or our Truck Drivers Money Saving Tips home page.
---