What will you gain from our money saving ebooks and courses?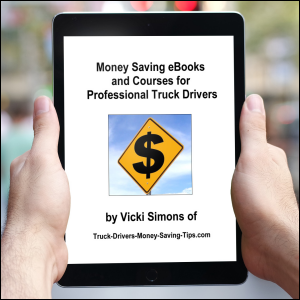 As you may know, we have freely provided the information on our site since January 2009.
As of January 1, 2018, we have
published over 600 pages of unique content on our site, the vast majority of which we have written ourselves, and
published over 500 pages of content submitted by other readers, most of which we have personally responded to.
That's a lot of reading. Don't you wish there was a way to:
receive a condensation of the best of our truck drivers money saving tips from the hundreds of pages on our site; and
save your valuable time (which translates into money)?
Sure, you could wade through the hundreds of pages on our site and read all of our "trucker war stories."
It has been a bit therapeutic for us to share with you the "bonehead mistakes" we've made, in the hope that you won't fall in the same money pit we once fell in ourselves.
But we figure you want the hard-hitting bullet point type stuff that can help you save the most money the fastest.
If you've spent time on our site, you know that we provide real world tips that help professional truck drivers save hard-earned money.
We will be carrying that same commitment to high quality in our ebooks and courses.
---
As of this writing, our money saving ebooks and money saving courses are still in the planning stage.
We intend to publish a series of them.
If you would like to be kept informed of when they are published, please submit your first name and email address in the form below.
You can really help us out by letting us know which topics interest you the most.
If you are a professional truck driver, we wish you safe travels and lots of money saving opportunities on the road.
Thanks again.
Best regards,
Mike and Vicki Simons
https://truck-drivers-money-saving-tips.com/
---
Return from Money Saving eBooks and Courses for Professional Truck Drivers to our About Us page or our Truck Drivers Money Saving Tips home page.
---