This is the TDMST Weekly Round-Up of news affecting professional truck drivers, written by Vicki Simons for the week ending January 4, 2020.
We welcome your comments, thoughts and feedback on the items of your choice below.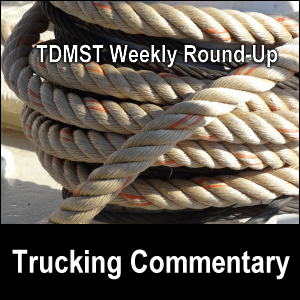 1. Regarding California's AB5 law:
A January 1, 2020, article states:
Trucking got a temporary reprieve from California's AB5, a new law in effect Jan. 1 severely limiting the ability to use independent contractors. In the final hours of New Year's Eve, U.S. District Judge Roger Benitez issued a temporary restraining order preventing state officials from enforcing the law against motor carriers.
Other articles about AB5 were written:
2. Regarding distracted driving:
A January 3, 2020, article states:
When it comes to Canada's truckers, Transport Canada is teaming up with the Virginia Tech Transportation Institute (VTTI) in the search for ways to keep drivers focused — researching the use and effectiveness of driver distraction training in commercial vehicle operations.

… Most studies have singled out the use of cellphone and other mobile devices as the No .1 cause of the issue.

… The penalties for distracted driving are on the rise across Canada.
The article also lists a number of activities I never thought drivers would attempt to do while driving a vehicle (like flossing and "making a sandwich on the dash".)
Please share through the form below what you believe is the most effective way to keep drivers of all vehicles from driving distracted.
Thanks.
3. Regarding more 2019 round-ups:
Here are some other articles summarizing a recap from last year:
4. Regarding looking ahead on trucking:
The prognosticators have been busy:
5. Regarding trucking technology:
Here's a great article/review of How Speed, Weight and Grades Affect Brakes.
---
Two articles were written about the Virginia bill regarding mandated GPS units in trucks.
OOIDA says that the VA GPS mandate "misses the mark" and OOIDA President and CEO Todd Spencer has stated,
"GPS devices are only as good as the information uploaded to them" and
"some GPS devices actually lead to bridge strikes and other truck-related misdirection."
Terry Scruton wrote, "I've been covering trucking news for nearly 15 years, and in that time I can't tell you how many stories I have seen involving truckers who got themselves into a bad situation by blindly following the GPS in their trucks."
That's why recommend that truckers obtain and learn how to use a motor carriers atlas or truckers atlas.
6. Regarding shut down due to… tumbleweeds?
"Five cars and a tractor-trailer were trapped on Highway 240 [in Washington State] Tuesday, Dec. 31, by a massive pile of tumbleweeds blown across the highway by high winds", stated a January 2, 2020, article.
Unofficially called 'Tumbleggedon 2020', the highway was shut down for 10 hours until snowplows were able to clear the road of the pile that was "900 feet long and 30 feet high."
Wow!
More on this topic was written here and here.
7. Regarding trucking company closures:
A December 31, 2019, article stated,
"A year defined by a devastating number of trucking company closures will end with [Texas-based] Fleetwood Transportation Services shutting down on New Year's Eve after more than 60 years in business."
The reason cited for the closure was that "insurance became unaffordable".
Someone inside the company stated that "Fleetwood's insurance carrier of 20 years increased premiums by 40% last year, and then dropped the company completely in November after a fatality accident".
Ouch!
Please comment below:
How are you dealing with insurance increases?
More on Fleetwood Transportation's closure was written here.
8. Regarding tolls:
The increase for using the Pennsylvania Turnpike kicks in on Sunday, January 5, toll rates of which are listed here.
More about PA's Turnpike toll increase was written here.
---
Meanwhile the state of Rhode Island is fighting to let state courts decide their truck toll case.
9. Regarding fuel rate increases:
Six states — Oregon, Utah, Nebraska, North Carolina, Georgia, and Florida — will see an increase in fuel rates in 2020.
And speaking of fuel, do you know: "How many gallons does it take to fill up a big rig?"
10. Regarding ELD outages:
A recent article stated:
Drivers using PeopleNet electronic logging devices (ELDs) are reporting a higher-than-usual number of outages, along with sluggish log-in times and other system malfunctions.
It's rather ridiculous that "Drivers say they're back on paper logs after ELD outage".
That article also stated, "In November 2019, Omnitracs ELD devices underwent a similar 'GPS rollover event' that left drivers back on paper logs."
As a trucker, make sure you keep paper log sheets or log books with you at all times.
11. Regarding trucking operations violations:
"Georgia authorities shared a photo featuring an unsecured load violation", stated a December 31, 2019, article.
As a reminder, all loads need to be secure, including the ones that don't look like they'll go anywhere.
---
Meanwhile in Maine, the State Police found a truck with "no service air brakes on the trailer" because there was no service hose!
Ouch!
That makes me wonder how the trucker was able to move the trailer.
Hmm…
12. Please share!
What is your #1 goal or top priority for 2020?
Tell us through the form below.
We look forward to hearing from you. 🙂
My husband Mike and I wish you — and all professional truck drivers — safe travels and lots of money saving opportunities on the road.
---
---
Return from TDMST Weekly Round-Up: 2020.01.04 to our TDMST Weekly Round-Up Trucking Commentary or our Truck Drivers Money Saving Tips home page.
---