This is the TDMST Weekly Round-Up of news affecting professional truck drivers, written by Vicki Simons for the week ending November 13, 2021.
We welcome your comments, thoughts and feedback on the items of your choice below.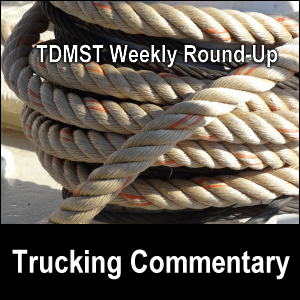 1. Regarding COVID-19:
There has been massive confusion about whether or not professional truck drivers must be vaxxinated, partly because the information in trucking publications conflict with each other.
All you have to do is look at the information published on OpenVAERS to see that after getting one or more CV jabs, many thousands of people have died and hundreds of thousands of people have experienced adverse reactions.
As of this writing:
18,461 COVID Vaccine Reported Deaths; and
875,651 COVID Vaccine Adverse Event Reports.
And those are just the ones that the C*D*C has allowed to be published on the site.
One source says: "We know VAERS only captures 1-10% of all adverse events."
Please do not allow yourself to be bullied into taking a jab, because there are those who allowed that and then experienced major regret.
Here are the most recent articles from trucking sources on this topic.
2. Regarding ports, containers, supply chain, and postal service:
The ports, containers, chassis, supply chain, and truckers issue is quite complex.
In my opinion, the federal government created this problem (in part, with agreement by certain states), so it needs to reverse course on everything that led up to it and then stay out of it!
Please see the Truckers section below.
Ports
---
Containers
---
Supply chain
---
Postal service
3. Regarding fuel, fuel costs, fuel economy, fuel shortage:
Remember that the first law of thermodynamics, the Law of Conservation of Energy, states that energy cannot be created or destroyed in an isolated system.
So, even if trucks are powered by electricity, that electricity must come from somewhere.
According to the U.S. Energy Information Administration, the sources of U.S. electricity generation in 2020 are listed here.
Fuel
---
Fuel costs
---
Fuel economy
---
Fuel shortage
4. Regarding autonomous vehicles, humans, and truckers:
Autonomous vehicles
I absolutely oppose the use of autonomous, self-driving, or driverless commercial motor vehicles on the roads with the motoring public, but share these articles as a courtesy to help you stay up-to-date on the topic.
---
Humans
---
Truckers
The second article in this section is extremely important as it concerns the ports and supply chain issue.
Yahoo: A trucker explains the truck-driver shortage: We're 'tired of carrying the country on our backs'
news.yahoo.com/trucker-explains-truck-driver-shortage-180930699/ (no longer online)
5. Regarding accidents, drugs, smuggling, and animal strikes:
Accidents
Please learn from these articles what led up to the accidents and to the extent possible, endeavor not to repeat the circumstances that led up to them.
---
Drugs
Never ever attempt to haul illegal drugs, no matter how big the promised reward is.
---
Smuggling
Never ever attempt to transport people like cattle or cargo, no matter how big the incentive is.
---
Animal strikes
You may want to see the Deer Collision page on our site.
6. Regarding consumers, economy, and rates:
Consumers
There's a lot of variety covered in these articles.
---
Economy
---
Rates
7. Regarding emissions, empty miles, utilization, and fatalities :
Emissions
---
Empty miles
---
Utilization
---
Fatalities
8. Regarding inspections, insurance, safety, and weather:
Inspections
Make sure that whomever is conducting your trailer inspection stays up-to-date on what is required.
---
Insurance
---
Safety
From Facebook: SBTC TRUCKER SAFETY ALERT: The SBTC advises Drivers to exercise extreme caution in urban areas in upcoming wake of the Kyle Rittenhouse verdict. Cities like Chicago are canceling police officers' days off amid fear of mass social unrest over verdict…
---
Weather
Please be extremely careful when driving in strong winds, especially when you are deadheading (hauling an empty trailer).
9. Regarding surcharge, technology, tires, and tolls:
Surcharge
---
Technology
One thing about technology is that it is always changing and continuously needs to be updated.
---
Tires
---
Tolls
10. Regarding roads, roads – I-40, and roads – snow:
Roads
---
Roads – I-40
Regarding this article, I commented on Facebook:
Quote from article:
"NCDOT expects backups for more than eight miles. The Tennessee Department of Transportation suggests drivers take I-81 to I-26 to avoid the area. However, this route adds around 45 minutes to driving time."
While the article says,
– "backups for more than eight miles"; and
– the detour route "adds around 45 minutes to driving time";
it does *not* say how many extra miles the detour route requires. Many (most?) truckers are paid by the mile.
I would like to hear from truckers and trucking companies how or if truckers will be compensated for covering the extra miles. I would also like to know how the detour miles and time adversely impact loads being picked up and delivered.
If you are impacted by this, please feel free to comment through the form below.
---
Roads – snow
11. Regarding employment, pay, retirement, and violence:
Employment
The body of the article does not address employer-pushed vaxxines, but I can't help but wonder if that is part of what is responsible.
---
Pay
---
Retirement
As of the time that I access the poll results (101 votes cast):
No: 67.33%
Yes: 27.72%
Unsure: 4.95%
Would you like to learn how to earn a second income from the cab of your truck?
---
Violence
Quotes from article (links not included):
"Blue cities in America… are collapsing into lawlessness and chaos. Across NYC, Chicago, Seattle, Portland, Boston, St. Louis, Los Angeles and other blue cities, vehicle break-ins are skyrocketing, muggings are up and shoplifting is spiraling out of control to such a huge extent that many retailers (like Walgreens and CVS) are simply shutting down stores in blue cities."
"Robberies are now so bad in Los Angeles that the LAPD is directly advising residents to 'cooperate and comply' with robbers."
Please exercise extreme caution in traveling into, around in, and back out of these major cities.
You may wish to check out the information on our self-defense page.
12. Regarding awards and freebies:
Congratulations to all truckers who accomplished a trucking-related achievement, were nominated for an award, or were listed as a finalist for one!
A huge thank-you goes to truckers who selflessly helped others:
---
Freebies

My husband Mike and I wish you — and all professional truck drivers — safe travels and lots of money saving opportunities on the road.
---
---
Return from TDMST Weekly Round-Up: 2021.11.13 to our TDMST Weekly Round-Up Trucking Commentary or our Truck Drivers Money Saving Tips home page.
---