This is the TDMST Weekly Round-Up of news affecting professional truck drivers, written by Vicki Simons for the week ending March 7, 2020.
We welcome your comments, thoughts and feedback on the items of your choice below.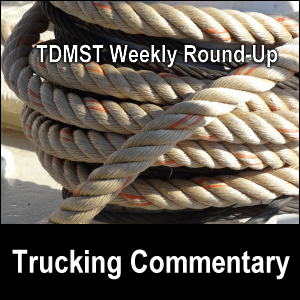 1. Regarding ELDs and truck safety:
A March 4, 2020, article about certification of Electronic Logging Devices (ELDs) in Canada threw a right uppercut at the FMCSA:
Hardware, software, and apps alike will need to be tested by a certification body accredited by Canada's Transport Minister – unlike the U.S., where suppliers can self-certify their devices.
Had the FMCSA required ELD manufacturers to have their devices certified by a third-party, some of the issues that some truckers have experienced with their ELDs may never have happened.
Meanwhile, "Canada prepares to mandate ELDs for federally regulated carriers beginning in June 2021."
---
It is interesting that the FMCSA announced that it would host a "truck safety summit in response to the recent rise in trucker crash deaths" on March 19, 2020, which is just days before the 2020 Mid-America Trucking Show to be held in Louisville, Kentucky from March 26-28.
Personally, I think that FMCSA officials knew that they would face some angst from truckers at MATS about this issue and wanted to show that they were "doing something" about this issue.
Seating at the truck safety summit is limited to 200 people and advanced registration is required.
---
Separately, a recent article said that "'fraud and abuse on ELDs' is a problem that [the] FMCSA doesn't know how to fix."
This may be happening because the "FMCSA doesn't regulate Canada's roads."
---
The FMCSA is touting the "successes" of the ELD mandate, specifically that "there's been a 52% reduction in hours of service violations."
However, there's an irony here:
The Hours of Service regulations were designed to protect truckers and the motoring public; and
Yet, since the ELD mandate went into effect, trucker deaths have increased.
Since the ELD mandate did not change the Hours of Service regulations, there has to be some underlying reason (or number of reasons) as to why trucker deaths have increased since the mandate went into effect.
What are those reasons?
---
I wonder if the FMCSA has read articles like "6 key elements of an effective fleet safety program."
2. Regarding new Hours of Service rule submission:
Numerous articles this week covered the news that "A final rule adding flexibility to U.S. hours-of-service rules was submitted… to the Office of Management and Budget (OMB) for review."
Those articles can be found:
Although no timeline for OMB approval has been set, the acting administrator of the FMCSA, Jim Mullen, stated that it is his priority to get the modifications finished.
3. Regarding trucking and the economy:
A March 2, 2020, article stated:
"The freight cycle has bottomed and trucking conditions should improve later this year and into 2021 as freight demand and capacity come into balance."
4. Regarding info for owner-operators and other truckers:
5. Regarding autonomous trucks:
A March 5, 2020, article about how TuSimple is expanding its UPS autonomous routes stated:
"TuSimple has confirmed that its autonomous trucks are continuing to log a 10% fuel economy increase compared to conventional, human-driven tractor-trailers."
In order for truckers to compete well with the autonomous trucks, they are going to have to learn to improve their fuel economy even more.
More about the expansion of TuSimple's self-driving truck routes was written here.
6. Regarding middle Tennessee tornado damage:
I greatly appreciate the "can-do" spirit that was expressed by the Chief Executive Officer of Nashville-based Western Express, Paul Wieck, in a video following the damage they sustained from a tornado.
He stated, "We are determined to serve our customers, our team and the families who were affected."
More about this was written here, where Wieck was quoted as saying:
We are blessed that none of our people were injured. Some buildings may be down, but Western Express is not. A disaster recovery plan is in process, and to that end, critical systems are generally up and running, and we don't expect significant disruption for drivers or customers.
The video is located here and embedded here.
Another article about this is here and one trucker documented the tornado devastation there.
We wish them well in their recovery efforts.
7. Regarding coronavirus:
Many articles have been written about — or refer to — the coronavirus, including these:
Further, we read: "Coronavirus supply-chain disruptions lead into uncertain March, alongside small demand improvements last week."
8. Regarding truck accidents:
In a totally preventable low clearance accident, the driver of a big rig that measured 13'6″ tall attempted to take it under a bridge with a clearance of only 11'8″.
If you must use a GPS unit in navigating a Commercial Motor Vehicle, make sure that it is designed for CMVs (not just cars).
Also, double-check your truckers atlas to make sure you encounter no low clearances along your route.
---
Please exercise the utmost care when traveling in winter weather.
According to numerous articles and videos — here, here, here, here and here — there was a 140-vehicle winter weather whiteout pile-up on I-80 in Wyoming.
Our condolences go to the families of those who died in this accident.
---
We read from a March 3, 2020, article that an escape truck ramp is being built on U.S. 89 in Utah.
Good!
---
According to a March 4, 2020, article, "Indiana State Police say that a chain reaction crash on I-65 yesterday started when high winds caused a semi trailer to become airborne and crash into another truck."
---
A dash cam video captured a dump truck overturning and spilling a load of gravel in "busy morning rush hour" traffic on "March 2 around 8:30 a.m. on I-93 north through the O'Neill Tunnel in Boston, Massachusetts."
The article states, "The cause of the crash is still under investigation."
However, it is clear from watching the video that the trucker:
did not keep his truck in his lane,
then upon correction, the truck started to fishtail, and
could not keep the truck from losing control.
9. Regarding carrier closure:
According to a March 3, 2020, article, Arkansas-based RCX Solutions, Inc. — which had been a carrier for nearly 20 years — "closed its doors for good… after its insurance rates skyrocketed due to a multi-million dollar 'nuclear verdict' [of $23 million that was lowered to $7.5 million upon appeal]."
More about the closure of RCX Solutions, Inc. was written here and here.
---
Due to a "combination of factors", "Quality Companies LLC, a leading provider of tractor and trailer leasing, and its parent company, 19th Capital Group LLC, will begin a wind down of its business operations in March, leading to an eventual closing," stated a February 28, 2020, article.
---
Meanwhile, we read: "If a theme came out of a well-attended panel on nuclear verdicts at the recent Truckload Carriers Association meeting in Florida, it's this: the problem isn't likely to go away anytime soon."
10. Regarding fuel prices:
"United States Senator John Barrasso (R-WY) is blasting the American Trucking Associations (ATA) proposal, known as the Build America Fund (BAF), to increase federal fuel taxes," stated a March 2, 2020, article.
---
A March 5, 2020, article states that Alaska is one step closer to doubling the fuel tax from 5 cents to 10 cents, in order to "raise money for transportation purposes."
11. Regarding trucker pay:
In a March 4, 2020, article, we read:
"Western Express has reached a settlement agreement of more than $1 million in a class action lawsuit that alleged the company underpaid California drivers by violating rest and meal break wage laws."
---
Meanwhile, a March 4, 2020, article addresses how "Fleets can take these steps to avoid driver misclassification".
12. Congratulations!
Our heartiest congratulations go to 2019's top drivers at the Truckload Carriers Association's annual convention in Orlando, Florida, each of whom won $25,000:
Don Lewis, a company driver for Wilson Logistics, and
Kevin Kocmich, an owner-operator with Diamond Transport System.
Way to go, guys!
My husband Mike and I wish you — and all professional truck drivers — safe travels and lots of money saving opportunities on the road.
---
---
Return from TDMST Weekly Round-Up: 2020.03.07 to our TDMST Weekly Round-Up Trucking Commentary or our Truck Drivers Money Saving Tips home page.
---