This is the TDMST Weekly Round-Up of news affecting professional truck drivers, written by Vicki Simons for the week ending July 31, 2021.
We welcome your comments, thoughts and feedback on the items of your choice below.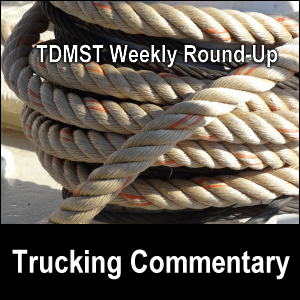 1. Regarding bridge, roads, politics, and PRO Act:
Bridge
Thank goodness that the bridge on I-40 is going to be reopened!
---
Roads
Please pay attention to road closures and new rules for roads (even on truck routes).
---
Politics
If these matters concern you, please contact your elected officials to express your opinion.
---
PRO Act
2. Regarding weather and violence:
Weather
Please pay attention to where wildfires are raging and avoid those areas.
When it comes to hauling freight in a hot truck, please keep yourself cool and well-hydrated.
---
Violence
Don't get caught up in any kind of illegal activity.
3. Regarding taxes, tolls, fee, rates, pay, cost, civil asset forfeiture, and shortage:
Taxes
Let your voice be heard on this issue!
---
Tolls
---
Fee
---
Rates
---
Pay
---
Cost
---
Civil asset forfeiture
---
Shortage
4. Regarding CPAP, concerns, urination, drugs, and parking:
CPAP
---
Concerns
---
Urination
---
Drugs
Never agree to haul drugs through or into an area where they are considered illegal, no matter how much you are offered.
---
Parking
5. Regarding CARB, capacity, tires, equipment, and right to repair:
CARB
---
Capacity
---
Tires
---
Equipment
---
Right to repair
6. Regarding accidents, accidents – weather, doors, and dumping:
Accidents
---
Accidents – weather
Driving conditions and visibility can change in an instant, so always be watching for the need to stop to protect yourself, your rig, and the cargo on-board.
It is a good idea to regularly monitor the weather — such as on a CB radio with built-in weather band — to see if any hazardous situations are forecast.
Our deepest condolences go to the families of those who died.
---
Doors
---
Dumping
This was a deliberate action and I hope that it will be dealt with accordingly.
7. Regarding consumers, economy, and overspending:
Consumers
---
Economy
---
Overspending
8. Regarding electric vehicles, autonomous vehicles, leasing, and recall:
Electric vehicles
---
Autonomous vehicles
I am totally opposed to self-driving, driverless or autonomous trucks, but am sharing these articles to help you stay up-to-date with the topic.
---
Leasing
Before you consider leasing a truck, you may want to read some information:
---
Recall
9. Regarding fuel, fuel – cell, fuel – hydrogen, fuel – limit, fuel – natural gas, and fuel – price :
Fuel
---
Fuel – cell
---
Fuel – hydrogen
---
Fuel – limit
---
Fuel – natural gas
---
Fuel – price
10. Regarding ELDs, technology, apps, and distractions:
ELDs
This information is primarily for Canadian truckers.
---
Technology
Please do what is necessary to protect yourself, your technology, and your digital assets.
---
Apps
---
Distractions
11. Regarding Hours of Service, insurance, lawsuits, and retention:
Hours of Service
---
Inspections
---
Insurance
If you are an independent trucker or owner-operator, keep tabs on this issue.
---
Lawsuits
---
Retention
12. Regarding award:
Congratulations to all of those who have been recognized for their selflessness and/or professional truck driving skills.
My husband Mike and I wish you — and all professional truck drivers — safe travels and lots of money saving opportunities on the road.
---
---
Return from TDMST Weekly Round-Up: 2021.07.31 to our TDMST Weekly Round-Up Trucking Commentary or our Truck Drivers Money Saving Tips home page.
---