This is the TDMST Weekly Round-Up of news affecting professional truck drivers, written by Vicki Simons for the week ending January 25, 2020.
We welcome your comments, thoughts and feedback on the items of your choice below.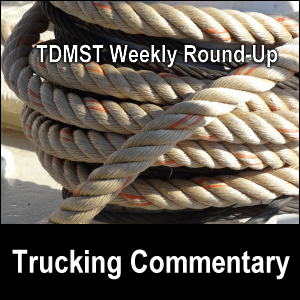 1. Regarding trucker pay and retirement:
According to a January 17, 2020, article:
In Bostain v, Food Express Inc, the Washington Supreme Court ruled that Washington-based truck drivers are entitled to overtime pay for all hours worked over 40 in a workweek. …
askthetrucker.com/truckers-to-be-paid-overtime-in-washington-state/ (no longer online)

Driver claims can go back as far as 3 years from today. Thousands of Washington truck drivers have been awarded back pay checks.
Hurray!
---
A January 23, 2020, reports on a survey that found that "many truckers say they can't afford to retire".
That's sad — and one reason why we cover second income for truckers.
2. Regarding truck operations:
The "Preventable or not?" video published on January 20, 2020, reminds truckers to regularly monitor the space behind their trucks, especially when backing up and also when they may be about to block access to a place where four-wheelers frequent.
Reminder: Watch out for impatient four-wheelers!
---
Articles written here and here describe how a trucker was rescued by the California Highway Patrol after he became stranded for two days on a snowy mountain road as a result of following his GPS when trying to "go around a road closure".
If roads are closed, you need to evaluate whether or not to proceed or park safely until conditions improve.
Reminder: If you must use a GPS in a commercial motor vehicle, make sure that it is specifically programmed for big trucks.
We highly recommend learning to use and navigate by a truckers atlas.
---
Don't drink alcohol and then drive a commercial motor vehicle!
One trucker was recently stopped for a "random Level 1 Inspection" in Georgia and nearly ran his truck "into the hole of the pit".
Besides not passing the "Standardized Field Sobriety Test", the trucker was found to have a false log and quite a number of vehicle violations.
---
Before you leave a fuel island, please remember to remove the fuel nozzles from the fuel tanks.
---
The dash cam video from a January 20, 2020, article reminds all drivers: "If you have to be out driving during inclement weather, please remember to slow down and be aware of the road conditions."
---
Do you know what the "8 levels of DOT roadside inspections" are?
---
A January 23, 2020, article states:
The Real ID Act, passed by Congress in 2005, set minimum security standards for state-issued drivers licenses and ID cards that are required for accessing federal facilities, entering nuclear power plants and boarding commercial airplanes. …

[The Department of Homeland Security] says all states are on track to be compliant by the Oct. 1 deadline.

An unexpired passport or Transportation Worker Identification Credential (TWIC card) can also grant you access to most facilities as an alternative to the Real ID.
---
According to a January 20, 2020, article, Connecticut Gov. Ned Lamont was "expected to release the entire [trucks-only tolling] proposal to both lawmakers and the public on January 21".
There is a "mandated five-day period for public comment and debate".
If you feel strongly about the proposed CT truck-only toll proposal, express your views!
---
Make sure that your load is properly secured!
One truck driver was "arrested… and charged with criminally negligent homicide" nearly a year after his "load of cross ties shifted and fell" and fatally crushed an oncoming passenger vehicle.
Our condolences go to the family of the man who died.
3. Regarding safety on the job:
A January 17, 2020, article states:
Not only did the [Zebra] survey reveal that [82% of] American drivers … admit to having road rage, it also indicated that [46%] of those angry drivers… say that they keep some type of weapon in their vehicle.
That article and this one list "the top 3 behaviors that trigger road rage".
Do not let your emotions get the better of you while you drive.
If necessary, find a safe and legal place to park until you calm down.
Don't let someone else's anger entangle you in an accident!
---
A January 17, 2020, article says that instead of complaining about how trucking insurance premiums have skyrocketed as a result of lawsuits (particularly "nuclear verdicts"), "trucking companies should take steps to stop incidents from happening."
Preventing incidents and accidents from happening is far preferable to reaping the consequences later.
Note: One of my favorite poems about prevention is "The Ambulance Down in the Valley" by Joseph Malins (1895).
4. Regarding AB5, California's labor law:
More articles about the federal judge ruling on the controversial AB5 in California were written here, here, here, here, here and here.
The first article in this section linked above states:
"This extension could last for months or even years as the legal battle over AB5 is waged in court."
"U.S. District Judge Roger Benitez argued that AB5 was at odds with federal law protecting interstate commerce."
"[The Federal Aviation Administration Authorization Act of 1994 (FAAAA)] prohibits any state from 'enact[ing] or enforc[ing] a law, regulation, or other provision having the force and effect of law related to a price, route, or service of any motor carrier… with respect to the transportation of property.'"
5. Regarding autonomous trucks:
A recent article stated, "Last week, U.S. Department of Transportation Secretary Elaine Chao said that the federal government is 'all in' on automated driving systems."
---
A January 23, 2020, article states that Waymo is going to begin testing self-driving trucks in Texas and New Mexico "alongside self-driving Chrysler Pacifica automobiles".
You may wish to read another article about Waymo's autonomous mapping runs.
6. Regarding economy and politics:
It appears that the glitches in the Drug and Alcohol Clearinghouse have now been resolved.
---
We read in a January 23, 2020, article: "The Senate overwhelmingly approved [by an 89-10 vote] a new North American trade agreement Thursday, Jan. 16, that rewrites the rules of trade with Canada and Mexico and gives President Donald Trump a major policy win…"
Sen. Pat Toomey, R-Pa., spoke against the trade bill — the United States-Mexico-Canada Agreement (or USMCA, for short).
A number of associations and groups weighed in on the agreement and according to this article, "Trucking groups are finding unity in their support for an historic North American trade deal which is expected to be a boon for the U.S. trucking industry."
---
A January 21, 2020, article says that "2020 [is] expected to be [a] 'lackluster' year for trucking".
---
We read: "U.S. trailer net orders finished 2019 down 51% from full-year 2018 levels, while December orders were off by 13% from November, according to ACT Research."
---
A January 23, 2020, article stated: "Cautious optimism was a common thread during the Highway Transportation Session at the National Industrial Transportation League's 2020 Summit."
7. Regarding fuel or power sources:
We read in a January 21, 2020, article:
The cost of hydrogen for heavy-duty trucks could reach parity with low-carbon sources like battery electrics and even diesel fuel in some markets sooner than expected, according to a new report by the Hydrogen Council.
Do you have plans to drive or own a heavy-duty truck fueled by hydrogen?
If so, how does this news strike you?
Please comment below.
---
One article listed the "Top 10 ways to lower diesel fuel expenses for trucking companies".
One of those 10 ways is: "Providing driver incentive programs to reward best practices".
Just curious: Have you ever been offered incentives and rewards for implementing "best practices" regarding fuel consumption?
If so, would you please share your experiences with us through the form below?
8. Regarding helps for owner-operators:
Recent articles that may be of help to current or prospective owner-operators include:
9. Regarding dishonesty and illegal practices:
A number of articles are noteworthy:
"A Georgia truck driver is in jail after police say he illegally sold chickens he was contracted to deliver." (link)
"U.S. Customs and Border Patrol (CBP) agents disrupted three big rig human smuggling attempts and arrested thirty-seven individuals last weekend." (link)
"A Texas truck driver pleaded guilty to theft after it was discovered he unlawfully collected thousands of dollars in disability benefits while working as a trucker." (link)
For your own wellbeing, be honest and stay legal!
10. Regarding technology:
I am strongly opposed to 5G technology because of the implications on human health.
Yet the implications on technology are addressed in this January 23, 2020, article, the opening paragraph of which reads:
In a Jan. 22 letter to all five members of the Federal Communication Commission, leaders and members of the House Committee on Transportation and Infrastructure strongly criticized that agency's effort to open up the 5.9-gigahertz wireless communication spectrum to non-transportation use; especially as "there remain serious outstanding questions about the potential implications of this approach that could significantly undermine safety benefits to the driving public."
11. Regarding coercion:
After a trucker crashed his truck and sustained injuries, he complained again about being "coerced into violating federal hours-of-service (HOS) laws while hauling freight".
The article states that the trucker "was pressured to haul loads… while [being] overly tired and in significant violation of federally required rest breaks."
Two things must be noted:
This particular trucker "has filed lawsuits against several other trucking companies" (which makes me automatically suspicious); and
Every trucker is the "captain of the ship" when it comes to driving a truck and must never do anything in violation of the federal HOS regulations.
Another article on this topic was written here.
This article says that the trucker's carrier "remotely edited his electronic logs to cover it up."
If you are feeling coerced on the job, speak up and tell your employer that if they persist, you will blow the whistle on them!
12. Thank you, OTR truckers:
We read in a January 17, 2020, article about a post that an owner-operator made on January 11 about the sacrifices that OTR truckers make "to provide Americans with the goods they need to survive."
Truckers we appreciate you all year long!
Thank you for your hard work!
My husband Mike and I wish you — and all professional truck drivers — safe travels and lots of money saving opportunities on the road.
---
---
Return from TDMST Weekly Round-Up: 2020.01.25 to our TDMST Weekly Round-Up Trucking Commentary or our Truck Drivers Money Saving Tips home page.
---