This is the TDMST Weekly Round-Up of news affecting professional truck drivers, written by Vicki Simons for the week ending April 4, 2020.
We welcome your comments, thoughts and feedback on the items of your choice below.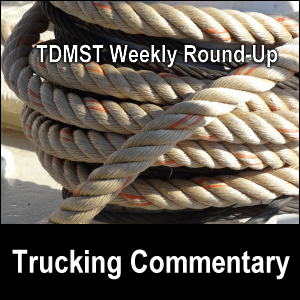 1. Regarding small business loans due to coronavirus (COVID-19):
If you're an owner-operator and your trucking business has suffered as a result of coronavirus (COVID-19), you may be seriously considering applying for a small business loan to keep you afloat.
Much has been written this here, here, here, here, here, and here.
With the strongest possible caution I can possibly give, I'm going to encourage you to NOT take out this kind of loan.
It may be overly pessimistic of me, but until all possibility is eradicated that the government can push another shutdown upon the people, you have no guarantee that you will be able to pay back the loan according to the terms outlined (whatever those terms may be).
It is one thing to be making payments on your truck and lose the truck if you can't make payments.
It's another thing altogether if you lose your business.
Some folks may say that I'm splitting hairs.
You're free to disagree if you like.
But I need to make this point…
In the "bank run" clip from the movie It's A Wonderful Life, we hear George Bailey say the following starting about the 2:22 mark:
Can't you understand what's happening here? Don't you see what's happening? Potter isn't selling; Potter's buying! And why? Because we're panicky and he's not. That's why.
There are some striking similarities between the bank run in the movie and what's going on with the coronavirus.
Given that the precedent has been set that the government can shut down businesses anytime they feel that there is a global health crisis, there is no telling how often they will do that.
So, again, I very strongly caution you NOT to take out this kind of loan.
If you need any more convincing, see the next section below…
2. Regarding dropping truck traffic and trucker layoffs:
An April 1, 2020, article stated that truck drivers are encountering "plunging traffic" at the Canada-U.S. border since March 21, because all non-essential travel has been suspended.
A March 31, 2020, article states, "There will be layoffs during the economic downturn brought about by Covid-19…."
A March 30, 2020, article says that "some trucking segments are enjoying a surge in demand [and] others are struggling because of COVID-19 closures."
An April 1, 2020, article states:
FTR has released the COVID-19 Impact Heatmap, which assesses the state-level rate impacts by four trucking equipment types – dry van, refrigerated, flatbed, and specialized – using Truckstop.com spot market data.
A March 30, 2020, article says that last-mile deliveries are surging in a socially distanced world.
According to an April 1, 2020, article, an ELD provider laid off 349 workers because there is "Plummeting CMV Activity Due to COVID-19." (related article here)
Shelter-in-place, quarantine, shutdown and lockdown orders are continually changing because of coronavirus (COVID-19), so continually monitor conditions where you are traveling.
3. Regarding dealing with coronavirus as a trucker:
Here are some articles and resources:
From a March 30, 2020, article, we read:
The legal landscape is shifting rapidly with emergency declaration, regulatory suspensions and shelter-in-place orders. However, the federal, state and local rules that govern classification of workers—those who are employees and those who are independent contractors, including owner-operators—have not shifted.
4. Regarding windshield smashes:
An April 2, 2020, article stated, "The Eagan (Minnesota) Police Department posted to its Facebook page that a wild turkey flew into and through the windshield of a tractor-trailer on eastbound Interstate 35 Wednesday. While the truck's windshield was destroyed, the driver and the turkey were shaken but not injured."
A March 30, 2020, article stated, "New Jersey State Police are investigating after a cinderblock was thrown off of an overpass at a semi truck, sending the driver to the hospital."
How would you protect yourself from items thrown from overpasses?
5. Regarding plant closures and order cancellations:
This is so sad.
6. Regarding safe driving:
Urging truckers to take winter weather seriously, Allen Smith wrote, "Of the estimated 5,891,000 vehicle crashes that happen in the U.S. each year, 21% are weather-related."
askthetrucker.com/4-winter-tips-to-keep-fleet-drivers-safe/ (no longer online)
He provided 4 fleet safety tips to keep drivers safe.
7. Say What?
Tyson Foods, Inc. plans to give "thank-you" bonuses to front-line workers and Tyson truck drivers — in July!
Confirming this timeframe is another article.
Why the 3-month wait?
Hmm…
8. Hurray!
A March 31, 2020, article stated, "Two carriers forced to cough up $3,000 after its big rigs were booted in Charlotte last week will receive a full refund."
Hurray!
My husband Mike and I wish you — and all professional truck drivers — safe travels and lots of money saving opportunities on the road.
---
---
Return from TDMST Weekly Round-Up: 2020.04.04 to our TDMST Weekly Round-Up Trucking Commentary or our Truck Drivers Money Saving Tips home page.
---