This is the TDMST Weekly Round-Up of news affecting professional truck drivers, written by Vicki Simons for the week ending January 6, 2018.
We welcome your comments, thoughts and feedback on the items of your choice below.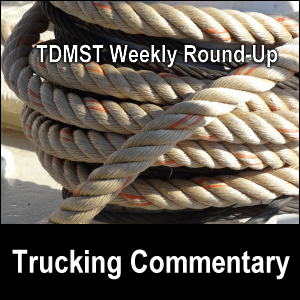 1. Happy New Year!
My husband Mike and I wish all professional truck drivers worldwide safe travels and lots of money saving opportunities in 2018.
2. A December 30, 2017, article stated that there are not enough professional truck drivers "in Texas to increase domestic oil production".
Curious, I went digging for info, because the first thought that crossed my mind was, "What about the pipeline?"
The article stated that some truckers are "not returning to the boom-and-bust cycle industry of oil production".
However, the second point really got my attention: "truck drivers are concerned that companies will not be paying them as much as they did three years ago, as the new mantra of careful spending is sweeping across the U.S. shale patch."
If you worked in oil transport 3 years ago and left/quit — and are considering going back — would you please comment on any differences in pay rates then as opposed to today?
Thanks.
3. Do you trust mobile apps to help you save money, including but not limited to those listed in a December 31, 2017, article?
Why or why not?
4. You know that a new tax bill was recently passed on the U.S. federal level, right?
If so, then one small paragraph in a December 31, 2017, article may interest you:
"Parking and transit reimbursement. Companies have been allowed to subsidize worker transportation costs up to $255 per month per worker, with the sum deductible by the employer and not counted as income to the worker. With this deduction gone, the job benefit may disappear, too."
Has your trucking company ever paid for your truck parking?
If so, do they plan to continue doing so?
Please be specific.
5. According to a December 29, 2017, article, two scholars concluded "that individuals who think about savings cyclically – seeing life events as a series of repeating experiments – are estimated to save 74 percent more than those who think linearly".
So, are you a cyclical or a linear saver?
6. Although a tow truck driver and his wife were creative in earning extra income, unfortunately, it was a scam that backfired and earned him 9 years behind bars.
Do unto others as you would have others do unto you.
7. According to "Consumer Expenditures in 2015" — a document produced by the U.S. Bureau of Labor Statistics — the average U.S. household spent $3,008 per year on "food away from home" that year.
Those who are away from home — including truck drivers — may feel a greater need to eat restaurant meals.
However, we have proven that truckers who have even a small amount of energy at their disposal (such as a crock pot plugged into a 12-volt inverter) can save a lot of money on food and recipes by preparing meals in their trucks.
If you eat low-cost and nutritious food in-truck often, you can save a lot of money on your food purchases.
8. A December 29, 2017, article states,
"Almost 400,000 people nationwide obtain commercial driver licenses every year. But the nomadic life and low pay fuels constant turnover."
If trucking companies did more to keep their truckers once hired, they wouldn't have to spend so much money on recruiting new truckers.
Then, they could actually pay the truckers they have a higher rate.
Just saying…
9. Need a challenge to help you save money?
Here are a few…
10. A December 22, 2017, article reported that in what may have been the start of an attempted hijacking, a trucker "had just picked up a load at the Walmart distribution center in Memphis and was headed to her terminal in West Memphis when someone shot at her from a car at Airways Boulevard and I-240."
A December 29, 2017, article implied that not even drivers of Brink's armored trucks are immune from being robbed.
Tips:
– Constantly take safety precautions; and
– Always be on the lookout for set-ups like these.
11. A U.K.-based, December 23, 2017, article stated,
"Mileage and emissions-based charges for lorries are being considered – and if it works, ALL drivers could be hit with new levies".
Ouch!
12. According to a January 1, 2018, article, a trucker "got stuck while trying to make it over an old wooden bridge with a 4-ton weight limit and a 10'6″ height restriction".(a)
I speculate that this situation arose from:
– either a complete lack of education regarding the height and weight of his truck;
– or a total dependence upon a non-CMV GPS unit (the article didn't say he was using one, but it's clear he wasn't using a trucker's atlas for routing).
For drivers like the one in the article, here are some basic helps for trucking in the USA:
– standard Class A tractor trailers have a maximum height of 13'6″;
– "high cube" trailers have a maximum height of 14'3″ but must stay in places where they are legal;
– a rig without additional permitting can weigh a maximum of 80,000 pounds (40 tons); and
– you must never ever use a GPS unit intended for cars to route a big truck (commercial motor vehicle).
13. A transport truck driver driving in the Brighton, Ontario, Canada area "was charged under the Highway Traffic Act section 109(14)" for having an "Over height vehicle" after the six feet of snow on top of his rig damaged wires belonging to Bell Canada.
See this December 29, 2017, article for more info.
14. Before you pull out of a parking space, please inspect the area around and under your tractor and trailer.
Evidently during pouring rain (according to this December 26, 2017, article), someone had taken shelter under the back of the truck.
When the trucker pulled out, it appears as though the truck ran over him.
The trucker had no knowledge of the person's presence under his rig and is not expected to be charged for the death.
Still, that has to weigh heavily on one's conscience.
15. The author of a December 28, 2017, article wrote about "the driver's clock" and changing the paradigm of "hours of service" to "minutes of service":
– 660 minutes being 11 hours that a trucker can drive within 24 hours; and
– 840 minutes being 14 hours that a trucker can work within 24 hours.
He wrote, "I have preached repairing trucks is more about uptime and spending the right dollars so a driver is not on the side of the road. … Someone will realize that decisions made in maintenance should include investment in uptime…"
He used the example of tires: "Just because DOT says minimum of 2/32nd does not mean that is how far your tires go. This is one of the top CSA infractions. Stay away from the gallows, do not hang yourself."
By this, I gather that instead of trying to squeeze the last little bit of use from various truck parts, that investments should be made in truck maintenance that will keep the truck loaded and rolling, even if it costs more. This will be a balancing act, for sure.
Back in 2013, we reported about a wasteful situation that cost a trucker a lot of time and his trucking company a lot of money:
"Aside from the actual money down the drain, the trucker who was inconvenienced received points under CSA and was furious at the person within his trucking company who failed to heed his advice about adjusting brakes before Brake Safety Week."
Instead of the company spending $40 for a brake adjustment at the terminal, the brake adjustment out on the road cost $700 and it cost the trucker many hours' worth of waiting on the road.
So, regarding the perspective of the author referenced in this point, I look forward to reading how trucking companies are putting "investment in uptime" into action in the months and years ahead.
My husband Mike and I wish you — and all professional truck drivers — safe travels and lots of money saving opportunities on the road.
---
---
Return from TDMST Weekly Round-Up: 2018.01.06 to our TDMST Weekly Round-Up Trucking Commentary or our Truck Drivers Money Saving Tips home page.
---
Reference:
a. www.livetrucking.com/truck-driver-tries-make-wooden-bridge-doesnt-notice-height-weight-restrictions/ (no longer online)