This is the TDMST Weekly Round-Up of news affecting professional truck drivers, written by Vicki Simons for the week ending June 29, 2019.
We welcome your comments, thoughts and feedback on the items of your choice below.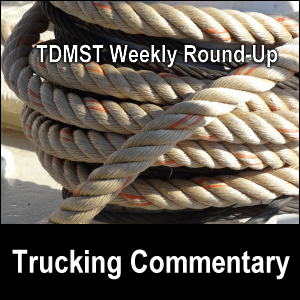 1. Regarding truck fuel economy:
A June 25, 2019, article stated: "Steve Kron's heavily modified 2001 International IHC 9400 routinely logs 10 mpg and has a million-plus mile lifetime average of 9.21 mpg."
Read more in the article about his speed and braking habits.
Meanwhile, we read: "Owner-operator and fuel economy pioneer Henry Albert is attempting to take the lessons he learned breaking the 10 mpg barrier and see if he can log double-digit mpg numbers at higher highway speeds."
Albert has been trading some additional fuel costs for greater productivity (higher speeds) in certain situations.
You may read more about driving to get the most out of fuel efficient technology and drivers focusing on "factors they can control" — like avoiding unnecessary stops and slowing down and planning ahead.
2. Regarding safe and risky states to drive in for truckers:
According to a June 27, 2019, article, Verizon Connect conducted an analysis and determined for commercial vehicles:
the top 10 riskiest states to drive in; and
the top 10 safest states to drive in.
I was surprised that our home state of South Carolina appeared on the list of the top 10 riskiest states for CMVs.
3. Regarding truck equipment orders and trucking freight:
A June 21, 2019, article stated, "Preliminary trailer orders for May reached 11,700 units according to FTR, the lowest total since July 2016."
A separate article stated regarding trailer orders, "The figures represent a fall of 28% from April totals and year-over-year net orders are now down 40%."
Meanwhile, we read, "Sales of used trucks in the Class 8 market plummeted 22 percent in May compared with the same month a year earlier, and dropped 8 percent from the previous month."
We also read, "The latest release of ACT's For-Hire Trucking Index showed nearly across-the-board declines, with capacity being the lone exception."
While there are always seasonal ups and downs, I wonder if part of the decrease in truck and trailer orders has anything to do with a potential increase in tariffs, like that reported here and here.
Furthermore, it was reported on June 25, 2019, that "Year-to-year NAFTA trucking freight [was] down first time in two years".
It was reported that there are "5 things fleets are concerned about", as of mid-June 2019.
4. Regarding alternative energy for trucks:
I conjecture that we will see in the coming years a growing trend in technology that will allow trailers and possibly tractors to become more energy independent.
For that reason, it was of interest to me to read a short article about Xantrex's solar kits with "rigid- and flexible-panel roof-mounted models… and expansion kits… to accommodate future upgrades or expansion."
Other sources of energy may also become more common, such as raw biogas that may come from "trapping the energy of decomposing poop".(a)
5. Regarding dash cams:
A video embedded in a June 26, 2019, article caught the moment when a semi truck was allowed to wander from its lane and strike a parked state police cruiser.
Remember the necessity of good lane control and not becoming distracted when you drive.
Meanwhile, we read that a trucker was vindicated after video obtained from a forward-facing truck camera clearly showed that the car driver who cut across in front of the truck — "essentially [at] a 90-degree angle" — was responsible for the accident.
Remember that a truck cam can save you money.
6. Regarding robots in manufacturing:
An Australian correspondent for Freightwaves reported statistics published by Oxford Economics, "The numbers of robots in use around the world has tripled to 2.25 million over the last 20 years and is forecast to reach 20 million by 2030."
While productivity may be boosted and some new jobs may be created, the article also stated that the consultancy forecasted "millions of job losses" because "robots are becoming cheaper than humans".
A color-coded map image embedded in the article ranks states as:
Low vulnerability;
Lower-medium vulnerability;
Upper-medium vulnerability; and
High vulnerability;
for future spread of manufacturing robots.
7. Regarding self-driving technology:
A June 24, 2019, article reported, "Recently, autonomous truck company, TuSimple, successfully completed a two-week test delivering mail along a 1,000 mile route from Phoenix to Dallas for the United States Postal Service (USPS)."
Apple purchased Drive.ai — "an autonomous driving shuttle service" — hours before the latter was scheduled to close.
We read that "Starsky Robotics tested its fully unmanned autonomous truck on a 9.4-mile stretch of public highway on the Florida Turnpike on June 16" that was remotely navigated over 0.2 miles of the trip by an 20-year trucking veteran 200 miles away.
More about this unmanned truck travel was reported here, here, here, here and here.
Since among the concerns for driverless vehicles is cargo theft, we read that "end-to-end monitoring system [called "track-and-trace"] will virtually render it impossible for thieves to hijack freight by targeting weak links and blind spots within its supply chain".
Meanwhile, a June 20, 2019, article stated, "The hard part of commercial driving is the nuance and experience involved that is required to navigate a tractor-trailer in real-world conditions" and these are "Things [that] a computer can't do. Not yet, anyway."
tandemthoughts.landlinemag.com/commentary/trucking-is-a-hard-job/ (no longer online)
8. Regarding trucking in winter:
Yes, we're in the summer months, but that hasn't stopped legislators in the state of Pennsylvania from addressing proactive measures regarding snow and ice removal from vehicles.
Be aware that, according to this article, "State law already allows police to ticket car and truck drivers for fines of $200 to $1,000 if the wintry precipitation causes serious injury or death."
Meanwhile, we read: "A new report, from the TMC/FleetNet America Vertical Benchmarking Program, found that roadside failures are more likely to hit fleets in harsh winter months."
Another article reported on roadside breakdowns spiking in winter.
This makes me wonder how well truck equipment is being maintained and if moving to driverless vehicles can in any way decrease breakdowns.
Hmm…
9. Regarding ELDs:
There are some pros regarding ELDs (Electronic Logging Devices), including:
10. Regarding driver assistance technology:
Be watching for Volvo Trucks North America to deploy "an updated version of its Volvo Active Driver Assist platform (VADA) 2.0" — an "updated collision mitigation system" — later this year.
It's ironic that while seeking to replace humans, in a June 21, 2019, article, we read that Volvo Trucks "wants its vehicles to think like humans".
Meanwhile, we read that "A company called Road-Aware Safety Systems … has been developing an application that can calculate a safe speed for trucks on curves and slopes based on actual road conditions and vehicle configuration."
My husband Mike and I wish you — and all professional truck drivers — safe travels and lots of money saving opportunities on the road.
---
---
Return from TDMST Weekly Round-Up: 2019.06.29 to our TDMST Weekly Round-Up Trucking Commentary or our Truck Drivers Money Saving Tips home page.
---
Reference:
a. tandemthoughts.landlinemag.com/commentary/ill-take-poop-powered-vehicles-for-300-alex/ (no longer online)