This is the TDMST Weekly Round-Up of news affecting professional truck drivers, written by Vicki Simons for the week ending April 18, 2020.
We welcome your comments, thoughts and feedback on the items of your choice below.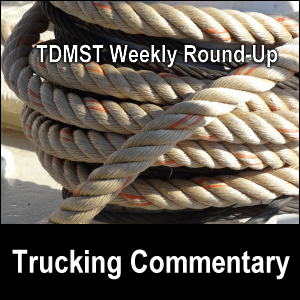 1. Regarding thanks to truckers — and those left out:
On April 15, 2020, Google issued a "Thank You: Packaging, shipping, and delivery workers."
And on Thursday, April 16, 2020, as was reported:
President Trump publicly thanked truckers while having only a segment of the trucking industry present.
One video was uploaded here.
We read separately that "President Donald J. Trump has announced a group of executives, economists, scholars and industry leaders who together will form various Great American Economic Revival Industry Groups."
But various trucking groups took notice of "who was missing" from the tribute to truckers, among whom were:
the nearly 15,000-member Small Business in Transportation Coalition (SBTC);
the nearly 12,000-member National Association of Small Trucking Companies (NASTC);
the Truckload Carriers Association;
the more than 160,000-member Owner Operator Independent Driver's Association (OOIDA), and
numerous other grassroots organizations.
Furthermore, OOIDA pointed out that the White House needs to include "small-business truckers" in its team to "help lead the nation's recovery."
OOIDA's President and CEO, Todd Spencer, stated in an email regarding the trucker tribute:
By only listening to companies like those on stage, the Administration is disregarding issues like the ELD mandate, unconscionable delays at shippers and receivers, the lack of parking, and numerous other problems that are generally more applicable and harmful to small-business truckers and not likely to be mentioned at all by ATA. In short, the President was paying too much attention to just one segment of trucking.
If these things concern you, I encourage you to contact the President to let him know.
2. Regarding state of the roads:
Just because there are fewer vehicles on the road due to "stay-at-home" orders doesn't mean that driving has become any safer.
According to an April 17, 2020, article, "the Governors Highway Safety Association is warning people of one unintended consequence of empty roads: excessive speeding."
Be on the lookout for speeding vehicles and use best driving practices at all times.
3. Regarding coronavirus (COVID-19):
According to an April 16, 2020, article, "The Canadian Centre for Occupational Health and Safety (CCOHS) has developed a series of free Covid-19 tip sheets for high-risk occupations and essential services and industries."
TruckersNews.com has shared "Special COVID-19 resource for truckers."
We read in an April 15, 2020, article: "The Canada Border Services Agency (CBSA) has announced the temporary reduction of service hours at 27 low-traffic ports of entry (POE) along the Canada-U.S. border."
An April 13, 2020, article states: "As roadside checkpoints emerge to help slow the spread of Covid-19, the Canadian Trucking Alliance (CTA) is suggesting that truck drivers should carry a letter confirming their roles as essential workers."
On April 16, 2020, it was reported that "FTR's COVID-19 Impact Heatmap has been updated to show truck load data in the spot market, providing state-level impacts on truck load volumes for four equipment types…"
FTR also reported here and here that trailer orders are down 55% from March 2019. Ouch!
4. Regarding Kenworth and Peterbilt recall for ABS issue:
A recall affecting 455,458 trucks manufactured between 2008 and 2020 has been issued, per information here, here, here and here.
5. Regarding the "Stay home. Save lives." message:
It's just about everywhere — and now it's being broadcast on trailers:
"Stay home. Save lives."
I totally disagree with this. The whole idea of "flattening the curve" has major flaws:
the first model that projected the death toll from coronavirus (COVID-19) was hugely exaggerated;
most cases of coronavirus (COVID-19) have been mild while those who have suffered greatly have had other health-related issues ranging from not having proper nutrients in their bodies to being obese or having pre-existing conditions or diseases;
the idea of people staying home en masse has produced numerous other problems ranging from physical and mental health problems to financial and business health problems;
none of the information that I've read on the websites of the CDC or WHO have addressed ways to boost the human immune system in order to make it less likely that one will become infected with coronavirus (COVID-19); and
those in top elected offices who have issued draconian shutdown, lockdown, quarantine, "stay-at-home," or "shelter-in-place" Executive Orders have violated their oaths of office to preserve, protect and defend the Constitution of the United States.
Recall that the Declaration of Independence reads (in part):
We hold these truths to be self-evident, that all men are created equal, that they are endowed by their Creator with certain unalienable Rights, that among these are Life, Liberty and the pursuit of Happiness.–That to secure these rights, Governments are instituted among Men, deriving their just powers from the consent of the governed,
At no other time in the history of the United States of America have elected officials ever once interfered so much in the lives of Americans in order to supposedly "save us" from some dreaded health-related outcome.
Quarantines are for the sick, not the healthy!
Furthermore, one resource states that "Around 74% of all deaths in the United States occur as a result of 10 causes" — identified as heart disease, cancer, unintentional injuries, chronic lower respiratory disease, stroke and cerebrovascular diseases, Alzheimer's disease, diabetes, influenza and pneumonia, and kidney disease.
Government can no more protect us from those conditions or diseases than it can protect us from coronavirus (COVID-19).
Indeed, it is U.S. government's place to "secure" Americans' God-given rights, not interfere with them.
6. Regarding a "$1,500 U-turn":
A truck driver made a U-turn on Montreal's Jacques Cartier Bridge and ended up receiving a $1,500 fine and four points on his driver's license.
Ouch!
The article does not say anything about posted signs regarding clearances in the area.
You may see the video here.
To prevent this kind of thing from happening, carefully plan your truck route using a truckers atlas, and never depend on any GPS unit too much.
7. Regarding so-called coronavirus impact on trucking:
Numerous articles written here, here and here reported that Travel Centers of America (TA) is laying off more than 3,000 employees — including 2,900 field employees and 122 corporate employees — across 260 TA, Petro Stopping Centers, and TA Express travel centers in 44 states and Canada.
We do read, though, that "All TA locations remain open, providing fuel, showers, restrooms, quick-serve restaurants and convenience stores to truck drivers hauling essential freight like food for grocery stores and medical supplies."
Land Line Magazine said that COVID-19 has hit the "entire transportation sector."
We read in an April 16, 2020, article: "From a 'disastrous' situation in the United Kingdom to 'a complete mess' in India, truckers around the world are bracing for financial ruin amid the fight against COVID-19, according to industry leaders."
An April 13, 2020, article says that the "coronavirus recession" is starting to catch up with the trucking industry — and in response to that, I must point out that it is elected officials who have shut down parts of the economy, not a virus.
Perhaps now is the time to consider starting to earn a second income that has the potential to become your primary income.
8. Regarding cost savings:
A recent article pointed out 4 cost savings from "Smarter Driving in Fleets."
9. Regarding truckers being screened:
An April 13, 2020, article asks if COVID-19 policies are violating truckers' privacy as "more and more shippers and receivers [are] requiring truckers to complete a health survey before being allowed on-site."
On April 12, 2020, it was reported that the New Mexico governor was planning to screen all travelers — including truckers — for fever, with National Guard enforcement.
Meanwhile, truckers were exempted from Utah's "unconstitutional" COVID-19 travel order, according to articles here and here.
In numerous places, including a truck stop in Hidalgo County, Texas, and entering certain places in New Jersey, people have been required to wear some kind of covering over their mouths and noses.
We read in articles here and here that "all essential workers" — including truck drivers — must now wear protective face covering when crossing from the U.S. into Canada.
10. Regarding reopening the American economy:
A number of important items were described in an April 16, 2020, article:
the "plan to reopen America's cratering economy" is to be rolled out in 3 phases;
unemployment "before" was 3.5 percent, but afterwards soared to 13.5 percent (and comparison numbers were given for 2008);
"relief stimulus" has started at the $4 trillion point;
"most trucking economists continue to forecast GDP to decline at an annual basis of up to 20 to 30 percent in the second quarter (Q2)"; and
"JPMorgan economists… now [expect] the economy will decline by 40 percent in Q2."
My husband Mike and I wish you — and all professional truck drivers — safe travels and lots of money saving opportunities on the road.
---
---
Return from TDMST Weekly Round-Up: 2020.04.18 to our TDMST Weekly Round-Up Trucking Commentary or our Truck Drivers Money Saving Tips home page.
---