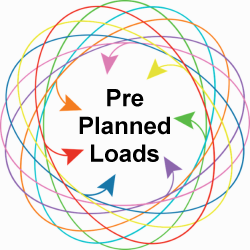 There are two types of dispatches for OTR truckers: pre planned loads and those not planned in advance.
When we drove team and later when Mike drove solo regionally, it was always good to have a "preplan" come through early enough to be able to determine whether it was possible to pick-up and deliver on time.
With advanced planning, we could also make other plans as well, as we'll describe below.
The alternative to advanced planning is playing the old "hurry up and wait" game.
A professional truck driver can "work his or her guts out" (proverbially) to get a load delivered on time and then be "rewarded" with not being assigned another load right away.
Pre Planned Loads and Utilization by Trucking Companies
Mike's most recent regional trucking company did not have a good system (in our opinion) of having enough loads going out of its main headquarters.
Sometimes he would be in a long line of drivers waiting (competing) for freight.
In our opinion, this situation fails to utilize the company's equipment and their drivers' time to optimum levels.
What was even worse for owner-operators is that they were in the same pool as the company drivers when waiting for freight!
No matter how large a company's sign on bonus is, owner-operators need to know whether or not a company that has both kinds of drivers has a "no preference" policy regarding assigning dispatches.
If you are an owner-operator who does not want to compete for loads with company drivers, you would do well to sign on with an all owner-operator company.
We know that trucking companies have a lot to juggle when it comes to matching loads with drivers.
Any pre planned load is only as good as a driver's ability to deliver the one just ahead of it. Any bump along the way can throw the whole schedule out of whack.
Advantages and Disadvantages of Pre Planned Loads
When a trucking company knows what it is doing, it keeps its drivers "loaded and rolling" with enough time for the drivers to get personal things done like eat, take showers and get good sleep.
Good dispatchers and preplanners who have been doing their jobs for any reasonable length of time know how long drivers are going to take to pick-up and deliver freight in certain areas of the country, depending on all the different factors that affect those areas.
One disadvantage of preplanned loads is pressure, pressure, pressure!
For example, a driver who wants to slow down long enough to do some laundry on the road may feel pressured to take another load right away.
A trucker can avoid feeling pressured to take a pre planned load immediately upon emptying out by letting his or her driver manager know in advance that he or she needs a breather between loads.
Once, Mike contracted a stomach virus on the road and needed a day to slow down and recover.
He advised his driver manager, who accommodated him.
(Hint: having a portable toilet in the truck really helped out!)
Another option to have a time sensitive load delivered on time (if it is available) is to "repower" it by passing it off to another driver at an agreed upon meeting place.
Timed Pre Planned Loads
Some loads that we took when we teamed for Swift were what were called "timed loads."
From the time we picked up a load, we had a certain number of hours to get it to its destination.
The ones that went straight across I-40 weren't too bad, but the one that stretched us went from Statesville, NC, to Kent, WA, in a time span of about 62 hours!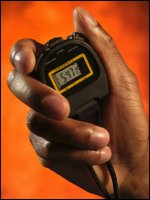 Once, we had been pre planned to pick up a timed load in Statesville, but the area had received rain the night before and then the temperature fell dramatically.
As you may know, this is the perfect set up for black ice (every driver's nightmare).
As Mike was driving and Vicki was sitting in the passenger seat, we were both watching the way the tachometer was jumping around.
This meant that the truck's drive tires were not able to maintain good traction.
Back in the early 1990s, the Qualcomm unit in our truck was not set to forbid use while the truck was in motion.
So Vicki sent a series of messages to our driver manager (aka "fleet manager") that there were slippery conditions with a forecast of black ice conditions, to be followed by gradual warming.
We decided — with our driver manager's full knowledge — to park in a truck stop and wait for the temperature to warm up.
We knew that the clock on delivering the load would not start until we picked up the load.
We weren't under the load yet, so a delay to wait for warmer temperatures wouldn't hurt us.
The next morning after the temperature had warmed up, we proceeded to the shipper's location.
We were so glad we had decided to park the rig the night before because we saw numerous vehicles in the ditches and median where they had spun off the road (similar to what is shown in this photo).
The only big rig we saw off the road as a result of that storm's black ice was a tanker in the median (which the driver managed to keep upright).
Still, the truck was going to have to get towed out (adding expense to someone's bottom line).
Some time after picking up our timed load, we were questioned by someone on the inside about why we didn't pick up the load right away.
We referred the person to the series of notes sent to our fleet manager and nothing more was said.
For what it's worth, we do not know what would have happened if we had not delivered a timed pre planned load within the time frame allotted.
We suppose that it could have bounced back on the company or on us.
Canceled Pre Planned Loads
One of the things that irritated Mike most was when
information about a pre planned load had been sent by Qualcomm,
he went through all of the mental calculations to determine if he could accept the load (arrive by the pick-up and delivery appointments),
he consequently accepted the load (and sometimes even started traveling in the direction of the shipper), and
then the load was subsequently canceled!
"No Freight"? Really? No Pre Planned Loads at All?
There were numerous times when Mike was driving regionally that he delivered a load on a Monday morning and then was told there was "no freight."
In cases like this, Mike would get "layover pay" for waiting until Tuesday morning for a load.
While being better than nothing, this small dab of money could not begin to pay him what he could have earned if he had been driving on Monday.
In the table below, we have compared layover pay of $50 with mileage pay in varying amounts.
You may customize your own table.
Here, we multiplied cents per mile by miles per day to calculate potential earnings per day.
Then, we subtracted potential earnings per day from layover pay to determine the loss in potential earnings that day.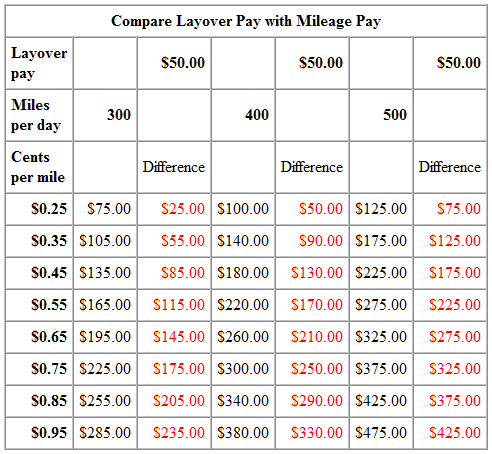 Load Boards
Once after Vicki had begun riding with Mike the second time we became homeless, he was told that there was "no freight" on Monday and to wait until Tuesday.
She found that claim hard to believe and used our laptop computer with mobile broadband service to access a free load board or two.
She found out that there was freight available!
Evidently, those were loads that Mike's company didn't want to take, possibly paying a lower rate than they wanted to be paid.
We know it is faster and easier for driver managers to say there is "no freight" instead of there is "no freight the company wants to take."
But it doesn't inspire confidence in a driver who wants to work and finds out that he/she can work if only the company will let him (or her).
How to Determine Timing for PrePlanned Loads
When a pre planned load comes through, a driver has to look at numerous things:
mileage;
route;
hours to travel;
hours available to drive with your Hours of Service remaining;
required stops, including for fuel;
personal business that must be done;
potential hindrances (like traffic congestion); and
giving a reasonable cushion or buffer of time.
Despite Best Efforts to Deliver a Pre Planned Load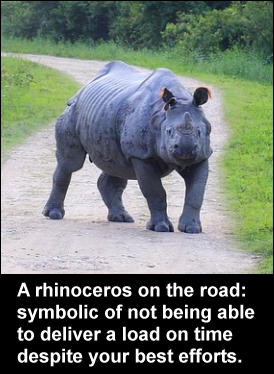 There were times — both when we were teaming and when Mike was driving regionally — that despite our best calculations and efforts, we were hindered from making a delivery by the appointment time.
Most often, the problem involved bad weather or abnormally long delays due to traffic congestion.
We always let our driver manager know when we were going to be delayed. Obviously, this was much easier after we had a cell phone in the truck.
In cases when we were delayed beyond our control, our driver manager got in touch with someone in the Customer Service Department to call the customer to let them know.
Load planning on the company's part can be "blown to smithereens" (destroyed) by a number of factors, including truck breakdowns.
When drivers do not arrive by the appointment time or by the end of the delivery window, they may have to wait to get unloaded.
Receivers try to schedule when loads arrive; if a load doesn't arrive on time, they may have to "work them in" when they do arrive.
When Drivers Fail to Plan Well on Pre Planned Loads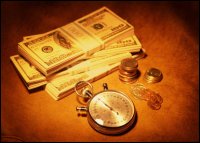 Mike's most recent regional trucking company had a contract with a home improvement store chain.
The company had an almost perfect on-time pick-up and delivery reputation and had received awards for this.
Of course, the biggest award was being given more of that chain's business.
Unfortunately, some truckers failed to plan well — or just got downright lazy — regarding pick-up and delivery appointments for this customer.
Because of this, the last we knew, the company was on the verge of losing some of that chain's business.
---

Money saving tip: A trucker who is truly a "professional truck driver" takes upon himself or herself the responsibility to do advanced planning to get the loads picked up and delivered by the appointments set.
There can be extenuating circumstances to delay a driver's progress down the road.
For example, in February 2013, a bad winter storm caused truckers to be "storm-stranded" along I-94 in the Minneapolis, Minnesota area.
Drivers should know when conditions are too bad to drive in. Don't try to be a hero.
And don't fall for pressure from anyone on the inside (because the STAA is on your side).
The fastest way to cool off a hot load is in a ditch. Pay attention to road closures due to blizzard conditions.
Listen to the weather channel on your CB radio or plan even farther out by downloading a weather app on your Smartphone. (Although not necessarily considered a "trucker app," Vicki's favorite weather app is WeatherBug.)
Stay in touch with your driver manager regarding your loads.
If there is anything that will disrupt your ability to deliver on time, let him/her know.
Your next pre planned load may depend on it.
---
Return from Pre Planned Loads: Pros, Cons and Tips for Truckers to our Truck Operations page or our Truck Drivers Money Saving Tips home page.
---