This is the TDMST Weekly Round-Up of news affecting professional truck drivers, written by Vicki Simons for the week ending May 26, 2018.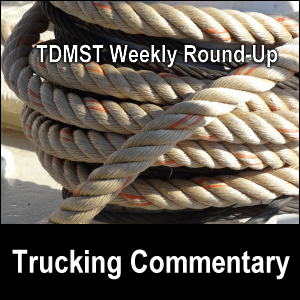 We welcome your comments, thoughts and feedback on the items of your choice below.
1. A May 17, 2018, article from AskTheTrucker.com states:
"We were told by those in Washington that it will take another surge of drivers (and those in support of state rights and fair wages) to call their Senators & Reps stating they are against the Denham and Fischer Amendments in the 2018 Federal Aviation Administration reauthorization bill (FAA bill)."
Please read the thorough info on the page and make your calls. This cannot wait.
2. Wow! This is going to be very interesting from the trucking side of things!
A May 18, 2018, article about "3D printing" — AKA "additive manufacturing" — states (emphasis added):
As exciting as additive manufacturing's potential is for parts and service providers, consumer thirst for instant gratification could be the real game changer for how products are made and distributed. As online retailers lower purchase-to-delivery times from two days to same day and even two hours, additive manufacturing could become a viable option. UPS operates more than 50 3D printing locations around the country where customers can print 3D CAD files. [Eric Starks, chairman and CEO of FTR, a leading industry transportation research and analysis firm] said the package giant is getting ready to launch a service where 3D printers mounted in delivery trucks can print a product while en route to the customer.
3. Ouch!
An article, published on May 18, 2018, revealed a series of boo-boos that ended up in a truck accident at about 4:45 a.m.(a)
Let's look at them:
– The trucker evidently had not routed himself before starting his trip.
– The trucker's GPS was on his phone, which had to be "looked down at" while he was driving.
– By virtue of the fact that the device led him to be on "some back roads on a route he'd never driven before", it is possible that the GPS was not programmed specifically for commercial motor vehicles (CMVs).
– The trucker didn't stop his truck to look at his phone.
– The truck "hit the bridge curb and rolled off the edge, falling down an embankment."
– The wreckage from the accident took "several hours" to clean up.
– About 75 gallons of fuel were spilled, probably requiring separate clean up.
What lessons can we draw?
– Use a truckers atlas to route yourself.
– If you must use a GPS, make sure it is programmed for Commercial Motor Vehicles.
– Make sure that your GPS unit is mounted on the dash so that it doesn't have to be held in one's hand.
– Don't become distracted even by a GPS unit.
– If you must consult a GPS unit more closely, stop your truck first.
– Things don't look the same in dim or dark hours, so pay close attention to what you're doing as a trucker.
4. The subject of the ELD mandate was not addressed in a May 22, 2018, article about how shippers and truckers are dealing with "soaring fuel and labor costs".
Among the highlights that were found in the article were:
– The "two largest trucking industry expenses" are labor and fuel;
– The reason cited for why drivers are leaving the trucking industry is "more time with their families" and "guaranteed home time every night";
– The ATRI's 2016 data stated that motor carrier expenses included:
– "Driver compensation" at 33 percent; and
– fuel, 21 percent;
– Because of the fastest rise in both of these costs in years, the price of goods is increasing; and
– "Reducing truckers' wait times at docks and reducing the number of days it takes for a trucking company to be paid are two ways shippers are working to attract truckers, [Josh Brogan, vice president of A.T. Kearney, a supply chain consulting firm in Atlanta] said."
5. Pressures that include the ELD mandate "have prompted customers to go the extra mile to make sure they can get drivers when they need them, whether by sprucing up break areas or taking steps to speed truck turnaround", stated a May 12, 2018, article.
Here are three great quotes that indicate that in a backwards kind of way, the ELD is having a tremendous impact on getting shippers and receivers to get their acts together regarding truckers:
– Cliff Finkle, vice president of Finkle Trucking, a New Jersey-based company with 250 rigs, on scoring shippers and receivers primarily with money: "I'm just going to say, 'Your place sucks, and if you really want me to go in there, I want an extra $300.'"
– Bob Costello, an economist with the American Trucking Associations trade group: "If shippers processed cargo more quickly, they could free up freight capacity as much as 20 percent."
– Drew McElroy, chief executive officer of Transfix, a startup that uses online technology to streamline bookings: "If a shipper in our network is a serial abuser of detention, we will not take their freight."
Truckers aren't taking this any more.
And they're letting their carriers and the industry know it.
It's about time!
6. This is one ramification that I didn't foresee from the ELD mandate and self-certification model: bailing out.
According to a May 24, 2018, article, "ONE20 Inc. has announced that they are going out of business and that their ELD devices and apps will soon be non-functional."
If you're a trucker who invested in a ONE20 ELD device and apps, would you please let us know how much — in terms of time and money — this is going to set you back?
7. A May 21, 2018, article said that West Virginia police have been issuing "a lot" of tickets to truckers who have been ignoring the "new truck detour route along I-77" near the border with Virginia.
Yes, we know that sometimes state DOTs are slow about taking down some signs, but never ignore at least two kinds of signs:
– Low clearance signs; and
– Detour signs.
This article didn't state how much the fine was for ignoring the detour sign. However, another May 21, 2018, article states that if the ordinance goes through, truckers could be "fined a minimum of $400 up to $1,000 or spend 60 days in jail" if they drive on Butts County, Ga., county roads.(b)
8. Here is a list of "Tips to protect cargo theft this Memorial Day weekend".
We also list some tips on our site.
9. "Mexican truckers are reportedly driving in fear due to an influx of highway robberies endangering their lives and the economy," stated a May 23, 2018, article.(c)
"According to reports Tuesday, nearly 3,000 Mexican truck drivers were held up in 2017. This is double the number of highway robberies from the previous year."
Ask your trucking company about the procedures they recommend when drivers encounter these types of situations.
10. Bendix issued some "CVSA Roadcheck reminders" in advance of the June 5-7 International Roadcheck event.(d)
They cover such topics as:
– Tires;
– Brakes; and
– Advanced safety systems.
11. Is it just me, or did the response from Elon Musk regarding a Tesla Model S rearending a fire truck that was stopped at a red light seem a bit callous?
In a May 14, 2018, article, we read: "The 28-year-old driver told investigators that the Tesla's semi-autonomous autopilot mode was activated, and that she was looking at her phone just before impact. The truck driver suffered whiplash in the crash, and the Tesla driver suffered a broken foot."(e)
"An impact at [60 mph] usually results in severe injury or death", he said — as though suffering a broken ankle was not all that bad in comparison.
What got me the most, though, was from his tweet, saying it was "super messed up that a Tesla crash resulting in a broken ankle is front page news and the ~40,000 people who died in US auto accidents alone in past year get almost no coverage."
OK, true, the tens of thousands of people who die in U.S. auto accidents is bad, but all of those happened in vehicles without "semi-autonomous" capability.
The Tesla not only had semi-autonomous (or autopilot) capability, but that mode was activated at the time of the crash!
That is the difference.
That is why this crash is newsworthy.
And that is why those who are programming these vehicles need to be ultra-mindful of their responsibilities — especially if this kind of technology is going to be powering big rigs one day.
Just saying…
My husband Mike and I wish you — and all professional truck drivers — safe travels and lots of money saving opportunities on the road.
---
---
Return from TDMST Weekly Round-Up: 2018.05.26 to our TDMST Weekly Round-Up Trucking Commentary or our Truck Drivers Money Saving Tips home page.
---
Reference
a. livetrucking.com/lost-trucker-drives-rig-off-bridge-after-looking-down-at-gps-for-directions/ (no longer online)
b. www.landlinemag.com/Story.aspx?StoryID=72348#.WwUgkXYh2M8 (no longer online)
c. www.oann.com/mexican-truckers-threatened-by-recent-increase-in-highway-robberies/ (no longer online)
d. www.thetrucker.com/News/Story/BendixCVSARoadcheckremindersfoundationcarematters (no longer online)
e. www.foxnews.com/auto/2018/05/14/tesla-that-crashed-into-truck-was-on-autopilot-driver-says.html (no longer online)