This is the TDMST Weekly Round-Up of news affecting professional truck drivers, written by Vicki Simons for the week ending October 10, 2020.
We welcome your comments, thoughts and feedback on the items of your choice below.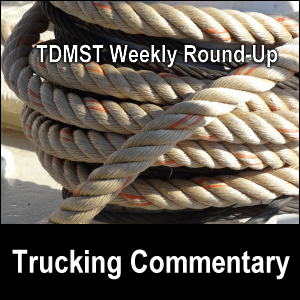 1. Regarding smuggling people and drugs:
In one of the 3 articles below, there is a report of a smuggling operation that led to the deaths of 39 people who were "baked" to death in a very hot trailer.
Ouch!
Not only is smuggling illegal, but I speculate that the trucker may eventually have murder charges brought against him.
The value of every single person is beyond price, so no amount of money that is promised can ever be worth treating people like freight or cargo!
Our deepest sympathy goes to the families of those who died.
---
Drugs
Don't haul illegal drugs, no matter how lucrative it seems.
Those who haul drugs illegally face the seizure of the drugs, an impounded truck, a criminal record, possible jail time, and the likelihood of never driving a commercial motor vehicle professionally ever again.
2. Regarding Hurricane Delta:
The following articles all focus on some aspect of Hurricane Delta in the Gulf of Mexico.
No matter where you drive, please plan ahead and take appropriate caution.
---
This article is good general knowledge:
3. Regarding event:
This event took place on October 4:
4. Regarding economy:
The following are the most recent articles about the economy, from the perspective of the trucking industry:
5. Regarding recall, right to repair, dock accident, accidents, and a nuclear verdict:
Recall
---
Right to Repair
---
Dock Accident
---
Accidents
---
Nuclear verdict
Regarding the first article in this section, I wrote the following comment on Facebook:
Concerning "a $411,726,608 verdict in favor of Duane Washington for injuries he received in a 45-vehicle pileup in 2018," do you mean to tell me that it costs that much to help him recover?

And if the trucking company didn't have insurance coverage that high, how is a payout ever going to happen?
6. Regarding operations, trucking and brokers:
Operations
---
Trucking
---
Brokers
From the article The Broker Empire Strikes Back, we read (emphasis added):
Let's get back to ArcBest's looney $500,000 per-broker, per-year assertion. In contrast, Choptank and Trinity say costs would range from $2,500 to $10,000 on a one-time basis. In reality, there would be no setup costs at all. All that's required to meet the proposed rule is email – the method used to trade documents with carriers 99% of the time. Brokers already have the resources to meet the proposed requirement.
In response to this article, FMCSA to hold broker transparency listening session Oct. 28, I hope this listening session is packed out with owner-operators and independent truckers who are actually using brokers!
7. Regarding electric, BEV, fuel and energy:
Electric
---
BEV (Battery Electric Vehicles)
---
Fuel and energy
From the article How Trailers Are Harnessing 'Free' Energy, we read:
Ecolution KWH is an e-mobility and power company that has received a U.S. patent for reusing wasted kinetic energy in refrigerated trailers. When combined with an electric or hydrogen-fueled truck, the company says, the Ecolution trailer accomplishes a total elimination of carbon emissions.
That sounds cool!
8. Regarding employment:
9. Regarding inspections, safety, shipping, returns, technology and hacking:
Inspections
---
Safety
---
Shipping
---
Returns
---
Technology
---
Hacking
10. Regarding last mile or final mile:
11. Regarding politics and roads:
Politics
---
Roads
12. Regarding theft:
Please use best practices to protect the following from theft:
your tractor,
your possessions,
your trailer, and
the cargo within.

My husband Mike and I wish you — and all professional truck drivers — safe travels and lots of money saving opportunities on the road.
---
---
Return from TDMST Weekly Round-Up: 2020.10.10 to our TDMST Weekly Round-Up Trucking Commentary or our Truck Drivers Money Saving Tips home page.
---