This is the TDMST Weekly Round-Up of news affecting professional truck drivers, written by Vicki Simons for the week ending March 18, 2017.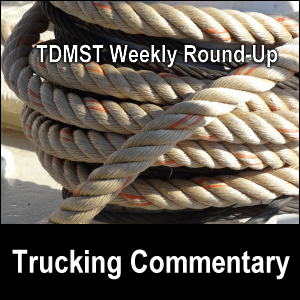 1. Here are a few questions for the Senate subcommittee regarding the "Safety technologies such as forward collision avoidance systems, lane departure warning systems and automatic emergency braking" that were described in a March 17, 2017, article:
How much extra will it cost per truck?
What is the expected Return on Investment (ROI)?
If the "other vehicle" involved in a crash with a big truck is at fault in about 80% of the "other vehicle"/truck crashes, how will this protect all concerned?
By the way, OOIDA was calling on members to demand representation in the Senate hearings.(a)
Please share your thoughts below.
2. Owner-operators, how long would it take for you to realize a profit from the purchase of a new truck if it could save you, say, 14 percent in fuel economy, as described in this March 16, 2017, article?
Please share your thoughts below.
3. Punctuation matters!
A "missing comma" gave rise to a "dispute between a Maine dairy company and its delivery drivers."
According to a March 15, 2017, article, "Essentially, the district ruled that drivers fell within the state's exemptions for overtime. Judge Barron disagreed, citing the lack of a comma that made the law ambiguous and ruled in favor of the drivers."(b)
Truckers, it pays to read and thoroughly understand the contracts that you agree to work under.
Please share your thoughts below.
4. A new Facebook page called "Kill Federal Overreach on Trucker Wages" has been created to gather support from professional truck drivers to fight any attempt to further suppress their wages.
See this post from AskTheTrucker.com for more information.
askthetrucker.com/ata-counting-on-driver-apathy-to-get-anti-trucker-bill-passed/ (no longer online)
5. Winter Storm Stella dumped more than a foot of snow — and in warmer areas freezing rain — in the New England area earlier this week.
The storm forced road closures and tractor-trailer bans on some interstate highways in New York.
Truck restrictions and travel bans were also announced in Pennsylvania, New Jersey and Connecticut, according to a March 14, 2017, article.
Other states had already been impacted by the storm.
According to this March 15, 2017, article, "More than 20 trucks were stuck in the snow at the rest area near Berwick for more than 30 hours" and one trucker's snow chains didn't help.
If you were forced to wait, what did you do with your time?
Was this the perfect time to work to earn a second income from the cab of your truck?
Please share your thoughts below.
6. What are your thoughts on "truck platooning" and "Cooperative Adaptive Cruise Control technology," as described in this March 14, 2017, article?
Please share your thoughts below.
7. As good as the list of safety tips for driving in high winds is, it's difficult to drive a high profile truck when the winds are blowing up to 81 mph.(c)
How high do the winds have to be blowing for you to park your truck, especially when your trailer is empty?
Please share your thoughts below.
8. The Commercial Vehicle Safety Alliance (CVSA) will hold its 72-hour "International Roadcheck inspection blitz" on June 6-8, as reported here.
The focus of this event will be "load securement," a tips document of which was online.(d)
According to this March 13, 2017, article, "Inspectors will mainly be conducting a North American Standard Level I Inspection, which is the most thorough roadside inspection. It's a 37-step procedure that includes an examination of both driver operating requirements and vehicle mechanical fitness."
The article lists the items that may be examined during such an inspection, a list of all inspection levels and what they cover being here.
Even if you are skilled in cargo securement, do you think that it is wise to review best practices?
Please share your thoughts below.
9. A March 10, 2017, article written by Sarah Allen of DAT asks and answers the question, "Should I use a GPS for Fuel Taxes?" It addresses using GPS technology for tracking mileage.
In that regard, I feel compelled to ask this:
Since we are now in the 21st century when GPS technology is available, why are some truckers being paid according to the Household Movers Guide instead of by GPS miles or hub miles?
Why aren't truckers being paid for every inch they move their trucks?
Please share your thoughts below.
10. A trucker is facing charges of "criminal mischief" for refusing to have his truck towed during a snowstorm and "contributing to a traffic jam" that trapped "more than 300 people" on the highway, some of whom were stuck there for "more than 12 hours," according to a March 18, 2017, article.
The trucker had other issues.
However, be aware that impeding the flow of traffic on a road can lead to an arrest.
Please share your thoughts below.
11. According to a March 17, 2017, column (which may be a bit satirical),
"True, advocates of robotic drivers can point to elimination of human error; but such gains may be illusory. … The economic windfall for trucking conglomerates might be short-lived. One pundit has pointed out that since the robots replacing humans in factories and elsewhere aren't paying income tax, Social Security, property tax or sales tax, the government will eventually have to reconfigure things to keep the economy from collapsing."(e)
Do you agree or disagree?
Please share your thoughts below.
12. Owner-operators, have you experienced an increase in costs due to repairs and maintenance of your truck?
If so, has the emissions system been the cause of much of that increase, as this March 17, 2017, article indicates?
ttnews.com/articles/basetemplate.aspx?storyid=45268 (no longer online)
Please share your thoughts below.
On behalf my husband Mike and me, we wish you safe travels and lots of money saving opportunities on the road.
---
---
Return from TDMST Weekly Round-Up: 2017.03.18 to our TDMST Weekly Round-Up Trucking Commentary or our Truck Drivers Money Saving Tips home page.
---
Reference:
a. www.landlinemag.com/Story.aspx?StoryID=33006#.WM3PavJhMUM (no longer online)
b. tandemthoughts.landlinemag.com/in-the-courts/wages-v-oxford-comma/ (no longer online)
c. www.worktruckonline.com/channel/safety-accident-management/news/story/2017/03/safety-tip-driving-in-high-winds.aspx (no longer online)
d. cvsa.org/wp-content/uploads/2017-CargoSecurement-Flyer.pdf (no longer online)
e. www.benningtonbanner.com/stories/will-the-nations-truckers-be-replaced-by-robots,501585/ (no longer online)