This is the TDMST Weekly Round-Up of news affecting professional truck drivers, written by Vicki Simons for the week ending October 24, 2020.
We welcome your comments, thoughts and feedback on the items of your choice below.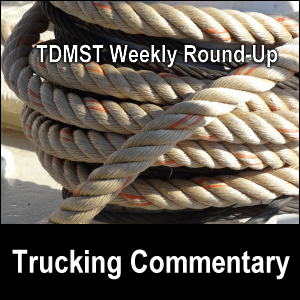 1. Regarding Distracted Driving Awareness Month:
Lytx recently sent an email in which they stated, "October is… the National Safety Council's official distracted awareness month. This issue impacts everyone on the road, so we put together a plethora of resources to help you tackle this issue."
Speaking of distracted driving, we learned how Police [ticketed] 32 drivers for using phones to record fatal 3 semi truck crash
2. Regarding CARB's warnings and fines:
The California Air Resources Board (CARB) has been cracking down:
3. Regarding low clearance accidents, illegal actions, and staged crashes:
Low clearance accidents
Always, always, always engage your brain and don't rely on technology — especially technology that is not designed for big rigs — when you're driving a big truck!
Infamous bridge strikes again for poor 'lost' driverQuote:"A semi truck struck the 11 foot 6 inch railroad bridge on Young Street in Tonawanda, New York at around 6:45 p.m. on Tuesday, October 20th, making it somewhere around the 60th time the bridge has been struck since 2000, reported WYRK News. "
Semi truck strikes bridge after driver "ignored the signs," police sayQuote:"29-year-old truck driver Thomas Bayavuge told police that he had been following GPS directions and ignored the signs with flashing lights warning of the low clearance. …

"This incident comes just two weeks after a box truck struck the same bridge while also following GPS instructions."
---
Illegal actions
---
Staged crashes
4. Regarding autonomous vehicles:
To keep you informed, here's the most recent news about autonomous vehicles:
5. Regarding Drug and Alcohol Clearinghouse content and disputes:
What information is included in the FMCSA's Drug and Alcohol Clearinghouse?
If you find inaccurate information, how can you dispute it?
Also, check out this article:
What medications can cost you your CDL?
6. Regarding economy:
Here are some of the most recent articles about the economy from the perspective of the trucking industry:
7. Regarding electric trucks, fuel, technology:
Electric trucks
---
Fuel
---
Technology
8. Regarding inspections and insurance:
9. Regarding money and politics:
10. Regarding protests and violence:
Protests
Should passengers be on roads where they are prohibited? NO!
I posted this on Facebook on October 22:
Aren't there signs along that interstate prohibiting pedestrians?

The image linked here is from Wikipedia and the file name is Freeway Entrance Sign Minnesota.
Yet, one trucker is facing charges for driving into gathered protesters who were on an interstate highway in Minneapolis, Minnesota!
Oh, Father, God, please vindicate this trucker, I pray!
---
Violence
Please do everything you can to protect yourself and your truck from violence.
11. Regarding operations, safety, theft, tires and tolls:
Operations
---
Tires
---
Tolls
12. Regarding travel and weather!
Please be careful everywhere and every time you drive.
Pay attention to weather forecasts and road conditions.
If you need to do so, park safely and legally until conditions improve.
Remember: No load is worth your life!
My husband Mike and I wish you — and all professional truck drivers — safe travels and lots of money saving opportunities on the road.
---
---
Return from TDMST Weekly Round-Up: 2020.10.24 to our TDMST Weekly Round-Up Trucking Commentary or our Truck Drivers Money Saving Tips home page.
---