This is the TDMST Weekly Round-Up of news affecting professional truck drivers, written by Vicki Simons for the week ending April 2, 2022.
We welcome your comments, thoughts and feedback on the items of your choice below.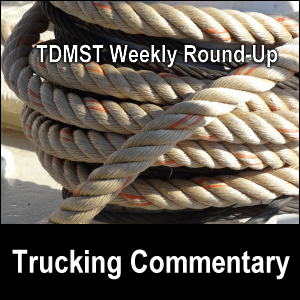 1. Regarding fuel, oil, inflation, recession, and economy:
You may or may not have heard that the leader of Russ!a has tied the currency of his country to gold, which means that the U.S. dollar — which is tied to nothing tangible — may become even more worthless than it has become since 1913.
I'm not sure what will happen economically in the USA, but I think that the loose fiscal policy of the federal government of the USA that has happened over decades will lead to greater and greater financial turmoil in the days to come.
Truckers, please prepare as best as you can.
Fuel
Although I'm sure the percentage has changed since then, a May 2019 article states: "More than 97 percent of all U.S. Class 8 trucks run on diesel fuel."
A February 2022 article states: "Today's advanced diesel engines offer customers more fuel efficiency, more productivity and lower operating costs compared to previous generations of the technology."
Obviously, there are more fuel options than there used to be, but obviously, all transportation sectors require fuel of some kind to run.
Being energy independent is a goal that every nation should have.
Here are some of the most recent articles about fuel, fuel costs, fuel standards, fuel taxes, and more.
---
Oil
I totally disagree with tapping oil reserves to relieve the financial pain that was caused by faulty energy policies.
Energy policies need to be evaluated from all sides, not just to uphold a political agenda.
---
Inflation
---
Recession
---
Economy
2. Regarding autonomous vehicles, electric vehicles, and emissions:
Autonomous vehicles
I am providing these articles as a courtesy even though I totally disagree with autonomous, self-driving, or driverless commercial motor vehicles being on the roads with the motoring public.
---
Electric vehicles
---
Emissions
3. Regarding supply chain, capacity, and rates:
Supply chain
---
Capacity
---
Rates
4. Regarding accidents, accidents – bus, accidents – PA, and roads:
Accidents
Please look through these articles to see what led up to the accidents so that you do not duplicate the set-up and get involved in an accident yourself.
---
Accidents – bus
Why are we seeing more accidents between trucks and buses these days?
---
Accidents – PA
Our deepest condolences go to the families of those who died in this massive accident.
---
Roads
Please be aware of the various closures in place for various reasons.
5. Regarding drugs, smuggling, violations, theft, and staged:
Drugs
Never, ever agree to haul illegal drugs, no matter how big of an incentive you are offered!
---
Smuggling
Never, ever agree to haul human beings like they are cattle or cargo!
---
Violations
---
Theft
---
Staged
6. Regarding business, AB5, bankruptcy, and efficiency:
Business
---
AB5
---
Bankruptcy
---
Efficiency
7. Regarding legal, FLSA, convoy, and surcharges:
Legal
---
FLSA (Fair Labor Standards Act)
---
Convoy
There was a great deal of news about the Canadian convoy.
What has been the impact of the convoy in the USA?
Please comment through the form below.
---
Surcharges
8. Regarding technology, training, and Werner:
Technology
---
Training
---
Werner
What are your thoughts on this?
Please comment through the form below.
9. Regarding innovation, solar, insurance, inspections, and safety:
Innovation
---
Solar
---
Insurance
---
Inspections
If you continually maintain your truck so that you're always ready for an inspection, you'll never dread one of the "blitzes" that take place.
Please be aware, though, that some inspectors have an axe to grind and "find" things over which to put trucks "out of service."
If you know of locations like this, please let us know!
---
Safety
10. Regarding last mile, operations, separations, regulations, recall, and parts:
Last mile
---
Operations
---
Separations
---
Regulations
---
Recall
---
Parts
11. Regarding shortage, recruitment, and home time:
Shortage
---
Recruitment
---
Home time
12. Regarding awards:
Congratulations to those truckers who have been recognized for their skills!
We also recognize those who helped out their fellow human beings who were in a time of need.
My husband Mike and I wish you — and all professional truck drivers — safe travels and lots of money saving opportunities on the road.
---
---
Return from TDMST Weekly Round-Up: 2022.04.02 to our TDMST Weekly Round-Up Trucking Commentary or our Truck Drivers Money Saving Tips home page.
---