This is the TDMST Weekly Round-Up of news affecting professional truck drivers, written by Vicki Simons for the week ending December 12, 2020.
We welcome your comments, thoughts and feedback on the items of your choice below.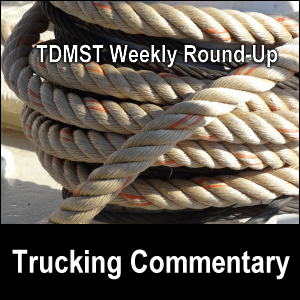 1. Regarding award and giveaway:
Our heartiest congratulations go to the professional truck driver who has been named as the winner!
---
Giveaway
According to Pilot Flying J holds Hauliday Giveaway: through Saturday, Dec. 12:
"Pilot Flying J will ask a question on its Facebook page in its Hauliday Giveaway post for professional drivers";
"To enter, drivers need to answer the question in the comments of the post within 24 hours for the chance to win that day's prize"; and
"Prizes include inverters, radios, GPS units, and Pilot Flying J gift cards."
2. Regarding economy, employment, AB5, travel:
Economy
---
Employment
---
AB5
---
Travel
3. Regarding accidents and violations:
Accidents
These two articles refer to the same accident:
Quote from the first article listed above:
A preliminary investigation by Indiana State Trooper Brandon Johnson revealed that the tractor was initially traveling eastbound on I-90 in the left lane when, for reasons unknown, the truck went off the edge of the road onto the soft shoulder.
Comment: This accident is still under investigation.
No matter where you drive:
do not allow yourself to become distracted;
do not swerve to avoid hitting an animal in the road; and
watch your lane control at all times.
---
Violations
I'm super glad that this requirement is being sunsetted!
FMCSA to abolish driver requirement to list traffic violations
4. Regarding COVID-19 and face masks:
Remember that once a vaccine is injected into your body, the ingredients may:
take over your body (be life-altering) and
cause irreversible, life-long consequences that can be far more critical to your health, your earning capability, and your future than you could ever imagine.
Quoting StandForHealthFreedom.com:
"COVID-19 vaccines must be voluntary!"
"Personal choice, not public pressure or coercion, must be the only factor in getting the vaccine."
"No pharmaceutical product should ever be forced, especially a fast-tracked, experimental vaccine that's free from liability for any harm it might cause!"
There are far better ways to stay healthy than having a man-made concoction injected into your body!
Support and work with your body's immune system, not against it.
I am listing these articles about COVID-19 as a courtesy so that you may keep up with the most recent information:
---
Face masks
Just so you know, in the course of his independent contractor work this week, my husband Mike talked with a woman who said she had:
worn a face mask "all the time,"
came down with COVID-19 anyway, and
spent 3 days in the hospital!
He told her that by wearing the face mask, she had
restricted the amount of oxygen that her body was getting,
breathed in an increased amount of carbon dioxide (and other things that her body was trying to get rid of), and
had induced her own sickness!
She had never made the connection, but was so glad to be able to breathe freely again!
The human body was designed to breathe in oxygen!
5. Regarding drugs and smuggling:
Never, ever haul illegal drugs or smuggle humans!
Drugs
---
Smuggling
6. Regarding ELDs, technology, tolls, UCR, and wait times:
ELDs
---
Technology
---
Tolls
---
UCR
---
Wait times
7. Regarding fuel, electric trucks, and emissions:
Fuel
---
Electric trucks
---
Emissions
8. Regarding insurance, parking, theft:
Insurance
---
Parking
---
Theft
If you are a company driver, ask your driver manager (or perhaps someone in a position higher up in your company), what they recommend that you do to protect yourself, your truck, and the freight you are hauling from thieves.
9. Regarding recalls:
10. Regarding roads, snow chains, winter and weight:
Roads
---
Snow chains
---
Winter
---
Weight
11. Regarding rates, taxes, supply chain:
Rates
---
Taxes
---
Supply chain
12. Regarding year-end and planning;
Take some time to plan things that you need to do before year end, including making sure that your records are in order.
My husband Mike and I wish you — and all professional truck drivers — safe travels and lots of money saving opportunities on the road.
---
---
Return from TDMST Weekly Round-Up: 2020.12.12 to our TDMST Weekly Round-Up Trucking Commentary or our Truck Drivers Money Saving Tips home page.
---