This is the TDMST Weekly Round-Up of news affecting professional truck drivers, written by Vicki Simons for the week ending July 28, 2018.
We welcome your comments, thoughts and feedback on the items of your choice below.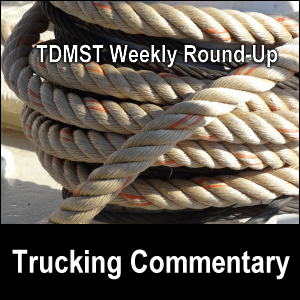 1. In the excellent July 22, 2018, article on AskTheTrucker.com, we read two noteworthy sections:
"In 1980, the average trucker in America was making an annual salary, adjusted for inflation, equal to more than $110,000 today. Twenty-five years later, truckers make on average about $40,000 a year, working harder, longer hours, and with less job security."
askthetrucker.com/the-big-connection-driver-shortage-elds-and-trucker-wages/ (no longer online)
Allen Smith states that there is no driver shortage in the trucking industry, but that there is a retention problem.
"So the question is this," he wrote. "If drivers were paid what they were worth ( INCLUDING being paid for ALL time), treated with more respect by their employers and customers, and offered realistic benefits, would there be:
1) A Driver Shortage
2) Lower Turnover
3) High Retention
4) Such a disdain for ELD's?

"Here's a question we offered drivers last month on FaceBook.
How much do you think the average OTR DRIVER should be Earning/ year?"
So, we in turn ask you: How much do you think the average OTR trucker should earn per year?
Please comment below.
2. Wherever you drive — including at low speeds in truck stops — please be mindful of the space around your truck.
A truck cam video revealed how one trucker who had parked was run into by another truck in a truck stop.
Ouch!
Take the time you need to move safely, even in truck stops.
If you need to GOAL (Get Out And Look), please do so.
And for heaven's sake, slow down in construction zones!
One trucker did not and the crash in Nevada ended up killing two people.
Our condolences go to their families.
3. According to Wikipedia, "A move over law is a law which requires motorists to move over and change lanes to give safe clearance to law enforcement officers, firefighters, ambulances, utility workers, and in some cases, tow-truck drivers."
On July 19, 2018, an article stated:
"Troopers from Indiana, Ohio, West Virginia, Kentucky, Michigan and Pennsylvania will be conducting state-wide patrols targeting violations of the 'Move Over' laws in each of those states beginning Sunday, July 22 … [in order to] … reduce the number of senseless tragedies because someone did not provide the necessary, and required room for our emergency and service personnel while they work alongside our roadways."
If you have not started scanning ahead to see what's up the road, please learn to do this so that you can safely move over for workers on the shoulder.
4. Here are "7 easy tips for saving money when you eat out".
Do you agree or disagree with them?
Is anything missing from the list?
5. I thought that autonomous trucks would be about as driver-free as freight could get.
However, the same kind of vacuum technology that is used by some banks for drive-in customers to transport their transaction materials into the building is being looked at for transporting passengers and freight long distances.
A July 20, 2018, article states:
"Hyperloop developers are proposing a network of large, tubes — sort of like a massively over-sized oil pipeline — that would crisscross the country and — one day — the entire planet.
"The trick here is that the environment inside the actual Hyperloop tube itself is an artificially created vacuum along with transport pods which could accommodate either passengers or freight."
To me, this sounds like one step closer to the (current) science fiction concept of teleporting, where people and objects are "transported across space and distance instantly."
It sounds like science fiction now, but I have no doubt that with our insatiable appetite for instant gratification, a system of transportation like this will one day become reality. The only issue is, what will happen to current transportation via air?
With vacuum tubes in the air, how can planes take off and land?
Or will the tubes be far enough away such that this will be a moot point?
Hmm…
6. Although a July 25, 2018, article stated that Goodyear's "new wide-base tires for long-haul trucks are being touted to save carriers money on both fuel and downtime….", there were no numbers cited as to how big the savings might be.
Hmm…
7. "The Illinois State Police (ISP) has announced that they are riding along in semi truck to try to catch car drivers in the act on I-57 this week," stated a July 25, 2018, article.
Furthermore, we read from a July 23, 2018, article: "Troopers are hiding in PennDOT trucks to catch speeders through Saturday".
Good!
However, here's an idea that may or may not work that wouldn't require law enforcement officials to actually ride in the trucks:
Why not have truckers submit recordings from their truck cams to the police?
If the recordings are clear enough, tickets could be issued to offenders, right?
8. Oh, this is interesting…
In a July 25, 2018, article about "Using hours of service's personal conveyance [provision] under ELDs", we read that "two key elements must apply":
– "the driver must be off duty"; and
– "the movement of the vehicle must be for personal purposes only".
The article stated that the FMCSA "in late May announced it would allow drivers to enter into personal conveyance status to find the nearest safe location to park or rest should their hours be exhausted by detention at a shipper or receiver."
The article provided examples of "proper" and "improper" use of the personal conveyance provision.
It is a fact that all driving time is supposed to be monitored on an ELD in trucks equipped with one.
However, I previously covered the inconsistency of at least one trucker who unplugged his ELD in order to drive his rig.
In this case, one must be careful to follow the "letter of the law" (so to speak) regarding intent of truck movement under the personal conveyance provision.
To me, this inconsistency is another reason why the entire ELD mandate needs to be overhauled or eliminated.
9. What is described in a July 24, 2018, article about truckers having an "exit plan for the future" is another reason why we developed the website SecondIncomeForTruckers.com.
10. Did you know that an engine's cooling system can degrade over time because water that is added to top off the coolant level dilutes the coolant and affects the coolant's "freeze and boil protection"?
Read more about this topic in this July 23, 2018, article.
11. In the past, I have railed against trucking companies that exhibit stupid behavior.
This was certainly the case when one trucking company continued to employ a trucker who was on drugs, had a history of moving violations, and was driving despite being on probation!
The man who was hit by the trucker in 2013 was awarded a "record setting" $101 million.
The July 25, 2018, article asked if readers thought the "amount awarded was too large", but previously described what the victim underwent:
"suffered multiple back and neck injuries, ultimately resulting in chiropractic work and several surgeries."
No, I don't think the award amount was too large.
Once someone's back and neck are injured, it's hard (if not impossible) to return to life as it was previously enjoyed.
If this reckless (greedy?) trucking company who indirectly caused this pain and suffering has to close down, so much the better.
Trucking companies ought to know better!
12. An article published on July 25, 2018, stated, "…Team RunSmart's Jeff Clark tweeted this week that he'd just achieved his first-ever 10 mpg run in his 2018 Freightliner Cascadia tractor."
Congratulations!
Speaking of fuel efficiency, you may watch a short video about "Shell's Fuel-Saving Starship Concept Truck."
My husband Mike and I wish you — and all professional truck drivers — safe travels and lots of money saving opportunities on the road.
---
---
Return from TDMST Weekly Round-Up: 2018.07.28 to our TDMST Weekly Round-Up Trucking Commentary or our Truck Drivers Money Saving Tips home page.
---