This is the TDMST Weekly Round-Up of news affecting professional truck drivers, written by Vicki Simons for the week ending February 27, 2021.
We welcome your comments, thoughts and feedback on the items of your choice below.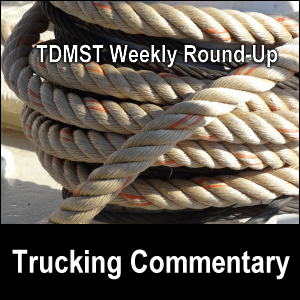 1. Regarding annual bottleneck report:
As the organization does every year, the American Transportation Research Institute (ATRI) has released their list of the top 10 most congested "bottlenecks" in the USA.
There are a couple of ways to conquer bottlenecks:
Either route yourself around them (which may or may not be practical — and which may add miles to your route);
Or go through the bottleneck area at a less congested time.
Regarding the "extra miles" argument, one has to weigh the "time factor" of going through a bottleneck versus going around it.
As we describe on our "air quality" page:
For example, once Mike needed to make a trip from Milford, Connecticut to Greensboro, North Carolina during one driving period. By the shortest practical route, the trip is about 605 miles. In order to make sure that he made good time, he had to time leaving Milford such that he could avoid rush hour in and around New York City, Washington, DC and Richmond, VA. By leaving very early in the morning, he was able to do so.
2. Regarding economy, employment, business, commercialization, and consumers:
Economy
---
Employment
---
Business
---
Commercialization
---
Consumers
3. Regarding accidents:
Please learn what you can from the situation described in these articles and actively work to prevent being involved in any kind of accident.
DUI
---
Multi-vehicle
---
Lawsuit
---
Train
Never try to "beat a train" or take a tractor trailer over an elevated train track (upon which your truck can get stuck).
Another term used to describe trucks getting stuck on elevated train tracks or rails is being "high-centered."
For your convenience:
4. Regarding COVID-19 vaccinations and testing:
In response to the question asked and "answered" here — FAQ: Can Trucking Companies Require Drivers to Get COVID-19 Vaccine? — there's more information that you need to know:
Not So Fast!
Covid vaccine: You can't sue Pfizer or Moderna over side effects
cnbc.com/2020/12/16/covid-vaccine-side-effects-compensation-lawsuit/ (no longer online)
Other articles include:
I'm not saying not to get the COVID-19 vaccine, just go into vaccination having done your due diligence, with your eyes wide open, and realize the potential consequences, especially since organizations pushing the vaccines have been heavily funded by a depopulationist (someone who wants to see people die), who wants a return on his investment into vaccines.
Whether or not you realize it, good health is worth more than gold.
When you have a vaccine injected into your body, you have no control over what happens from there.
Protect your physical health asset!
---
COVID testing
5. Regarding border, inspections, move over, insurance, move over, operations, routing, and speed:
Border
---
Inspections
---
Move Over
---
Operations
---
Routing
---
Speed
6. Regarding drugs and smuggling:
Never smuggle drugs, no matter how much money you are promised.
7. Regarding technology, ELDs, innovation, and recall:
Technology
---
ELDs
---
Innovation
---
Recall
8. Regarding fuel and repairs:
Fuel
---
Repairs
9. Regarding pay, tolls, preparedness, and taxes:
Pay
---
Tolls
---
Preparedness
---
Taxes
10. Regarding regulations, protesters, violence, and theft:
Regulations
---
Protesters
---
Violence
---
Theft
11. Regarding weather:
12. Regarding awards/recognition and music:
We extend our heartiest congratulations and praise to those who help truckers and others:
Award
---
Music
My husband Mike and I wish you — and all professional truck drivers — safe travels and lots of money saving opportunities on the road.
---
---
Return from TDMST Weekly Round-Up: 2021.02.27 to our TDMST Weekly Round-Up Trucking Commentary or our Truck Drivers Money Saving Tips home page.
---