This is the TDMST Weekly Round-Up of news affecting professional truck drivers, written by Vicki Simons for the week ending January 23, 2021.
We welcome your comments, thoughts and feedback on the items of your choice below.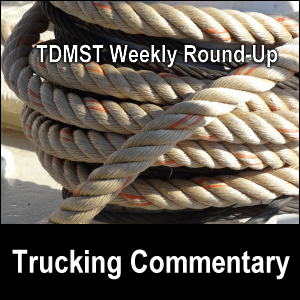 1. Regarding politics and truckers' slow roll:
Politics
This week, a new President of the United States was sworn into office.
While there may be widespread despair over what led up to this event, this is not the time to back down!
It is more important than ever for truckers in the USA to contact their elected officials — on federal, state, and local levels on a regular basis — and press for what is right.
Most officials on the federal level have multiple offices, so feel free to contact them at both their local office and office in Washington, DC.
Also, don't forget to contact those in offices that cover transportation.
While many articles have been written about appointments for top transportation posts, I will limit them to these.
---
Truckers' Slow Roll
This is one way to get attention, but is it the most effective?
Please comment through the form below.
2. Regarding accidents, set-up for accident, and GPS:
Accidents
Please familiarize yourself with the various kinds of trucking accidents that take place and learn what you can do to either eliminate them or make them less severe.
---
Set-up for accident
It has been written many, many times about not being distracted while driving.
And while we have written about preparing food and recipes in one's truck — including using hands-free meal preparation — including using a crock pot — pay attention to this…
Never, ever, EVER cook while you're driving such that you are distracted!
The trucker in this video thinks he is being clever, but he is setting himself up for a huge accident!
Trucker cooks while driving his big rig
---
GPS
Learn how to use a Motor Carriers Atlas (truckers' atlas) and if you must use a GPS, make sure it is specifically designated for Commercial Motor Vehicles and has big truck routing.
Using the wrong kind of GPS unit as a trucker will eventually lead to an accident.
3. Regarding autonomous vehicles, drones, and technology:
Autonomous vehicles
I am sharing these as a courtesy to keep you informed.
---
Drones
I am also sharing these as a courtesy to keep you informed.
---
Technology
Which of these sound helpful to you?
4. Regarding crime, violence and training:
Crime
---
Violence
---
Training
Navigating protests
Other kinds of training
5. Regarding operations, maintenance, snow chains, recall:
Operations
---
Maintenance
---
Snow chains
---
Recalls
6. Regarding economy, pay, rates, tolls, predictions, and classification:
Economy
---
Pay
---
Rates
---
Tolls
---
Predictions
---
Classification
7. Regarding emissions, fuel, batteries:
Emissions
---
Fuel
---
Batteries
8. Regarding regulations, break, face masks, and nuclear verdicts:
Regulations
---
Break
---
Face masks
Please refer to these two previous TDMST Weekly Round-Up trucking commentaries about what wearing face masks do: 2020.05.30 and 2020.12.12.
Eventually, I think we're going to start seeing more accidents involving people driving while wearing a face mask — especially double face masks!
Wearing a face mask deprives the wearer's brain of oxygen and decreases his/her cognitive ability.
If you are involved in an accident with a driver of any vehicle, make sure that you find out:
Was the driver wearing a face mask?
If an ambulance is called, what is the driver's level of oxygen under his/her mask and in his/her blood?
---
Nuclear verdicts
9. Regarding relief, retention, and risk:
Relief
OOIDA: Truckers need tangible relief, likes suspending HVUTI agree with suspending HVUT for a year and restoring company truck drivers' ability to deduct from their taxes meal expenses incurred while on the road.

I totally disagree with "pandemic relief" because regulations restricting truckers need to be removed across the board instead of providing spot assistance here and there that comes out of the pockets of the taxpayers.
---
Retention
---
Risk
10. Regarding roads, speed, drugs, smuggling:
Roads
---
Speed
---
Drugs
Don't haul illegal drugs!
---
Smuggling
Don't haul people like they are cattle!
Furthermore, don't give a ride to anyone not authorized to be in your truck.
11. Regarding humor to get the message across:
My favorite Witty one-liners [on] America's highway signs are these:
Four I's in Mississippi
Two Eyes On The Road
May The 4th Be With You
Text I Will Not
12. Congratulations!
Mike and I extend our congratulations and thanks to Morgan Kirkland:
My husband Mike and I wish you — and all professional truck drivers — safe travels and lots of money saving opportunities on the road.
---
---
Return from TDMST Weekly Round-Up: 2021.01.23 to our TDMST Weekly Round-Up Trucking Commentary or our Truck Drivers Money Saving Tips home page.
---