This is the TDMST Weekly Round-Up of news affecting professional truck drivers, written by Vicki Simons for the week ending April 10, 2021.
We welcome your comments, thoughts and feedback on the items of your choice below.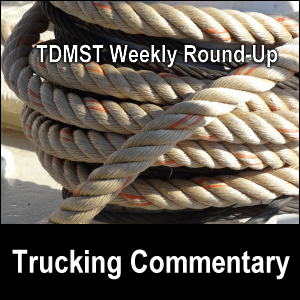 1. Regarding accidents and GPS:
Accidents
It could be that reporting of truck accidents is simply better than it used to be — or it could be that there truly are more truck accidents happening.
Many of these accidents are preventable!
Please learn what you can from these articles and seek never to repeat what led up to the accidents.
---
GPS
To date, no one has even attempted to report that a GPS unit that is programmed for commercial motor vehicles has led them to a low clearance.
Is this situation of big trucks running into low clearances really as simple as using CMV-specific GPS units?
2. Regarding autonomous vehicles, electric vehicles and last mile:
Autonomous vehicles
This is the first time that I've seen medium-duty trucks being targeted for autonomous operation.
Today, medium-duty trucks; tomorrow, what?
---
Electric vehicles
---
Last mile
Over time and in some areas, I speculate that more and more driverless trucks will take care of the majority of miles that truckers are used to getting paid for today.
What do you think?
Please comment below. Thanks.
3. Regarding AB5, PRO Act, young, parking, and fatigue:
AB5
---
PRO Act
---
Young
---
Parking
---
Fatigue
4. Regarding economy, ecommerce, and infrastructure:
Economy
---
Ecommerce
---
Infrastructure
5. Regarding CARB, carbon, emissions, equipment, and recall:
CARB
---
Carbon
---
Emissions
---
Equipment
I could be wrong, but it seems to me that the powers-that-be keep trying to load increasing regulations on trucks and truckers in order to protect non-professional motorists from the repercussions of their own distracted driving.
Do you agree or disagree?
Please comment below. Thanks.
---
Recall
6. Regarding employment:
7. Regarding drugs, smuggling, fuel, and IFTA:
Drugs
Don't haul illegal drugs, no matter how much you've been promised.
---
Smuggling
Don't treat human beings like cattle or cargo, no matter how much money you've been promised.
---
Fuel
Is the price of fuel going up or down?
Yes, but it depends on the source of information and over what time period.
---
IFTA
8. Regarding bottlenecks, inspections, litter, roads, safety, AND testing:
Bottlenecks
---
Inspections
Be prepared for an inspection at any time and you won't be caught off-guard.
---
Litter
Some jurisdictions assess very heavy fines or other punishment for littering (including urinating in public).
Please dispose of your waste products in approved receptacles.
---
Roads
Compete?
Have they ever done that before?
Won't the "big dogs" win?
---
Safety
---
Testing
This article is about testing hair for drugs.
The article says the following:
NTSB reviewed the truck driver's toxicology results from drug tests taken after the crash. The driver had a history of drug abuse. …

The truck driver had previously passed a pre-employment urine test, the only method DOT requires. But studies have found a urine test can miss nine out of 10 actual drug users.
My first question is: If the trucker had a "history of drug abuse," why didn't the trucking company that hired him know about it?
My second question is: What would prevent someone from shaving his/her head bald in order to prevent having his/her hair tested?
Hmm…
9. Regarding lottery, operations, stalking and soliciting:
Lottery
I hope this trucker has financial discipline in order to spend his winnings wisely.
---
Operations
When you're approaching your exit, watch your mirrors at regular intervals to help prevent an accident.
---
Stalking and soliciting
Protect yourself.
10. Regarding technology, tires, tolls and TOP 50:
Technology
---
Tires
---
Tolls
---
Top 50
I know a trucker who once got a job working for one of the "top" trucking companies of the day.
Part of their business model — which they had not told him — was that they didn't get truckers back to that home terminal on weekends when they were doing a 34-hour restart.
That one business model ended up costing him a lot of unpaid time away from home and family.
So, he ended up leaving not long after hiring on.
It was really a shame because except for one other recurring problem, he really liked the company!
So, does having a list of the "top companies" like those listed above help you at all?
Please comment below. Thanks
11. Regarding video, violence, theft and weather:
Video
---
Violence
Please take appropriate steps to protect yourself.
---
Theft
---
Weather
12. Regarding legal, orders, and refund:
Legal
Always do the right thing.
---
Orders
---
Refund
My husband Mike and I wish you — and all professional truck drivers — safe travels and lots of money saving opportunities on the road.
---
---
Return from TDMST Weekly Round-Up: 2021.04.10 to our TDMST Weekly Round-Up Trucking Commentary or our Truck Drivers Money Saving Tips home page.
---