This is the TDMST Weekly Round-Up of news affecting professional truck drivers, written by Vicki Simons for the week ending September 8, 2018.
We welcome your comments, thoughts and feedback on the items of your choice below.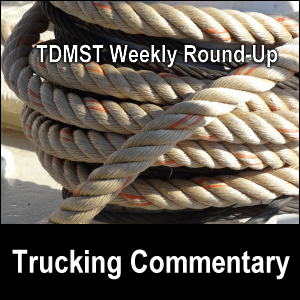 1. Truckers, we appreciate you all year long, not just during one week out of the year!
Still, you may wish to evaluate all of the events and offers that are being extended to professional truck drivers in honor of National Truck Driver Appreciation Week, which is being held from September 9 – 15, 2018.
Here are a few events and options:
– "Pilot Flying J will… reward drivers all month long through its annual 100 Million myRewards Points Giveaway and 30 days of free offers in the myPilot app." (link)
– "Throughout September, professional drivers stopping at Love's Travel Centers will have the opportunity to win 10,000 My Love Reward points (equal to $100), and one driver will win 1 million points (equal to $10,000)." (link)
– Many truck driver events will be held throughout the month of September. (link)
2. According to a September 4, 2018, article, "A crash involving a tractor-trailer and a Greyhound bus in New Mexico last week that left eight people dead appears to have been caused by a steer tire blowout on the truck."
For this reason, some trucking publications have published articles such as:
– "4 Best Ways to Maintain Your Tires"; and
– "Tire Blowouts Don't Have to Be Deadly".
I found the first video embedded in that third article in this section very educational.
It is an older and valuable video that addresses "What to do When a Tire Blows" (whether it is a steer tire or drive tire).
And speaking of tires, one article addressed how Bridgestone has issued a recall on certain truck tires for "Endurance Test Noncompliance".
3. A September 5, 2018, article is the first of its kind that I've read about the establishment of "truck ports" where it is envisioned that one day, truck drivers will exchange trailers with autonomous trucks.
A similar article is here.
4. "Yes — it's 100% possible to eat healthy on a budget, as long as you have a little know how and go about it the right way", states a September 1, 2018, article.
Some tips are provided to "help keep your health & budget on track".
5. Freightliner and Western Star have issued recalls on tractors "over an issue that could cause a tie rod failure", according to an August 27, 2018, article.
6. A September 5, 2018, article states: "A second listening session about potential reforms to federal hours of service regulations will be held next week in Washington, D.C.
In fact, OOIDA has released a video(a) about "how to comment" on HOS regulations and another article addressed "How to make effect comments on hours change".
7. Don't try to smuggle people who can't come into the USA legally across the US-Mexican border.
One trucker was arrested after trying to smuggle 18 "illegal immigrants" (illegal aliens) into Laredo, Texas, in the sleeper berth of his truck.
His truck was also "seized by federal agents".
8. Watch out for what's going on in the Midwest:
– The speed limit on a portion of I-74 in Illinois dropped by 10 mph effective August 31 (b);
– "Bridge repairs and a pavement removal and replacement project will cause partial closures on I-465 between I-70 and I-65 on the southwest side of Indianapolis this month" (link); and
– Indiana's "Gov. Eric Holcomb Tuesday announced a 35 percent increase on tolls for trucks using the Indiana Toll Road effective Oct. 5" (link).
Regarding the toll increase, a September 4, 2018, article lists the increases for vehicles in Classes 3 – 7.
9. The caption under the photo in a September 5, 2018, article states, "ATRI wants to [know] how driver detention may have been impacted by the ELD mandate."
A September 5, 2018, article provides some pretty shocking statistics compiled by ATRI in a study done in 2016, including:
A September 5, 2018, article provides some pretty shocking statistics compiled by ATRI in a study done in 2016, including:
– "63% of truck drivers wait more than 3 hours at a shipper's dock";
– "54% of truck drivers wait 3 to 4 hours at a shipper's dock";
– "9% of truck drivers wait more than 9 hours at a [shipper's] dock".
Is the situation better or worse than it was 2 years ago?
Now is the time to provide ATRI with the info they seek.
10. You may request a white paper entitled, "5 Ways to Reduce Fuel Costs — or if you're pressed for time, see the tips on the page.
11. The video embedded in a short September 4, 2018, article is all the encouragement that some people need to stay alert while driving.
In what was possibly a distracted driving event, a car driver allowed his/her vehicle to drift over into the opposing lane of traffic.
The two truckers who were approaching the car at the time that it drifted were able to avoid an accident by quickly moving to the right.
Two points to note here:
– Avoiding an accident where it is possible to do so can be advantageous as long as one doesn't cause a secondary accident.
Had the truckers who swerved to avoid the car done so with too much force, it could have led to a rollover accident.
– If you're on a road with multiple lanes in your direction of travel, always check your mirror on the side where you need to move to make sure that you have clearance before moving.
Had this incident happened on a stretch of road where the truckers had traffic in the lane to their right, it could have easily ended in a head-on collision between the car and one of the trucks.
12. On a positive note, an August 31, 2018, article stated:
"With the help of the Owner-Operator Independent Drivers Association's regulatory department and a clarification from the Federal Highway Administration, a truck driver's $14,400 fine for having an overweight load was dismissed."(c)
Hurray!
My husband Mike and I wish you — and all professional truck drivers — safe travels and lots of money saving opportunities on the road.
---
---
Return from TDMST Weekly Round-Up: 2018.09.08 to our TDMST Weekly Round-Up Trucking Commentary or our Truck Drivers Money Saving Tips home page.
---
Reference:
a. www.landlinemag.com/Story.aspx?StoryID=72902 (no longer online)
b. www.landlinemag.com/Story.aspx?StoryID=72911 (no longer online)
c. www.landlinemag.com/Story.aspx?StoryID=72903 (no longer online)