This is the TDMST Weekly Round-Up of news affecting professional truck drivers, written by Vicki Simons for the week ending May 1, 2021.
We welcome your comments, thoughts and feedback on the items of your choice below.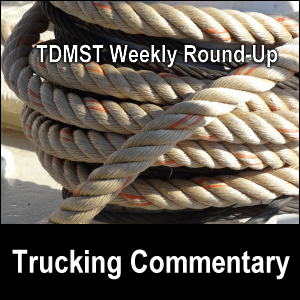 1. Regarding charging stations, hydrogen, fuel, and electric vehicles:
Charging stations
Be watching for more of these electric vehicle "charging stations" to be built.
I wonder with all of the stuff going on behind the scenes with electric vehicle production, building construction, etc., if there is truly a net gain in the direction that backers want.
---
Hydrogen
I stated in my April 24, 2021, issue of TDMST Weekly Round-Up:
Until there is some environmentally-friendly device that allows electric vehicles to "self-charge" — perhaps through solar power or an on-board ability to purify hydrogen out of the air — there will always be issues regarding energy usage and emissions.
Of course, a "self-contained" hydrogen extractor and purifier could be quite large and expensive.
Could such a hydrogen device be condensed to fit on a tractor to power it?
Here are the most recent trucking articles about hydrogen use as fuel:
---
Fuel
---
Electric vehicles
I was aware that California was cracking down on diesel-powered trucks and now it seems other states are jumping on that bandwagon.
How do you feel about making all trucks electric by a certain date?
2. Regarding inspections, equipment, insurance, and safety:
Inspections
Always be ready for a truck inspection at any time.
Roadcheck may spur you to take needed action.
---
Equipment
In my opinion, the video linked below should be mandatory training for every flatbed hauler who uses straps to tie down loads.
---
Insurance
---
Safety
3. Regarding AB5:
Will there be another lawsuit or legal challenge?
What else do those who oppose AB5 have in mind?
4. Regarding accidents and vaccidents:
Accidents
When you read about a large truck accident or crash, please see what you can glean from it and apply to your skills so that you will avoid getting into the same situation.
An ounce of prevention is worth a pound of cure.
---
Vaccidents or Vaxxxidents
In my April 10, 2021, issue of TDMST Weekly Round-Up, I wrote:
It could be that reporting of truck accidents is simply better than it used to be — or it could be that there truly are more truck accidents happening.
Well, I'm not the only one who has noticed an increase in accidents — or the fact that some of them have happened "out of the blue" with no other contributing causes. "Vaccidents" now wrecking roadways with stroked-out vaccine takers who lose brain function behind the wheel
The author describes "vaccidents" as "vaccine-induced accidents" in which the driver's cognitive function has been diminished.
Quoting the article:
Recently, I have noticed a massive uptick in [seemingly] bizarre accidents. Vehicles of all kinds, usually singular, running off the road and crashing. Not in bad weather. Not in the middle of the night. Just all of the a sudden.

…

I've driven in the local market for a very long time and I have not seen this kind of behavior before. Wondering if its the beginning of Vaxxed brain damage of some kind???
As of April 28, 2021, (the date the article and video were published), some 140 million people — or about 43% of the population in the USA — have had one dose (CV jab) and about 30% have had two doses.
Multiple sources have shared that some recipients of a CV jab have experienced heart-related problems and blood clots.
The author states that some 40% of people may be driving around with a growing blood clot or mini-stroke about to happen.
A source video goes by the name:
Vaxxxidents – What happens when you inject a billion people with a mind destroying gene therapy.
According to this April 28, 2021, article — COVID-19 Injected People Becoming a Threat to Public Health and Safety — "Man has seizure and Crashes Vehicle Coming Back from COVID Injection".
In light of this, be watching out for people:
driving erratically,
drifting from lanes,
being involved in near-misses ("almost accidents"),
driving much slower or much faster than the speed limit or the traffic around them,
seeming to drive in a "dazed" way,
weaving in and out of traffic, etc.
As time goes on, the frequency of such bizarre behavior on the roads may increase.
Please be aware of this and seek to use reasonable crash avoidance techniques.
In the meantime, if you are an independent trucker or owner-operator, please make sure that your insurance policy is up-to-date to meet your needs.
5. Regarding autonomous vehicles and technology:
Autonomous vehicles
I am 100% opposed to autonomous, driverless, or self-driving vehicles.
I am sharing these articles only as a courtesy to help you stay up-to-date about this technology.
---
Technology
6. Regarding deliveries, economy, and ecommerce:
Deliveries
I hazard a guess that this is most likely driven by consumer demand.
---
Economy
---
Ecommerce
7. Regarding drugs and smuggling:
Drugs
Never haul illegal drugs, no matter the incentive dangled in front of you.
---
Smuggling
Never treat people like inanimate objects.
8. Regarding carbon, emissions, and recalls:
Carbon
In my March 27, 2021, issue of TDMST Weekly Round-Up, I covered the topic of "carbon" in a good bit of detail.
---
Emissions
I covered the issue of emissions in greater detail in my April 24, 2021, issue of TDMST Weekly Round-Up.
---
Recalls
9. Regarding legal, politics, and maintenance:
Legal
If you feel strongly about any of these issues, please contact your elected officials and share your thoughts.
---
Politics
---
Maintenance
10. Regarding hiring, shipping, and sale:
Hiring
An online poll allows truckers to give their feedback.
---
Shipping
---
Sale
11. Regarding theft, tolls, and violence:
Theft
Please do what you can to minimize the risk of loss.
---
Tolls
---
Violence
12. Congratulations!
We recognize and congratulate all of those named below.
Achievement
---
Driver of the Year
---
Citizen Driver Award
My husband Mike and I wish you — and all professional truck drivers — safe travels and lots of money saving opportunities on the road.
---
---
Return from TDMST Weekly Round-Up: 2021.05.01 to our TDMST Weekly Round-Up Trucking Commentary or our Truck Drivers Money Saving Tips home page.
---