This is the TDMST Weekly Round-Up of news affecting professional truck drivers, written by Vicki Simons for the week ending May 22, 2021.
We welcome your comments, thoughts and feedback on the items of your choice below.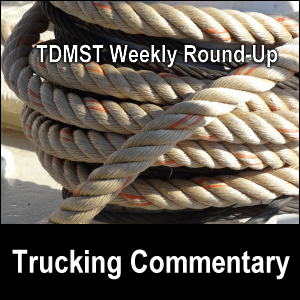 1. Regarding Memorial Day, bridge, roads, and congestion:
Memorial Day
The weekend just before Monday, May 31, 2021, is Memorial Day weekend.
The holiday is dedicated to honoring the men and women who died while serving in the U.S. military.
In the past, this weekend has been the historical beginning of summer vacation — and, hence, there is typically more traffic on the roads because of people going on vacation.
The AAA auto club estimates that more than 37 million people will "travel at least 50 miles from home during the holiday weekend, up 60% from last year, which was the lowest since AAA began keeping records in 2000."
Expect more traffic this Memorial Day weekend than during 2020
Here are some tips for truckers who will be picking up or delivering a load on Memorial Day.
---
Bridge
The big news this week is that a major crack or break was discovered on a bridge on I-40 at the Arkansas-Tennessee state line.
If you are traveling through that area, please make alternative travel arrangements.
---
Roads
---
Congestion
2. Regarding inspection, insurance, and recall:
Inspection
Please be ready for a truck inspection at any time, not just before announced major truck blitzes.
---
Insurance
If proposed legislation regarding insurance bothers you, please express your views to your elected officials.
---
Recall
If you drive a vehicle that has been recalled, please attend to the issue as soon as possible.
3. Regarding cyberattack and fuel:
Cyberattack
---
Fuel
4. Regarding accidents, distracted driving, and health:
Accidents
Please learn what you can from the accidents described in these articles so that you are never involved in one like them.
---
Distracted driving
---
Health
5. Regarding technology, chip, privacy, and PRO Act:
Technology
---
Chip
Can't someone somewhere start manufacturing these chips?
---
Privacy
---
PRO Act
If proposed legislation regarding insurance bothers you, please express your views to your elected officials.
6. Regarding economy, employment, terminology, final mile, and holiday:
Economy
These articles show a snapshot of the economy as it pertains to the trucking industry.
---
Employment
---
Terminology
---
Final mile (aka Last Mile)
---
Holiday
7. Regarding alcohol, drugs, smuggling, and sight:
Alcohol
Never drink alcohol and drive a Commercial Motor Vehicle!
---
Drugs
Never take illegal drugs and drive a truck.
Never agree to haul illegal drugs, no matter how much of an incentive you are promised.
---
Smuggling
Never agree to haul people like you would haul freight, no matter how much of an incentive there may be.
---
Sight
I am not in favor of this move.
In my opinion, professional truck drivers need two good eyes to drive a Commercial Motor Vehicle.
8. Regarding maintenance, treatment, intermodal, rates, tires, tolls, VMT, and theft:
Maintenance
---
Treatments
---
Intermodal
---
Rates
---
Tires
---
Tolls
---
VMT
---
Theft
9. Regarding autonomous vehicles, electric vehicles, and emissions:
Autonomous vehicles
I am totally opposed to autonomous, driverless, and self-driving Commercial Motor Vehicles, but share these articles as a courtesy to help you stay current with this news.
---
Electric vehicles
You will probably see over time the movement to replace all fuel-burning vehicles — four-wheel vehicles and large trucks — with electric ones.
Unless trucks are equipped with some kind of self-charging device, they will always have to go "somewhere" to get charged.
Bear in mind what happened in Texas earlier this year.
---
Emissions
10. Regarding shipping, speed, supply chain, and utilization:
Shipping
Watch out for ultra-low shipping services like this.
They may try to make up for the loss by shipping lots of volume
However, in my opinion, those who set ultra-low shipping rates do not respect the person in charge of picking up and delivering the package(s).
---
Speed
---
Supply chain
---
Utilization
11. Regarding lawsuits and nuclear verdicts, politics, and carbon:
Lawsuits and nuclear verdicts
---
Politics
---
Carbon
12. Regarding recognition:
Our big "thank you" goes every person who has ever tried to genuinely help a professional trucker.
My husband Mike and I wish you — and all professional truck drivers — safe travels and lots of money saving opportunities on the road.
---
---
Return from TDMST Weekly Round-Up: 2021.05.22 to our TDMST Weekly Round-Up Trucking Commentary or our Truck Drivers Money Saving Tips home page.
---