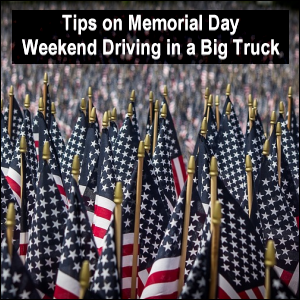 The Memorial Day weekend is typically thought of as the official beginning of summer.
Many families whose children have finished up their school years take this weekend to go on vacation.
Unfortunately, some of them don't have their minds on driving.
So what can you as a professional truck driver do to protect yourself, your rig and your freight during this heavy traffic period?
We share some tips below.
Annual Memorial Day Driving Projections
Every year, AAA projects how many thousands of travelers will be on the roads over the weekend.
These numbers may be published for numerous reasons, but for the professional truck driver, they are a reminder to stay focused on accident prevention.
In 2010, AAA projected that on Memorial Day weekend, there would be (just to cite two statistics):
884,000 travelers from Georgia(1) and
a 6.4% increase in travelers from Maryland.(2)
Memorial Day Weekend Driving Tips for Truckers
While America's Road Team reminds motorists to be safe during Memorial Day weekend, we're issuing some specific tips for professional truck drivers.
prnewswire.com/news-releases/americas-road-team-reminds-motorists-to-be-safe-during-memorial-day-weekend-94740884/ (no longer online)
Remember what you're being paid for: the safe and timely pick-up and delivery of freight.
This includes all of your bobtail and deadhead miles, too.
Don't risk being involved in a road rage incident, even if another vehicle (or heaven forbid a another big truck) cuts you off.
During your pre-trip inspection, be especially mindful of your truck's fluid levels and the pressure in your tires, especially in hot regions.
You don't want to risk overheating your engine or having a blown tire.
Reduce the number of times you change lanes whenever possible, but be mindful of truck lane restrictions.
If you must change lanes, always use your turn signal.
Blink for at least 3 full seconds and use 7 seconds to make your move.
This is called the 10-second rule.
Always use your turn signal if you are making an actual turn.
Use your flashers for times when you're traveling at 40 mph or lower on roads where the speed limit is higher than that.
Modify your driving based on conditions, especially in heavy traffic, bad weather or construction zones.
Holiday traffic, such as on Memorial Day weekend, can be especially heavy.
Minimize distractions inside your truck.
Never engage in texting behind the wheel of a big rig. Limit your cell phone usage to that which is lawful and preferably to a bare minimum.
If you must use one while driving, use a hands-free device for mobile communications.
Watch your following distance behind the vehicle in front of you.
Don't tailgate hoping to get the person in front of you to speed up.
Most likely that form of "intimidation" won't get the driver to go any faster and will only increase your chances of being involved in an accident.Some drivers are just mean enough to let you get close and then slam on the brakes.
When that happens, the ticket and repair bills will all be yours.
You run the risk of physical injury, death and perhaps the loss of your job.
Watch for people following you too closely.
If possible, give the driver of the vehicle behind you an opportunity (and possibly an incentive) to pass.
There's no sense being involved in an accident from behind if you can avoid it.
Contrary to popular opinion, you can discourage reverse tailgating by slowing down and letting them come around.
Look in your side mirrors — both left and right — about every 8 to 10 seconds.
If you have fish eye type convex mirrors mounted on the front corners of your tractor, don't forget to look at them, too, especially for traffic coming from the rear.
Don't just move your eyes, Mike says; move your head physically.
Force yourself to look at your right mirror often.
Make sure that you stay away from low clearances.
Even if your GPS unit says the road is OK, double-check the route ahead of time.
The Rand McNally Motor Carriers Road Atlas lists low clearances near the front.
Memorial Day weekend or not, be mindful of distracted drivers and make allowances for others' mistakes.
Some distracted drivers allow their vehicles to wander toward, on or over the lines of their lane.
Anticipate the unexpected.
Be judicious in the use of your horn to warn other drivers if they are getting too close.
Take safety breaks, especially if you feel yourself getting tired.
Always remember to park in safe and legal places.
When backing up, get out and look as many times as is necessary to make sure you don't hit anything.
Remember to use your 4-way flashers to alert others to the fact that you're backing up.
It's a common courtesy.
Prepare ahead of time for emergencies.
Since Memorial Day is at the beginning of the summer driving season, it's a good time to take stock of your emergency provisions.
Make sure you have all of your reflective triangles, a fully charged fire extinguisher, a gallon each of oil and coolant, a hazmat spill kit (if you haul hazmat), an emergency supply of food and water, and a well-stocked first aid kit.
Don't forget to secure your loads properly, use locks where needed, and check your seals.
If you must drop your trailer, make sure to secure it with a king pin lock or gladhand lock.
Thieves don't care if its Memorial Day or not; they may be on the lookout for drivers who have left their guards down and steal whatever isn't locked.
Watch out for those who drive articulated vehicles who are not accustomed to driving them, such as a motor home pulling a car (and possibly a boat behind it!), or a fifth-wheel equipped truck pulling a large travel trailer.
In the event that you've gotten flustered or frustrated by road conditions or other drivers, it's best to take a short break, get out of your truck, walk around, maybe have something nutritious to eat, use the restroom, and get perspective.
If you're tired, a 15-minute power nap can do wonders.
Set the Standard
You are the professional driver. Set the standard for professionalism, not just on Memorial Day weekend but all the time.
You're going to be dealing with people of all ages and all levels of driving experience,
from teenagers fresh from the drivers license office
to senior citizens with decades of driving know-how.
Allow yourself extra time to get where you're going.
You make no time by getting involved in an accident.
Going slower to get where you need to go is better than not getting there at all.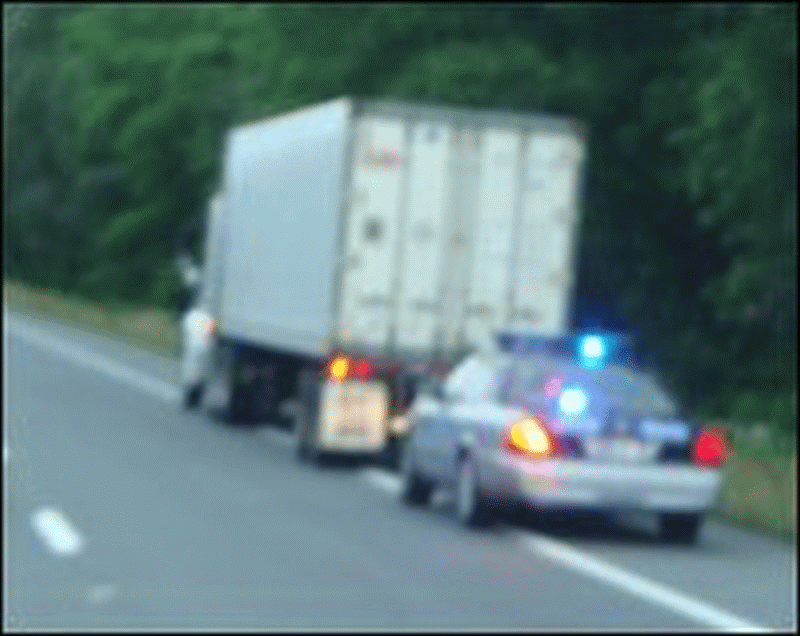 Be aware of the fact that law enforcement will be out in force on Memorial Day weekend.
Be mindful of your speed, your following distance, and stay in compliance with your logs.
Keep everything in proper working order.
Although we don't encourage law enforcement to target any truck driver, by the same token, don't give them any reason to target you.
If you're planning to enjoy your Memorial Day weekend with something you don't normally enjoy while you're in your truck, make sure that you don't endanger your livelihood and means of employment.
---

Money saving tip: An old saying — "an ounce of prevention is worth a pound of cure" — is certainly true in the trucking industry.
Be continually aware of the potential for accidents and do everything reasonable to avoid them.
Avoid being caught in compromising situations, like being hemmed in on all sides in heavy traffic with no way out.
Proper preparation can help you in an emergency situation.
If you need advice — such as from your trucking company about a route — get it ahead of time.
As Vicki's mom has said many times, "It's better to be safe than sorry."
Your life and the lives of others are worth much more than any load and any delivery appointment. The fastest way to cool off a hot load is in a ditch.
---
Return from Tips on Memorial Day Weekend Driving in a Big Truck to our Truck Operations page or our Truck Drivers Money Saving Tips home page.
---
References:
1. www.ajc.com/news/news/local/884k-georgians-expected-to-travel-memorial-day-wee/nQgC6/ (no longer online)
2. articles.baltimoresun.com/2010-05-26/features/bs-md-aaa-forecast-20100526_1_aaa-mid-atlantic-travel-for-memorial-day-maryland-ranks (no longer online)