This is the TDMST Weekly Round-Up of news affecting professional truck drivers, written by Vicki Simons for the week ending September 25, 2021.
We welcome your comments, thoughts and feedback on the items of your choice below.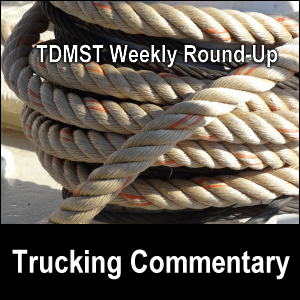 1. Regarding economy, debt ceiling, taxes, and tolls:
Economy
The following are some of the most recent articles about the economy from the trucking industry's perspective.
---
Debt ceiling
One cannot keep borrowing forever!
---
Taxes
---
Tolls
Always pay to use the toll roads upon which you travel.
If you feel that you've been overcharged, bring that to the attention of someone who can do something about it.
2. Regarding FMCSA and deaths:
FMCSA
Once again, it appears that those in the Executive branch of the USA's federal government have propped up part (FMCSA) of an unconstitutional department (DOT) — and have put at its head someone who has no trucking experience.
---
Deaths
We know from the studies that many of the accidents involving large trucks are caused by the other motorist.
Many motorists are distracted while driving.
Some people have suggested ways on how to reduce distractions, including making it impossible for the driver to use a cell phone while driving.
If you were in charge, what would you do to maximize people's freedom and yet reduce distracted driving accidents?
Please comment through the form below.
Before exiting your truck, please remember to set the parking brake.
Our condolences go to the trucker's family.
3. Regarding accidents, don't do this!, smuggling, roads, and weather:
Accidents
I hate the title of this article, as the crash didn't send the car under the truck.
Rather, the car sliding toward the truck uncontrollably caused the crash.
Important phrases from the article regarding the car and its driver include: "wet conditions", "condition of the tires" and "lost control."
It's hard to believe that it's been 2.5 years since this accident happened.
Whatever happened to the right to a speedy trial?
Major lessons from this accident:
– Get some basics on how to drive in mountains before you drive there,
– Use an engine brake whenever you can on downhill mountain grades (except when there is precipitation falling or on the road), and
– Use an escape ramp if your rig is out of control.
See our page: Trailer Connection and Separation: Trucker Winter Driving Tips.
---
Don't do this!
This photo was posted in a private group on Facebook.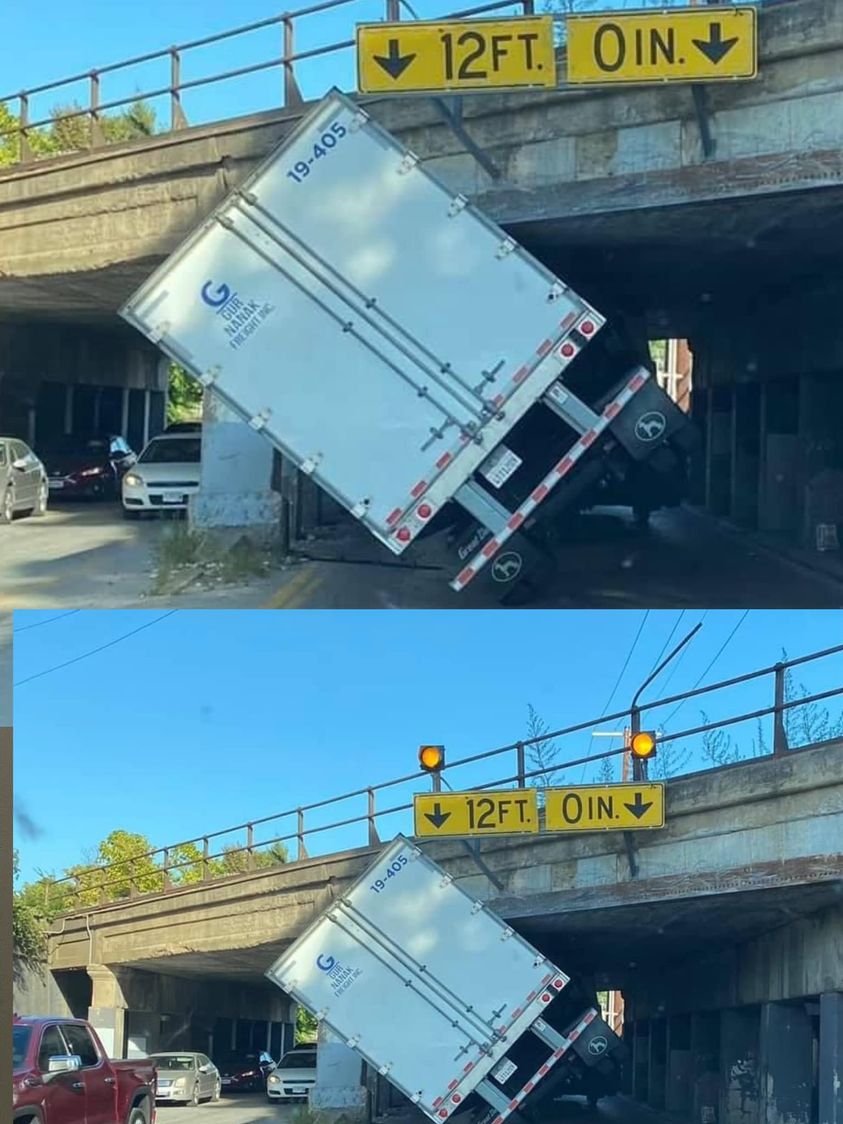 This is obviously a preventable accident as:
The tractor trailer rig is 13'6″ high;
The clearance is clearly marked as 12'0″ high; and
12'0″ is obviously lower than 13'6″.
For further reading:
---
Smuggling
Never, ever haul people like they are cattle or cargo — no matter how much you are offered!
---
Roads
There have been quite a number of road closures lately, including those having to do with truck crashes.
If you have the technology, find and use suitable truck route detours.
---
Weather
4. Regarding electric vehicles, autonomous vehicles, fuel, fuel cell, oil, and Run on Less:
Electric vehicles
Be aware of the pros and cons of going "straight electric power" in a truck.
It wasn't defined in the article, but "BEV" means "Battery Electric Vehicle" or "Battery-Powered Electric Vehicle."
---
Autonomous vehicles
I adamantly oppose driverless, self-driving, or autonomous commercial motor vehicles on public roads shared with the motoring public, but am sharing these articles as a courtesy to help you stay current with the news on this topic.
---
Fuel
---
Fuel cell
---
Oil
---
Run on Less
According to the website for the North American Council for Freight Efficiency, there are "85 technologies [that] can help your fleet improve its freight efficiency" that are categorized as follows: Chassis, Idle Reduction, Operational Practices, Powertrain, Tires & Rolling Resistance, Tractor Aerodynamics, Trailer Aerodynamics, and Trailer General.
Electric Trucks and Autonomous Vehicles are listed on their Emerging Technologies page.
Run on Less has a website of its own.
5. Regarding chains, innovation, inspection, and safety:
Chains
---
Innovation
---
Inspection
---
Safety
6. Regarding emissions, carbon, presumption, and lawsuit:
Emissions
While we all want to be good stewards of God has given to us, be aware that certain people and groups want to force all of us into technologies that do or can limit us.
One of the banners under which this is done is "climate change," under the categories of "carbon" and "emissions."
---
Carbon
Quote from article: "Same-day last-mile provider GoFor hopes to solve the paradox of speedy and sustainable freight with its new strategy, Renewable Delivery, announced on Tuesday. The strategy boasts 10-for-1 carbon offsets, meaning GoFor purchases 10 miles of offsets for every mile its vehicles drive, and it will offer smart packaging, smart technology solutions and a fleet of zero-emissions electric vehicles to create a more efficient and eco-friendly last mile.
"What is a "carbon offset" and who really benefits from it?
According to a 2017 article: "Essentially, a 'carbon offset' involves a buyer (usually an individual, corporation, or government entity) who reduces his 'carbon footprint' by buying 'X' dollars-worth of 'offsets' that supposedly reduce 'X' tons of CO2 emitted into the atmosphere. The offsets are commonly investments in wind farms, solar farms, forest replantation, and the like. Aside from the fact that most of these alleged offset projects are heavily subsidized by taxpayers and many don't even exist (they are 'planned' projects that never get past the drawing board and promotional phases)…"
A 2014 article says that "carbon offsets" are a scam.
---
Presumption
Quote from article: "Technically, a person caught moving a stranger's car could end in a misdemeanor charge, but isn't considered theft in any way in the city of LA…"
If the person into whose driveway the truck was attempting to turn is regularly having deliveries made, then he needs to make arrangements so that no vehicles are blocking the street in front of his place.
Oh, and the owner of the car that was moved should really lock it.
---
Lawsuit
7. Regarding driver shortage, shortage, and oil:
Driver shortage
---
Shortage
8. Regarding technology, "skill" is illegal move, last mile, and business:
Technology
---
"Skill" is illegal move
The video shows the driver of a commercial motor vehicle passing in a non-travel lane, first crossing over into an on-ramp, then using the shoulder or breakdown lane for passing — which is clearly an illegal move.
Oh, and passing on the right isn't right.
---
Last mile
---
Business
9. Regarding operations, hitchhiker, parking, and ports:
Operations
---
Hitchhiker
On our Safe Driving page, we show the location of "a mirror mounted above the window on the passenger side to see vehicles on that side of the truck that may or may not be visible in the other two mirrors on that side."
Given this report of a hitchhiker clinging to the passenger side of a truck under the mirror, having one of these passenger-side mirrors mounted above the window might be a great idea!
Some truckers may prefer to have "mirrorless" technology on their trucks.
---
Parking
<u" "l>
---
Ports
10. Regarding rates, recalls, score cards, and supply chain:
Rates
---
Recalls
If you drive a truck with a recall, please be sure to have your truck looked at as soon as possible!
---
Score cards
Who is going to compile the information in these scorecards and will they merely be a profit center for the compiler?
Will this become a "pay for a good score" type effort?
What transparency will the compiler have before attempting to list the transparency of the companies on the scorecards?
---
Supply chain
11. Regarding COVID-19:
What we have witnessed since early 2020 has been increasing levels of tyranny, the most egregious of which has been an "order" for citizens to receive in their bodies one or more injections of substances that — as reported (on 9/20/2021) on the Vaccine Adverse Reporting System (VAERS) since the December 2020 rollout of COVID vaccines in the U.S. — have injured more than 700,000 people and resulted in nearly 15,000 deaths.
12. Regarding award:
Congratulations to all of those who have achieved trucking milestones or other recognitions!
If you are in the running for an award, we wish you well!
My husband Mike and I wish you — and all professional truck drivers — safe travels and lots of money saving opportunities on the road.
---
---
Return from TDMST Weekly Round-Up: 2021.09.25 to our TDMST Weekly Round-Up Trucking Commentary or our Truck Drivers Money Saving Tips home page.
---