This is the TDMST Weekly Round-Up of news affecting professional truck drivers, written by Vicki Simons for the week ending February 24, 2018.
We welcome your comments, thoughts and feedback on the items of your choice below.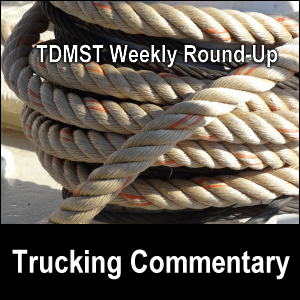 1. According to a February 13, 2018, article, "The FMCSA is allowing owners of certain J.J. Keller and Associates brand Electronic Logging Devices (ELDs) to use traditional paper logs to track their hours, instead of electronic logs, until the end of February" ["because of a software bug"].(a)
As a reminder, Indiana State Attorney General asked for a delay in the implementation of the ELD mandate (at least in part) because of unproven units like this.(b)
I find it particularly ironic that of all ELD manufacturers to have "a software bug", it is J.J. Keller, who markets itself as "Safety and regulatory compliance specialists since 1953".
Hmm…
2. Are you still a bit fuzzy about "blockchain" being used in the trucking industry? A February 21, 2018, article describes its background and some "real-world use" examples.
Justin Bailie, president and co-founder of Canadian technology firm RoseRocket, stated, "It's a record of events, shared between multiple parties, and most importantly, once information is entered it can't be altered because the blockchain is permanent."
I personally see how with GPS tracking and driver identification, the movement of freight will become part of blockchain, such that truckers delayed at a shipper or receiver will be able to prove detention and therefore be able to demand waiting pay.
3. The author of a February 21, 2018, article wrote, "My own company policy now is to reimburse the cost of paid parking to any of my drivers that see it more convenient to do so on their own accord just by simply turning in their receipts."
Hurray! Would that more trucking companies would do this!
With the new tax law, it is my understanding that company drivers will not be able to deduct the cost of certain expenses like paid parking.
So, trucking companies should protect the investment in their trucks by providing this.
Just saying…
4. On February 21, 2018, an article revealed that owner-operator Phil Killerlain — who is "totally opposed to the ELD mandate" — "believes the next big step up in rates [in the transportation industry] is already happening now, in mid-February. Owner-operators have become more selective…. They're shunning shippers and receivers that take too long to load and unload."
Killerlain further predicted that "large shippers will prefer to partner with fleets that can support drop-and-hook trailer operations. Other shippers will wind up paying more, adjusting service level requirements, or changing dock practices."
5. Will "Artificial Intelligence" (or "AI") "help improve 'the workplace experience' [within] the logistics/transportation sector"?
According to a survey described in a February 21, 2018, article, certain statistics reveal that "of nearly 3,000 employees across eight nations", they would "welcome AI if it simplified or automated time-consuming internal processes (64%), helped better balance their workload (64%), increased fairness in subjective decisions (62%), or ensured managers made better choices affecting individual employees (57%)."
6. I read in a February 19, 2018, article that "Triple T Transport, a third-party logistics and transportation management firm, has gone live with Smart Capacity, a next-generation freight matching and carrier connectivity platform from Trucker Tools."
The title of the article called it "predictive freight matching tech".
Darin Puppel, president of the Columbus, Ohio-based Triple T, was quoted as saying, "We have always wanted to be able to map our carriers more efficiently, and know in real time where as many of them are at any point" and "We found Smart Capacity to be a proven, effective platform that delivered these capabilities and that we could quickly implement."
I look forward to learning how this and other similar technology works.
7. A February 22, 2018, article covers the implementation of tolls on "currently free interstates".
University researchers, Michael Belzer and Peter Swan, published a study in 2007 on "the total impact of toll increases on freight traffic, on alternate highways, and on the overall economy."(c)
"Belzer and Swan discuss competition between privately operated toll roads and parallel public roads. Private toll road operators don't like attractive alternate routes. Some tolling lease agreements, they say, have included noncompete clauses that can prevent the government from upgrading parallel roads."
The article says that New Jersey is one state where commercial traffic is restricted on "alternate routes" other than the turnpike.
The author of the article states, "While any plan is better than no plan, an infrastructure proposal that relies on tolls could make things more expensive, disproportionately more expensive for trucking."
One of the things that concerns me is about tolls is states collecting them but using the money for projects other than road maintenance and improvement.
– According to an August 10, 2016, article, "A federal judge on Wednesday said the New York State Thruway Authority's practice of diverting toll revenue it collects from commercial truckers to maintain upstate canals is unconstitutional."
– According to a February 16, 2018, article, "'Over the last four years alone [Connecticut] Gov. Malloy and legislative Democrats took $164 million from the state's Special Transportation Fund to balance their budgets,' Sen. Len Fasano, R-North Haven, said in prepared remarks. 'Gov. Malloy then authorized a transportation spending plan he knew couldn't be supported by the fund.'"
Meanwhile, "The Georgia Department of Transportation is currently in the planning stages for trucks-only lanes south of Atlanta on I-75, which the state says are intended to reduce freight congestion around the city", according to a February 21, 2018, article. According to Natalie Dale, media and government relations liaison for GDOT, "while GDOT is still in the pre-project stage right now, the idea is to have two northbound dedicated trucks-only lanes, non-tolled, separated by a concrete barrier. Southbound lanes could be added in the future."
Perhaps things have improved in West Virginia since I rode full-time with my husband Mike (when he was a regional truck driver).
The last time he drove a truck on the turnpike in that state, I observed how rough the road was and commented out loud, "We're paying for this!"
In my opinion, toll roads should be the best roads to drive on, period.
8. A guest column on AskTheTrucker.com published on February 22, 2018, is entitled, "Unjustly Underpaid: Why Paying Truckers By The Mile Needs To Stop".
askthetrucker.com/unjustly-underpaid-why-paying-truckers-by-the-mile-needs-to-stop/ (no longer online)
This paragraph summarizes the problem: "Imagine being confined to an office cubicle for hours on end without any compensation for your time. If office workers were forced to provide unpaid hours there would be an uproar (likely followed by a large FLSA lawsuit). Yet, truckers are expected to sit in their cabs (the equivalent of an office) without any pay if miles aren't being driven."
Truckers' pay structure — throughout the trucking industry — definitely needs to include payment for all time they are waiting to drive and for doing non-driving trucking-related tasks.
9. This week, I have read articles about totally preventable fatalities involving truckers:
– On February 22, 2018, this: "Truck driver who was online shopping pleads guilty to manslaughter in fatal crash"(d);
– On February 22, 2018, this: "A section of electrical conduit fell from the roof of a Pennsylvania Turnpike tunnel [Lehigh Tunnel], crashed through a windshield of a truck and struck the driver in the head, killing him, police said"; and
– On February 20, 2018, this: "The United States Postal Inspection Service is offering a reward of up to $50,000 for anyone who has information" about a postal truck driver who was shot to death at about 2 a.m. on I-30 and Beckley Avenue in Dallas, Texas.
Our condolences go to the families of those who were killed.
10. Supposedly, a "lost truck driver" — who claimed he was "following his GPS" drove his 30-ton truck onto — and collapsed — a 3-ton bridge on a county road in Cullman, Alabama.
I wrote to the author of the original article(e) from which a February 23, 2018, article(f) came.
The first of 3 questions I asked was if the GPS unit being followed was specifically for commercial motor vehicles (CMVs).
I look forward to hearing back.
My husband Mike and I wish you — and all professional truck drivers — safe travels and lots of money saving opportunities on the road.
---
---
Return from TDMST Weekly Round-Up: 2018.02.24 to our TDMST Weekly Round-Up Trucking Commentary or our Truck Drivers Money Saving Tips home page.
---
References:
a. www.livetrucking.com/fmcsa-allowing-owners-certain-elds-use-paper-logs-software-bug/ (no longer online)
b. www.landlinemag.com/Story.aspx?StoryID=71303#.WiIeUXZrzcs (no longer online)
c. tandemthoughts.landlinemag.com/infrastructure/toll-roads-no-solution-infrastructure/ (no longer online)
d. buffalonews.com/2018/02/22/manslaughter-plea-for-truck-driver-who-was-shopping-online-in-fatal-crash/ (no longer online)
e. cullmantoday.com/2018/02/22/30-ton-big-rig-crumples-3-ton-bridge-on-county-road-821/ (no longer online)
f. www.livetrucking.com/gps-guides-truck-driver-across-3-ton-bridge-collapsing-structure/ (no longer online)