This is the TDMST Weekly Round-Up of news affecting professional truck drivers, written by Vicki Simons for the week ending February 12, 2022.
We welcome your comments, thoughts and feedback on the items of your choice below.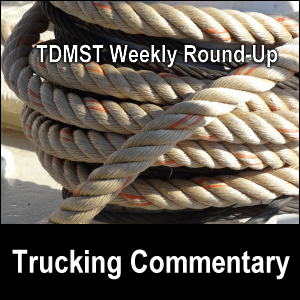 1. Regarding Freedom Convoy 2022, COVID-19, and life insurance:
Freedom Convoy 2022
The Freedom Convoy presses on in Canada and their courage has inspired many others around the world. I urge you to look for conflicts of interest among stakeholders before you accept any jab or accept/use documentation of having taken one or more of the jabs. I believe that this jab situation has never been about health and wellness, but has only ever been about power and control. Remember that Galatians 5:1 in the Bible states: "It was for freedom that Christ set us free; therefore keep standing firm and do not be subject again to a yoke of slavery." In the USA, the First Amendment to the Constitution of the United States reads as follows: "Congress shall make no law respecting an establishment of religion, or prohibiting the free exercise thereof; or abridging the freedom of speech, or of the press; or the right of the people peaceably to assemble, and to petition the Government for a redress of grievances." Remember: "peaceably to assemble" and "petition the Government for a redress of grievances" (the right to ask a governmental body to solve a problem). Here are some of the most recent articles about this historic movement (listed alphabetically, not chronologically).
---
COVID-19
Based on reports I have read, the jabs do not prevent !nfect!0n or tr@nsm!ss!b!l!ty. On the other hand, according to OpenVaers.com, in the USA through February 4, 2022, there have been (that have been admitted):
1,103,891 COVID Vaccine Adverse Event Reports; and
23,615 COVID Vaccine Reported Deaths.
So please do your due diligence before accepting a jab. Also, see the section just below regarding life insurance for the jabbed.
---
Life insurance
Vax deaths are suicide say life insurance companies
Suicide? How Some Life Insurance Companies Are Dealing With Experimental Vaccines DeathsSome quotes from this article, which references the British and the French:

"The Brits now find that the vaccine interferes with the body's ability to make antibodies after infection not only against the spike protein but also against other parts of the virus."

"… over in the land of the guillotine an insurance company has been backed up in court after refusing to pay out a life insurance policy after the insured died from the vaccine."

"…the insurance industry isn't going to let itself be hampered by political correctness and obfuscating the fact that the vaccines are experimental and that some of the short-term side effects are stated and known. …

"So this means that health insurance policies will come into question for those who thought they were covered but realise now they've jeopardized their policies. I can certainly imagine those who were coerced by employers to turn around and sue their employers for compensation, even if nothing happens to them. …

"Consider the case referenced above and now consider that precedent is set. Any employee that has been forced by their employer to effectively void their life insurance policy may have recourse to sue their employer for compensation."

I anticipate that this precedent will spread to the USA and other places around the world.

Buckle up regarding this, because it's going to be a wild ride!
2. Regarding accidents: bicyclist, close call, jackknife, rollover, side of road, speed, staged; fatalities:
Please look at these accidents and seek to avoid getting into the circumstances that led up to them.
Accident: bicyclist
---
Almost accidents: close call
---
Accident: jackknife
Jackknifing situations often involve wet or icy conditions, so please be on your guard.
---
Accidents: rollover
Several cows dead after livestock hauler overturnsQuote: "According to Fox 29 News, the 54-year old truck driver told officers that his gears locked up as he took the exit, causing him to overturn."
Several cows killed in San Antonio big rig rolloverQuote: "The driver told police that the truck shifted to the right side as he took an exit at the Interstate 37 and Interstate 10 interchange, causing him to lose control, according to KSAT."
Truck driver killed in Utah rollover crashQuote: "'The truck lost control while going through an area of switchbacks, went off the side of the road, then rolled and landed upside down,' KTSU reported."

"Switchbacks" have been defined as: "a 180° bend in a road or path, especially one leading up the side of a mountain."
---
Accident: side of road
Truckers have been on the "giving" and "receiving" end of accidents involving a vehicle parked on the side of the road. While you're driving, please don't let your truck wander onto a shoulder or place out of the lane of travel — unless you are routed there by law enforcement. And unless your rig has suffered a breakdown, choose somewhere safe and legal to park (not on the side of the road). If you're having trouble finding a place to park, it is possible that a Smartphone app can help you locate one nearby.
---
Accident: speed
The National Highway Traffic Safety Administration (NHTSA) has some information on its website about speeding as part of risky driving.
---
Accident: staged
I am super glad that the truckers who were framed have been — or are being — vindicated following these staged accidents, which were perpetrated by liars (bearers of false witness against their neighbors) and cheats!
---
Fatalities
A news release on the website of the Bureau of Labor Statistics dated December 16, 2021, lists the National Census Of Fatal Occupational Injuries In 2020. The document states: "Transportation incidents remained the most frequent type of fatal event with 1,778 fatal injuries, accounting for 37.3 percent of all work-related fatalities." So please be careful as you drive and move around trucks. I am reading with increasing frequency of how truckers are not engaging their parking brakes before exiting their vehicles. Even if you think you're on level ground, do not leave your truck's parked position to chance: set the parking brake! Please be on your guard at all times.
3. Regarding supply chain, employment, economy:
Supply chain
---
Employment
I know of a large group of people in our area who were let go from their jobs when they refused to get a CV jab, but whose employers are not showing them as terminated, so they do not qualify for unemployment. So, any statistics you read about employment/unemployment will be skewed to hide that ugly truth.
---
Economy
4. Regarding autonomous vehicles, electric vehicles, batteries, fuel, and emissions:
Autonomous vehicles
I thoroughly oppose the use of self-driving, driverless, or autonomous vehicles on the roads and highways with the motoring public, but list these as a courtesy to you.
---
Electric vehicles
---
Batteries
---
Fuel
---
Emissions
5. Regarding clearinghouse and smuggling:
Clearinghouse
It is never appropriate to take illegal drugs and then drive a Commercial Motor Vehicle. According to one of the articles linked below stated: "Positive tests for cocaine rose by 10.4%, marijuana by 5.3%" Even though some states may allow marijuana use, others do not. There are other natural substances that can help relieve stress and pain.
---
Smuggling
Never ever agree to haul humans like they are cattle or cargo — no matter how much of an incentive you're offered.
6. Regarding tolls, purchase, retention, retirement, and pricing:
Tolls
---
Purchase
---
Retention
---
Retirement
---
Pricing
7. Regarding pay, inflation, leases, and taxes:
Pay
These listings do not constitute an endorsement of the named trucking companies.
---
Inflation
---
Leases
---
Taxes
8. Regarding tires, bottlenecks, and inspections:
Tires
---
Bottlenecks
On February 9, 2022, I posted on our Facebook page ATRI's email about their updated "bottlenecks" report. Other articles about this information include:
---
Inspections
9. Regarding chips, recall, and repair:
Chips
---
Recall
---
Repair
10. Regarding training, bypass, and events:
Training
---
Bypass
---
Events
I'm glad to see a bunch of trucking shows being scheduled!
11. Regarding operations, safety, guns, and parking:
Operations
---
Safety
---
Guns
Is there a gun in your truck when you're driving?As of the time that this trucking commentary is being written, the poll results show the feedback to the question, "Do you carry a firearm in your truck when you're on the road?" to be:

Yes: 63.05% (691 votes);

No: 36.95% (405 votes)

I do not blame truckers for wanting to protect themselves on the road, but please be aware of the risks of carrying one in your truck for self-defense.
---
Parking
12. Regarding awards and angels:
Awards
Congratulations to all truckers who have been recognized in various ways, including these:
---
Angels
We recognize those truckers who have helped their fellow human beings in need and make you aware of the opportunities for "voting" for one special helper.
---
My husband Mike and I wish you — and all professional truck drivers — safe travels and lots of money saving opportunities on the road.
---
---
Return from TDMST Weekly Round-Up: 2022.02.12 to our TDMST Weekly Round-Up Trucking Commentary or our Truck Drivers Money Saving Tips home page.
---