TDMST Weekly Round-Up 2022.06.25 is the trucking commentary on news affecting professional truck drivers, written by Vicki Simons for the week ending June 25, 2022.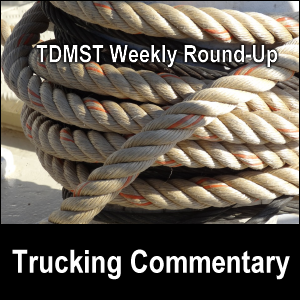 1. Regarding fuel, fuel taxes, excise tax, emissions, and carbon:
Fuel
If you live in the USA and believe that politics plays a role in the price of fuel, please contact your elected officials and express your opinion:
You may also call your state level elected officials.
Meanwhile, here are some of the most recent articles about fuel as it affects the trucking industry, if even indirectly:
---
Fuel taxes
As I mentioned 2 weeks ago regarding an article about Kentucky's governor announcing action to freeze the gas tax, the suggestion regarding freezing or eliminating taxes on [state] fuel as a temporary measure to lower the overall price of fuel does two disadvantageous things, in my opinion:
it removes the ability for a state to pay for road construction and repairs that would be paid for from the tax; and
(more importantly) it does not address the root cause of the increase in fuel prices to begin with.
But what about federal taxes on fuel?
Some brief research revealed:
More questions come to mind, such as how much of the federal diesel tax goes into creating or maintaining roads such as interstate highways?
Be that as it may, here are some of the most recent articles on this topic:
---
Excise tax
---
Emissions
Fleets can still cut emission with internal combustion

This article does not define "ICE" but it stands for "Internal Combustion Engine."

Quote about a "tow truck company owner":

"No, he wasn't interested in buying a zero-emission vehicle (ZEV). He was more interested in learning how to tow them properly. He explained that he had already been towing range-depleted electric cars on the side of the road, and now he wanted to get the jump on all-electric trucks and vans. (And no, he didn't miss the irony of a ZEV being rescued by ICE.)"
---
Carbon
How are carbon insets different from carbon offsets?

Carbon offsets: "A freight company may purchase carbon credits from an accredited organization that plants trees in another part of the world to offset emissions from its operations of transporting goods."

"Carbon insetting happens when a company invests in making parts of its own supply chain more sustainable."
2. Regarding unrest – DEF, DEF, unrest – diesel engine oil, unrest – Roe v. Wade, trucking conditions, and economy:
This section contains a few articles/posts by an author with whom I do not always agree, but whose perspective I appreciate reading.
Unrest – DEF
---
DEF
---
Unrest – diesel engine oil
---
Unrest – Roe v. Wade (via Telegram)
---
Trucking conditions
---
Economy
3. Regarding accident, alcohol, drugs, and inspections:
Accident
Please review these articles to see what may have led up to the accident described, so that you aren't involved in a similar one yourself.
---
Alcohol
Never ever consume alcohol before you begin driving a commercial motor vehicle, no matter what.
---
Drugs
Never ever haul illegal drugs, no matter how big of an incentive there is.
---
Inspections
If you and your rig are always ready for an inspection, you will never be caught off-guard.
4. Regarding business, border, age, technology, ELDs, weigh-in-motion, and drones:
Business
---
Border
---
Age
---
Technology
---
ELDs
---
Weigh-in-motion
---
Drones
While it may be possible that drones can carry light weight items, I don't think in my lifetime that they will be used for carrying the heavier items that are often found on large semi trucks.
5. Regarding maintenance, loads, last mile, and recalls:
Maintenance
---
Loads
---
Last mile
Similar to my thoughts about autonomous commercial motor vehicles, I am not at all eager to see robots replace human beings.
---
Recalls
6. Regarding pay, rates, savings, and legal:
Pay
---
Rates
---
Savings
In the trucking industry, saving pennies can add up

Quoting a Director of Safety:

"Sitting at a dock is unproductive for your drivers and equipment, and it's actually costing you money"; and
"Document it, share the data with your customer and explain why it's an issue."
---
Legal
7. Regarding supply chain and speed limits:
Supply chain
---
Speed limits
Variable speed limits to begin on I-95 northbound in Virginia

Quote:

"According to a news release from the Virginia Department of Transportation (VDOT), variable speed limit signs, paired with changeable message signs, will replace static speed limit signs over a 15-mile section of I-95 northbound … between exit 110 (Ladysmith) and exit 130 (Route 3/Fredericksburg)…."

Even though you may have driven this route hundreds of times, please pay attention to the new signs and what they say.
8. Regarding tolls, training, truckers, and pets:
Tolls
---
Training
---
Truckers
---
Pets
Feel free to look at this page on our site:
Truckers' Pet Travel and Saving Money in a Big Truck
9. Regarding weather and solar:
Weather
---
Solar
10. Regarding politics and ports:
Politics
---
Ports
11. Regarding autonomous vehicles and electric vehicles:
Autonomous vehicles
I totally oppose the use of driverless, self-driving, or autonomous commercial motor vehicles on the same roads as the motoring pubic, but share these articles as a courtesy to help you stay informed.
---
Electric vehicles
12. Regarding awards:
We recognize those who helped their fellow human beings in a time of need:
We are thrilled to read of scheduled driving championships and look forward to reading about the winners:
We congratulate truckers who achieved a nomination or award for their driving skills:
My husband Mike and I wish you — and all professional truck drivers — safe travels and lots of money saving opportunities on the road.
---
---


Return from TDMST Weekly Round-Up: 2022.06.25 to our TDMST Weekly Round-Up Trucking Commentary or our Truck Drivers Money Saving Tips home page.
---