This is the TDMST Weekly Round-Up of news affecting professional truck drivers, written by Vicki Simons for the week ending August 21, 2021.
We welcome your comments, thoughts and feedback on the items of your choice below.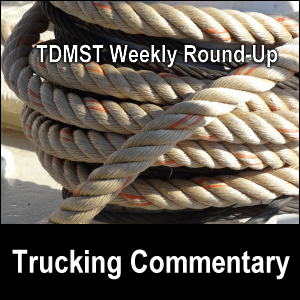 1. Regarding safety, accidents, and distractions:
Safety
Even though Brake Safety Week is coming up, it is imperative to have legal and compliant truck brakes at all times.
If you're always ready for an inspection, you'll never be caught off-guard.
---
Accidents
Please learn from the accidents described in these articles and endeavor never to be involved in the same situations.
---
Distractions
It is extremely important that you never distract yourself while driving any vehicle.
If you are driving a commercial motor vehicle, you are being paid to safely haul freight — not entertain yourself.
I am embedding below a great video to remind you of the reason why you should not be distracted while driving.
2. Regarding weather and snow chains:
Weather
If you are or will be driving in an area where severe weather is forecast, please plan appropriately.
In some cases, it is better to wait while a storm passes over than attempt to drive into its teeth.
If you drive for a company, please seek the recommendation of your company regarding parking.
Your dispatcher or driver manager may say that it is up to you as to what you should do.
Remember, when you drive your truck, you are the "captain of the ship" and you can refuse to drive if it is unsafe.
If necessary, arrange to have your pick-up or delivery appointment changed ahead of time so that you will not be penalized in any respect.
---
Snow chains
Remember that there are penalties for not having the proper traction devices on or in your vehicle in snow chain areas.
3. Regarding pay, self-dispatch, shortage, and employment:
Pay
---
Self-dispatch
This is an excellent idea!
For those truckers who will seek to earn as much money as they can, I urge them to remember to not overdo it and wear yourself out.
Pace yourself and remember to stay hydrated, get adequate nutrition, do appropriate exercise, and get your needed sleep.
---
Shortage
---
Employment
4. Regarding technology, hitchhikers, chip shortage, and emissions:
Technology
---
Hitchhikers
Unless one has a camera on the back of one's trailer, how can this be prevented?
---
Chip shortage
---
Emissions
5. Regarding electric vehicles, fuel, and fuel prices:
Electric vehicles
---
Fuel
---
Fuel prices
6. Regarding artificial intelligence and autonomous vehicles:
Artificial intelligence
This is a sensitive topic and very broad in scope.
Please comment through the form below how you feel about this.
---
Autonomous vehicles
I totally oppose autonomous, self-driving, or driverless vehicles, especially commercial motor vehicles that share the road with others.
I am sharing these articles to help you stay current on what is going on with this topic as it concerns the trucking industry..
7. Regarding economy and rates:
Economy
These are some of the most recent articles about aspects of the economy from the perspective of the trucking industry.
---
Rates
8. Regarding roads, ports, and VMT:
Roads
---
Ports
---
VMT
9. Regarding parking, taxes, and surcharges:
Parking
---
Taxes
---
Surcharges
10. Regarding lawsuit, drugs, and smuggling:
Lawsuit
---
Drugs
Never, ever agree to haul illegal drugs, no matter how much you are promised.
---
Smuggling
Never, ever agree to haul people like they are freight, no matter how high the incentive.
If people want to get into this country, let them do so legally.
11. Regarding insurance, ATRI, theft – accusation, and theft – unlocked:
Insurance
---
ATRI
---
Theft – accusation
---
Theft – unlocked
OK, this is a no-brainer: Never leave your truck unlocked!
Have two sets of truck keys made and have a set on your person at all times (except, obviously, when showering or sleeping).
12. Regarding award:
Congratulations to all of these truckers who reached safety milestones!
Woohoo!
My husband Mike and I wish you — and all professional truck drivers — safe travels and lots of money saving opportunities on the road.
---
---
Return from TDMST Weekly Round-Up: 2021.08.21 to our TDMST Weekly Round-Up Trucking Commentary or our Truck Drivers Money Saving Tips home page.
---