This is the TDMST Weekly Round-Up of news affecting professional truck drivers, written by Vicki Simons for the week ending February 19, 2022.
We welcome your comments, thoughts and feedback on the items of your choice below.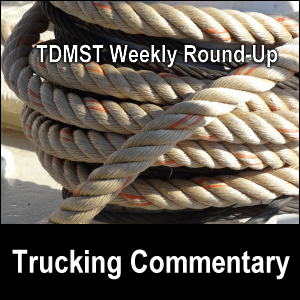 1. Regarding Freedom Convoy 2022:
Since I wrote my trucking commentary last week, things have gotten quite tense in Canada with respect to the Freedom Convoy by the truckers and those who support them. In response to the posting of this article on Facebook — The vibe shift will favor truck drivers — I wrote the following response on February 18, 2022:
Quote from article:
—–
Teamsters expert Witwer summarized the union's viewpoint in rejecting the Freedom Convoy as such: "This is a strike to benefit the far right. It will not benefit unionized truckers."
—–
I disagree.
This isn't a "strike" but rather an appeal by truckers to the Canadian government to restore medical freedom. This Freedom Convoy is designed to benefit *everyone* — except, of course, the tyrants and dictators who want to control all of our lives.
As of the time that this is being written, at least two organizers have been arrested — but they were expecting it and have asked supporters to "hold the line." Please pray for God's grace and mercy in this situation — and for truckers worldwide. Here are a number of articles about this topic:
I tend to keep up with what's happening regarding this and other trucker convoys worldwide on Telegram.
2. Regarding COVID-19:
These articles may be related to the topic area above.
3. Regarding accidents, staged accidents, weather, and death:
Accidents
Please look over this list of articles about truck accidents and endeavor not to set up — or be caught in a set-up — like any of them:
---
Staged accidents
I am glad that the truckers who were targeted in the staged accidents are now being vindicated!
---
Weather
There's still a lot of cold weather left in winter, so please stay on your guard wherever you drive.
---
Death
4. Regarding supply chain, economy, tolls, pay, inflation, rates, and insurance:
Supply chain
---
Economy
---
Tolls
It sure is nice to see that the tolls on a couple of roads are being removed!
---
Pay
---
Inflation
---
Rates
---
Insurance
5. Regarding autonomous vehicles, electric vehicles, batteries, fuel, and emissions:
Autonomous vehicles
I absolutely oppose all driverless, self-driving, and autonomous commercial motor vehicles on the roads with the motoring public, but I share these articles as a courtesy.
---
Electric vehicles
---
Batteries
---
Fuel
---
Emissions
6. Regarding clearinghouse, drugs, DUI, and violence:
Clearinghouse
---
Drugs
---
DUI
---
Violence
Please do everything you can to avoid being in a set-up for violence.
7. Regarding operations and snowplows:
Operations
---
Snowplows
8. Regarding inspections, enforcement, lawsuits:
Inspections
If you are ready for a truck inspection any time, you'll never be caught off-guard.
---
Enforcement
---
Lawsuits
9. Regarding employment, shortage, and classification:
Employment
I personally believe that the "official" unemployment numbers are inaccurate because some folks have been suspended without pay because they wouldn't take a jab — keeping them in limbo between being employed and unemployed.
---
Shortage
---
Classification
10. Regarding training, technology, and parts:
Training
Regarding this article — Truck Driving Simulator Excites Idaho High School Students — which was published on Facebook, I had this to say:
Quote from article:
—–
The new simulator program — which provides multiple driving scenarios in a realistic experience — is so popular that 20 high schools requested it within the first 24 hours after its unveiling Jan. 26 at Middleton High School, Hodges said.
—–
Isn't it true that that "realistic experience" has the student driver stay "in the cab" the whole time without doing any outside work, such as:
– pre-trip and post-trip inspections;
– fueling;
– opening and closing trailer doors;
– connecting to and disconnecting from trailers;
– adjusting trailer tandem settings;
– meeting with shippers, receivers, security guards;
– cleaning the windshield;
etc.?
When tasks like that are added to the mix — and students are required to abide by simulated Hours of Service regulations, *then* let's talk.
Meanwhile, here are some of the most recent articles on this topic:
---
Technology
---
Parts
11. Regarding roads and ports:
Roads
---
Ports
12. Regarding awards:
We recognize those who have helped their fellow human beings and congratulate truckers who have been honored.
My husband Mike and I wish you — and all professional truck drivers — safe travels and lots of money saving opportunities on the road.
---
---
Return from TDMST Weekly Round-Up: 2022.02.19 to our TDMST Weekly Round-Up Trucking Commentary or our Truck Drivers Money Saving Tips home page.
---