We are grateful for each guest post on our site that meets our conditions and provides unique and genuinely helpful money saving tips for professional truck drivers.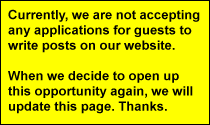 Currently, we are not accepting any applications for guests to write posts on our website.
When we decide to open up this opportunity again, we will update this page.
Thanks.
Unfortunately, we have received numerous requests from people desiring to write guest articles for our site that didn't specify the proposed content.
In those cases, we couldn't proceed.
We have also had to reject guest articles from a few writers — to whom we had granted permission to write them – because the articles
either didn't match the theme of our site
or weren't unique as we define it below.
So we have written this page to provide more guidance.
How Does This Differ From…?
For trucking-related businesses who help truckers save money in a new way, we publish Truckers' Savings News.
Completely separate from those, we provide this opportunity for
professional truck drivers (current and former) and
employees in trucking-related businesses
to write guest articles for this site according to the conditions written below.
Guest Post Conditions for This Site
Some people are in the habit of writing very general articles for websites in the hopes of getting a link back to their sites.
We have never operated that way in the past and we refuse to lower our standards because we believe that you, our readers, deserve better.
Guest posts that we are willing to consider publishing need to:
be provided either by truckers (current or former) or from trucking-related businesses that have no reports of exploiting truckers;
contain genuinely helpful information that specifically helps professional truck drivers save money;
limit references to one's business to just one in the body of the post and one in the "signature file";
be hype-free such that it contains or links to substantiation of any claims made; and
be unique:

not published anywhere else online and
not covering topics already covered on this site.
Research Required
Before you use the form below to make your request, please take a few moments to research the content of this site to make sure that your proposed
content does not cover what has already been written.
To do that research, you may either use the search form above or do a site-specific online search.
Do You Agree?
If you are in agreement with the conditions above, we invite you to request an opportunity to write a guest article for this site.
Upon receipt of your request, we will review it and respond at our earliest opportunity.
Thank you for the honor you bestow on us by being willing to help truckers through this site.
Best regards,
Mike and Vicki Simons
---
---

Return from Request a Guest Post Opportunity on Our Site to our Truck Drivers Blog or our Truck Drivers Money Saving Tips home page.
---