This is the TDMST Weekly Round-Up of news affecting professional truck drivers, written by Vicki Simons for the week ending March 19, 2022.
We welcome your comments, thoughts and feedback on the items of your choice below.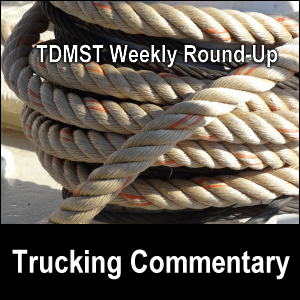 1. Regarding fuel, electric vehicles, and emissions:
Fuel
According to a March 15, 2022, article, the Energy Information Administration's "March 14 report showed a national average of $5.25, up from $4.849 a week ago. That national average is now $2.059 higher than it was one year ago."
That same article stated, "By region, California reported the largest increase (50.5 cents), and also has the highest price per gallon ($6.264)."
A March 17, 2022, article — Some Georgia truck drivers say they are "not able to support" their families in wake of rising fuel prices — quoted one trucker as saying: "You can't really live off of driving a truck like you used to… Right now, I am having to file bankruptcy."
Ouch!
Here are some of the most recent articles about fuel as it affects the trucking industry.
---
Electric vehicles
---
Emissions
2. Regarding accidents, embankment, fatalities, loading, operations, tires, and wrong way:
In this section, I am separating the various kinds of trucking accidents by common themes.
My husband Mike and extend our condolences to all those who lost their lives in the accidents covered here.
Accidents
---
Accidents: Embankment
---
Accidents: Fatalities
---
Accidents: Loading
---
Accidents: Operations
---
Accidents: Tires
---
Accidents: Wrong way
3. Regarding economy, containers, and container ship:
Economy
---
Containers
---
Container ship
Another container ship got jammed?
4. Regarding convoy, last mile, operations, and events:
Convoy
---
Last mile
---
Operations
---
Events
The Mid-America Trucking Show takes place from Thursday, March 24, 2022 through Saturday, March 26, 2022.
5. Regarding technology and ELDs:
Technology
---
ELDs
6. Regarding employment and pay:
Employment
There are many aspects of employment in the trucking industry, including recruitment and retention.
Here are some of the most recent articles about this topic.
---
Pay
The listing of articles here does not imply an endorsement of trucking companies named in the articles.
7. Regarding inflation, insurance, training, routing, and repairs:
Inflation
---
Insurance
---
Training
---
Routing
---
Repairs
8. Regarding smuggling and health:
Smuggling
Do not treat humans the same way you would cattle or cargo!
---
Health
9. Regarding truck stops:
10. Regarding fire and theft:
Fire
While I could be wrong, I am inclined to believe that such a large fire must have been the result of arson (which is defined as "the criminal act of deliberately setting fire to property").
---
Theft
11. Regarding politics, parking, and weight:
Politics
Parking
---
Weight
12. Regarding awards and stand:
Awards
Congratulations to everyone who was recognized for skill or helping their fellow human being(s) in need!
---
Stand
It was amazing to read this:
Little girl's words defending truck drivers make big splash at truck stop, online
My husband Mike and I wish you — and all professional truck drivers — safe travels and lots of money saving opportunities on the road.
---
---
Return from TDMST Weekly Round-Up: 2022.03.19 to our TDMST Weekly Round-Up Trucking Commentary or our Truck Drivers Money Saving Tips home page.
---