This is the TDMST Weekly Round-Up of news affecting professional truck drivers, written by Vicki Simons for the week ending July 1, 2017.
We welcome your comments, thoughts and feedback on the items of your choice below.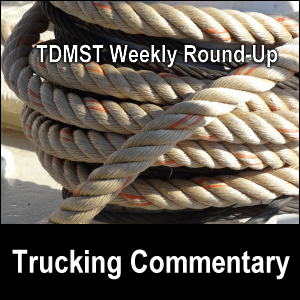 1. A June 30, 2017, article stated, "Nowadays, old-school banking methods have evolved to now include our ever-present mobile devices. And, with a little bit of adjusting, almost anyone can set up automated savings or investment applications."
Which mobile app (listed in the article or not) has been for you like a "digital savings jar" to "help you manage your money and lead the way to saving more and spending less"?
Does using your Smartphone to handle your money make you at all nervous?
2. MarketWatch quoted an industry expert on June 29, 2017 as stating that "Wal-Mart Stores Inc. is escalating its war of words with Amazon by sending veiled messages to the trucking companies that haul its merchandise from its distribution centers and stores, telling them if they do business with the Web giant it may not want to work with them".
However, the article also quote a Walmart spokesman who "denied that the company has had discussions with trucking companies about high-peak delivery times or about Amazon, adding that 'it would be illegal for us to tell them who they can do business with.'"
A separate article states, "Walmart (WMT) denied claims it told trucking companies throughout June that they might not want to work with them if the companies also haul loads for Amazon.com (AMZN)".
Be on your guard regarding price competition and any "free shipping" wars.
As one trucking advocate says, "Say 'no' to cheap freight."
3. In a trucker's rant about the cost of health insurance published on June 29, 2017, he stated, "if I elected to buy health insurance for my family of four through my company, I would take a salary cut to the tune of about $25,000 a year. That's on top of my employer paying approximately one-fourth of the costs, about $6,000."
Furthermore, he stated, "I may be dumb, but I'm not stupid. I'm simply not going to pay out the nose for virtually nothing in return. My game plan is to pay out of pocket for our regular medical expenses. What would you rather do: Pay $400 per month to fund your own regular medical expenses, or pay $2,400 per month for insurance premium plus co-pays plus meeting the deductible? I'll take option 'A.'"
Do you know the real cost of your health insurance annually?
Are you shopping around for the best plan you can get?
Are you sticking with one of your employer's plans or doing something else?
One year during open enrollment held by the trucking company for which Mike Simons was driving, he declined coverage twice. Read our article for details.
Please comment below.
4. Because the driver of an empty gravel truck was unable to slow down in a construction zone and he "veered into oncoming traffic", he struck a pick-up truck hauling a horse trailer head-on, killing both the pick-up truck driver and the horse.
The gravel truck driver has been charged with vehicular manslaughter, according to the June 28, 2017, article.
idahostatejournal.com/news/local/woman-horse-dead-in-horrific-i–wreck-trucker-in/article_66f1342a-e7d8-5637-a12f-c13074c6d78b.html (no longer online)
Even though a driver should always be alert for slowing traffic — and be able to compensate speed — one should be even more aware of the need in construction zones.
This was a totally preventable accident and we extend our sympathy to the family. Never overdrive your ability to stop your vehicle.
5. A June 28, 2017, article revealed that a trucker who had falsified his log book and should have been out of service at the time of the fatal head-on collision he caused, has been sentenced for vehicular manslaughter.(a)
Never falsify your log book or ELD record, no matter the incentive to do so.
6. Failure to change lanes on I-65 led one trucker to crash into an unoccupied INDOT dump truck that was blocking traffic for construction work. The collision led to his death, according to a June 28, 2017, article.
Since the accident happened at about 12:30 a.m., I suspect that the driver was tired or fell asleep at the wheel.
If you find that you're getting sleepy, park in the first available safe and legal place to do so until you're alert once more.
7. Congratulations to Larry Gorby, who was named "Grand Champion of the West Virginia Trucking Association's 61st annual Truck Driving Championship" for his accomplishment!
Read more in this July 1, 2017, article.
8. A June 26, 2017, article reveals that a truck driver in Australia who had experienced issues with his truck's brakes went to inspect them when the truck "rolled onto him, crushing his legs".
Learn your company's procedures for dealing with situations like this. As the old saying goes, an ounce of prevention is worth a pound of cure.
9. When will these truckers ever learn?
One trucker hauling heroin and cocaine has been sentenced to 10 years in state prison for "possession with the intent to distribute", according to a June 26, 2017, article.(b)
Another trucker has been sentenced to a 64-month prison sentence and five years of supervised release "for possession of cocaine with the intent to distribute", after having been involved in a "$500,000 drug bust case", according to a June 23, 2017, article.
In this case, however, "Parts of the truck's rear axle were rigged to create an area to discretely hold the drugs", so this was obviously intentional.
Don't haul drugs!
Not only can it cost you years of your life, but you may never be able to drive commercially again.
10. The 5-day strike of California port truckers has ended, according to a June 26, 2017, article.
A separate June 28, 2017, article states: "There's no mystery why shipping firms at the port prefer the independent contractor model: It saves them about 30% compared to the cost of operating with employee drivers."
I'm all for being frugal, but shippers and receivers need to do unto truckers as they would have truckers do unto them.
A June 29, 2017, article from USAToday.com reveals more about the exploitation that some port truckers have faced.
11. A June 26, 2017, article stated, "The growing importance of open telematics and digital solutions will eventually change focus of manufacturers and dealers from 'truck-as-a-product' to 'truck-as-a-service' or 'TaaS', explained Frost & Sullivan's Franck Leveque."
trucker.com/technology/trucking-becoming-more-digitized-every-day (no longer online)
I wonder how this shift will affect truckers' wages.
12. Two lessons that might have prevented a trucker from being crushed to death under a steel coil, as listed in this June 23, 2017, article are:
"heavy steel coils and similar cargo that can tip over should be secured before a bridge crane sling is detached from them"; and
"workers loading such cargo should maintain a clear line of sight of the cargo at all times".
Read the rest of the article for more info.
We extend our condolences to the trucker's family.
13. Just so you know, depending on the unit you have, your cell phone can pinpoint your whereabouts.
In the case of one trucker, he was not where he claimed to have been and the cell phone evidence led to his being tracked and arrested for the crime for which he must serve at least 20 years, according to an undated article.
14. "TA Petro Stopping Centers will serve free meals to all active duty military, veterans and reservists with proof of service Tuesday, July 4 at participating Country Pride or Iron Skillet restaurants nationwide", according to a June 30, 2017, article.
15. Will you as a trucker be actively looking to buy or avoid buying fuel in any or all of the 10 states whose fuel taxes were set to change on July 1?
A June 30, 2017, article has the details and at the top of the list is my home state of South Carolina.(c)
16. Allen Smith of AskTheTrucker.com urges truckers to call their federal representatives to "REMOVE FAA bill's Anti Trucker wage amendments".
For all of the details, please see this article and make the calls — adapting the provided suggested wording — now.
askthetrucker.com/truckers-call-reps-remove-faa-bills-anti-trucker-wage-amendments/ (no longer online)
My husband Mike and I wish you — and all professional truck drivers — safe travels and lots of money saving opportunities on the road.
Please be on your guard for your own safety and the safety of your rig and load over the July 4 holiday.
---
---
Return from TDMST Weekly Round-Up: 2017.07.01 to our TDMST Weekly Round-Up Trucking Commentary or our Truck Drivers Money Saving Tips home page.
---
References:
a. www.krcrtv.com/news/local/butte/trucker-sentenced-in-fatal-christmas-eve-crash/567464393 (no longer online)
b. www.yakimaherald.com/news/national_news/truck-driver-sentenced-on-drug-charges-after-highway-stop/article_7801cd11-9b0f-55c5-86a3-553f3795d58f.html (no longer online)
c. www.landlinemag.com/Story.aspx?StoryID=33658#.WVfJ7FGQzIU (no longer online