This is the TDMST Weekly Round-Up of news affecting professional truck drivers, written by Vicki Simons for the week ending June 4, 2022.
We welcome your comments, thoughts and feedback on the items of your choice below.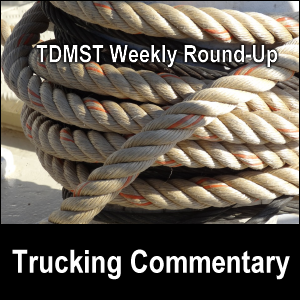 1. Regarding HOS, CARB, and AB5:
HOS (Hours of Service)
Do any of our readers really believe that the state of the health of the majority of Americans warrants a continuation of an "emergency declaration" such that an Hours of Service waiver is still needed?
Please comment through the form below.
---
CARB (California Air Resources Board)
It looks like the courts are going to have to sort this one out!
---
AB5
2. Regarding limiter, accidents, drivers, and last mile:
Limiter
If you feel that putting speed limiters on commercial motor vehicles is a bad idea, then please write and submit your comments here (noting that there are helpful tips in the Commenter's Checklist).
---
Accidents
Please learn what you can from the accidents described in these articles so that you can actively avoid getting involved in a similar accident yourself.
---
Drivers
Watch out for aggressive and distracted drivers!
---
Last mile
3. Regarding aerodynamics, fuel, autonomous vehicles, and electric vehicles:
Aerodynamics
---
Fuel
I know that owner-operators, independent truckers, and trucking companies are all suffering as a result of high fuel prices right now.
But I absolutely do not believe that it is the place of government officials to set price controls!
Those who set the stage for the current economic crisis need to admit and then correct those factors.
---
Autonomous vehicles
I totally oppose autonomous, driverless, and self-driving commercial motor vehicles on the public roads with the motoring public, but share these articles so that you can stay current with what's happening.
---
Electric vehicles
4. Regarding automation and technology:
Automation
In some ways, automation can help us — such as with using washing machines to wash clothing.
However, be careful about accepting it too much because some people want to replace human labor with machines in all aspects of our lives.
---
Technology
5. Regarding pay, tolls, inflation, failures, and consumers:
Pay
We do not endorse any trucking companies listed in this section.
Always do your own due diligence before signing on with any trucking company.
---
Tolls
---
Inflation
---
Failures
---
Consumers
6. Regarding operations, inspections, and cross-docking:
Operations
---
Inspections
If you keep yourself and your rig in a perpetual state of readiness for an inspection, you will never be caught off-guard!
---
Cross-docking
7. Regarding employment, qualifications, shortage, shut down:
Employment
---
Qualifications
---
Shortage
---
Shut down
A name change does not reverse a shutdown order!
8. Regarding politics and roads:
Politics
---
Roads
9. Regarding drugs and violence:
Drugs
Never, ever agree to haul illegal drugs — no matter how much money you are offered!
---
Violence
10. Regarding economy, freight, and supply chain:
Economy
---
Freight
---
Supply chain
11. Regarding safety, tools, and atlas:
Safety
---
Tools
---
Atlas
12. Regarding awards:
We recognize those who helped their fellow human beings in a time of need.
We congratulate all professional truck drivers who have achieved a milestone in their trucking careers.
My husband Mike and I wish you — and all professional truck drivers — safe travels and lots of money saving opportunities on the road.
---
---

Return from TDMST Weekly Round-Up: 2022.06.04 to our TDMST Weekly Round-Up Trucking Commentary or our Truck Drivers Money Saving Tips home page.
---