This is the TDMST Weekly Round-Up of news affecting professional truck drivers, written by Vicki Simons for the week ending September 3, 2022.
We welcome your comments, thoughts and feedback on the items of your choice below.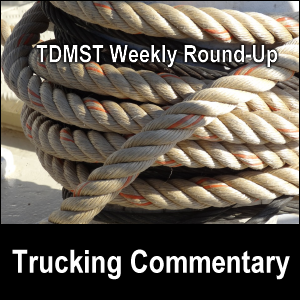 1. Regarding NTDAW, Labor Day weekend, theft, and violence:
NTDAW – National Truck Driver Appreciation Week
In 2022, National Truck Driver Appreciation Week will be held September 11 – 17.
---
Labor Day weekend theft
Always take precautions about where you stop, where you park for sleep, how you secure your rig, and more.
Keep your eyes and ears open on all holidays.
---
Theft
According to the TruckNews.com article linked in this section:
"…this year [thieves will] also be targeting expensive and hard-to-find CPC (common powertrain controller) modules from the trucks themselves."
How can truckers prevent theft of these parts if they can be lifted from under an unlocked hood?
---
Violence
Regarding the road rage article below, I prefer to think of it as endeavoring not to bait or tempt someone to perpetrate violence.
2. Regarding AB5, legal, and HOS:
AB5
The article from TheTrucker.com linked in the section below states:
However, many independent contractors across the nation say they prefer to be independent contractors because of the flexibility and autonomy they enjoy. The new ruling could result in the death of the owner-operator and independent contractor business models in California.
If the law firm president cited in the article is correct — and companies will be "looking out-of-state for independent contractors instead of those whose live in California" — all kinds of interesting repercussions could result.
What do you think?
Will AB5 have a significant impact on prices, routes, or services in California?
Please comment through the form below.
---
Legal
---
HOS
3. Regarding inspections, maintenance, prevention, regulations, and animals:
Inspections
If you keep yourself and your rig in inspection-ready condition at all times, you will never be caught off-guard.
---
Maintenance
There's an old saying:
"The squeaky wheel gets the grease."
---
Prevention
There's another old saying:
"A stitch in time saves nine."
---
Regulations
Why do these underride guard articles come in clusters?
---
Animals
4. Regarding economy, pay, rates, surcharges, taxes, tolls, and UCR fees:
Economy
---
Pay
We do not necessarily endorse any trucking companies listed in this section.
---
Rates
---
Surcharges
---
Taxes
---
Tolls
---
UCR fees
UCR stands for "Unified Carrier Registration".
5. Regarding autonomous vehicles and electric vehicles:
Autonomous vehicles
I oppose with every fiber of my being the operation of autonomous, self-driving, or driverless trucks on the same roads as the motoring public, but provide these articles as a courtesy so that you may stay current with what's going on in the trucking industry.
---
Electric vehicles
A September 1, 2022, article entitled, "California asks residents to avoid charging electric vehicles during a Labor Day weekend heat wave" underscores the point that "electric vehicles" do not generate their own energy and are as "dependent" on a "recharging station" as a vehicle operating on "fuel" is on a "fuel station."
Are electric vehicles more dependent on recharging stations than fuel-dependent vehicles are dependent on fuel stations (because the latter can potentially carry extra fuel with them)?
Please share your thoughts through the form below.
6. Regarding fuel, fuel – hydrogen, fuel – options, fuel prices, refinery, carbon, and emissions:
Fuel
---
Fuel – hydrogen
---
Fuel – options
---
Fuel prices
---
Refinery
---
Carbon
---
Emissions
Just be aware that anything that "breathes" has "emissions."
7. Regarding accidents, fatalities, drugs, smuggling, and shut down:
Accidents
---
Fatalities
---
Drugs
---
Smuggling
---
Shut down
8. Regarding business, buying, parking, and same-day delivery:
Business
---
Buying
The article linked just below opens with this short paragraph:
A new report issued by ACT Research has found that a significant "prebuy" of Class 8 trucks is likely before the Environmental Protection Agency's next round of emissions regulations targeting diesel exhaust emissions become law in 2027.
Let's just hope that the powers-that-be don't consider that actions done to get ahead of a curve don't bounce-back on those taking action now.
---
Parking
---
Same-day delivery
The article linked just below opens with:
Changes in consumer demand paired with global supply chain disruptions present a unique challenge for businesses. Consumers expect increasingly faster delivery and companies of all sizes must compete for their attention.
Please do not allow the push for "same-day delivery" to cause you to get involved in an accident!
9. Regarding roads, escape ramp, and weather:
Roads
---
Escape ramp
---
Weather
10. Regarding operations, ports, and hemp:
Operations
There are points beyond which freight should be hauled and the article linked just below points out one of them.
---
Ports
---
Hemp
The article linked just below opens with this:
Since passage of the 2018 Farm Bill legalizing the cultivation and sale of hemp and its derivatives, a lack of guidance governing how the cargo is transported has been a potential barrier for trucking companies looking to take advantage of this emerging business.
Kevin Schultz, who is co-founder and president of 357 Hemp Logistics, was quoted as saying:
"I also think drivers need to be aware that if they're using hemp products, there is some risk when taking a drug test, because although our rules are below 0.3% THC, there is some THC in the product."
Bear in mind that truckers can be required to undergo a urinalysis at any time.
11. Regarding technology, testing, and training:
Technology
---
Testing
---
Training
"There is no such thing as a 'free lunch.'"
So, if the CDL training described in the articles below is "free," what's the catch?
Please see our article:
Free CDL: What to Know in Advance of Getting a CDL for Free
12. Regarding recognition and awards:
Recognition
We recognize these folks for helping out their fellow human beings in a time of need.
---
Awards
We extend our heartiest congratulations to truckers who have demonstrated skill in their trucking careers — and/or who have gone on to win awards!
My husband Mike and I wish you — and all professional truck drivers — safe travels and lots of money saving opportunities on the road.
---
---


Return from TDMST Weekly Round-Up: 2022.09.03 to our TDMST Weekly Round-Up Trucking Commentary or our Truck Drivers Money Saving Tips home page.
---