This is the TDMST Weekly Round-Up of news affecting professional truck drivers, written by Vicki Simons for the week ending November 12, 2022.
We welcome your comments, thoughts and feedback on the items of your choice below.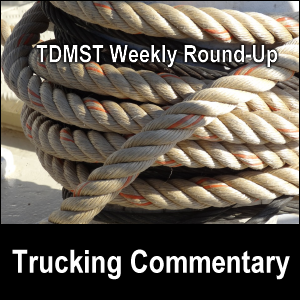 1. Regarding Thanksgiving, Truckersgiving, holidays, deliveries, and returns:
Thanksgiving
Thanksgiving falls on Thursday, November 24 this year.
Typically, this is the very heavy freight season for Christmas deliveries.
However, based upon what I have read, some retailers have cut back on the amount of freight being ordered (most likely due to inflation) or have started their "Black Friday" sales early to try to hedge against sluggish sales.
There will always be seasonal ups and downs in trucking, so please prepare yourself.
Also, feel free to look at this page on our site:
Trucker Thanksgiving Trip Money Saving Tips
Also, I wrote this in November 2009:
A Thanksgiving Prayer on Behalf of Professional Truck Drivers
---
Truckersgiving
If you're a professional truck driver, feel free to take advantage of freebies being offered to truckers on the road during special promotions like this.
---
Holidays
---
Deliveries
Please pay attention to various aspects associated with making deliveries.
Although home delivery services — such as UPS and FedEx — may be the only truckers involved with taking packages to consumers' homes, please bear in mind the opportunity for "porch pirates" to steal packages (see the "Theft" section below).
If you are a home delivery service trucker, please always take a photograph of the item that you delivered, where you delivered it, to help protect yourself from being lied about.
We have never heard of a home delivery service trucker who recorded a video of a delivery, but if you have the opportunity to do that, too, that would be great.
---
Returns
2. Regarding recalls, emissions, and operations:
Recalls
If you drive a truck or trailer that has a recall issued, please make sure that attention to that matter is taken care of promptly.
---
Emissions
---
Operations
3. Regarding accidents, near miss, fatalities, routing, and drugs:
Accidents
Please learn what you can from the articles linked below, so that you can — if possible — avoid being in a similar set-up.
---
Near miss
---
Fatalities
We extend our deepest sympathies to the families whose truckers passed away.
Meanwhile, I also saw this article this week:
Report Says DOT 'Management Challenges' Include Reducing Highway Fatalities
---
Routing
Please remember that not all GPS units are built alike.
The only routing documents and technology you should use in a Commercial Motor Vehicle should be a "truckers atlas" and similar technology.
---
Drugs
Never, ever haul illegal drugs, no matter how much you are offered.
4. Regarding autonomous vehicles, electric vehicles, fuel, fuel tax holiday, oil, and taxes:
Autonomous vehicles
I totally disapprove of the operation of autonomous vehicles on the same road as the motoring public 100%, but share these articles as a courtesy to keep you informed on the subject.
---
Electric vehicles
---
Fuel
These articles address the "fuel situation" in various respects.
---
Fuel tax holiday
---
Oil
---
Taxes
5. Regarding economy, future, inflation, and reputation:
Economy
The following are some of the most recent articles about various aspects of the economy from the trucking industry's perspective.
---
Future
---
Inflation
---
Reputation
It may seem counter-intuitive, but when the motoring public respects truckers, there may be the opportunity for fewer accidents to take place.
6. Regarding weather, winter, and idling snitchers:
Weather
Please be cautious about driving in areas with severe weather, no matter what kind of weather event is taking place or is scheduled to take place.
---
Winter
The acronym ADAS — as used in the title of the second article in this section — stands for Advanced Driver Assistance System.
No matter what kind of truck you drive, be prepared to take over the truck's operation, should automation fail.
---
Idling snitchers
Certain locations around the USA have very strict idling rules/regulations/ordinances/laws.
Some jurisdictions actually pay residents to "rat out" truckers who idle for comfort.
The American Transportation Research Institute (ATRI) used to publish a compendium of idling regulations, but I think all of this information has been removed from their website, as I've been unable to locate it online.
If you know of a similar resource, please let me know through the form below.
Thanks.
7. Regarding border, chains, HOS, inspections, roads, and supply chain:
Border
---
Chains
---
HOS
---
Inspections
If you keep yourself and your rig perpetually ready to be inspected, you'll never be caught off-guard.
---
Roads
Please be aware of road closures and detours.
---
Supply chain
8. Regarding layoffs, drones, ELDs, and technology:
Layoffs
As inflation worsens, more and more layoffs may be coming.
If you haven't done so in a while, please update your employment history, just in case you need to look for another truck driving job.
---
Drones
---
ELDs
At the bottom of the 4th article linked in this section, there is a statement (links preserved):
"The public has through Nov. 15 to comment on the notice. To do so, click here or go to Regulations.gov and enter Docket No. FMCSA-2022-0078."
If you feel strongly about this regulation, please submit your comments before the deadline.
Please feel free to read/watch my Electronic Logging Devices Mandate Commentary, which I recorded and published on December 4, 2017.
---
Technology
The following are some of the most recent articles about technology from the trucking industry's perspective.
9. Regarding legal, recruiters, retention, and retirement:
Legal
Please scan through these articles to see what you can do to protect yourself legally as a trucker.
---
Recruiters
Please also feel free to read this page on our website:
Ask Recruiters Who Recruit Truck Drivers These Questions
---
Retention
---
Retirement
Please also feel free to read this page on our site:
The Future of Social Security: Considerations for Trucker Retirement
10. Regarding theft, tolls, and truck stop:
Theft
Please be aware of opportunities for theft and protect yourself, your rig, and the freight on board as best as you can.
---
Tolls
---
Truck stop
11. Regarding pay, ports, and postal service:
Pay
Please feel free to read this page on our site:
---
Ports
---
Postal service
12. Regarding recognition and awards:
Recognition
Even though they may never win an award for their skill, I am impressed with truckers who appear to do the impossible — and recognize them here.
---
Awards
Congratulations to all truckers who receive awards for their achievements on the job.
My husband Mike and I wish you — and all professional truck drivers — safe travels and lots of money saving opportunities on the road.
---
---


Return from TDMST Weekly Round-Up: 2022.11.12 to our TDMST Weekly Round-Up Trucking Commentary or our Truck Drivers Money Saving Tips home page.
---