This is the TDMST Weekly Round-Up of news affecting professional truck drivers, written by Vicki Simons for the week ending November 19, 2022.
We welcome your comments, thoughts and feedback on the items of your choice below.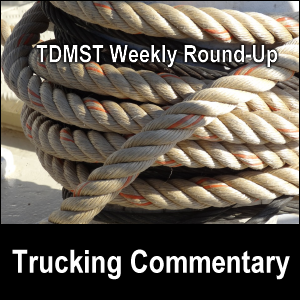 1. Regarding Thanksgiving, holidays, weather, roads, and electronic IDs:
Thanksgiving
Mike and I wish every professional truck driver and his/her home support team member a blessed Thanksgiving!
You may wish to review these pages from our site:
Here are other articles on this topic:
---
Holidays
---
Weather
Please use great discernment regarding whether or not to drive in severe weather — assuming roads are open and there are no travel bans.
---
Roads
---
Electronic IDs
Comment Due Date: November 22, 2022
There's not much time left for you to make your voice heard on this issue.
Please submit your comments and also contact your federal lawmakers regarding this issue:
Other articles about this topic include:
2. Regarding inspections, deer strike, legal, safety, and violations:
Inspections
If you keep yourself and your truck in perpetual readiness for an inspection, you'll never be caught off-guard.
---
Deer strike
---
Legal
---
Safety
---
Violations
3. Regarding fuel: prices, fuel: renewable, fuel: supply, and fuel: taxes:
Fuel: prices
---
Fuel: renewable
---
Fuel: supply
---
Fuel: taxes
4. Regarding autonomous vehicles, autonomous truck blowout, electric vehicles, and emissions:
Autonomous vehicles
In response to a November 19, 2022, post in a trucker's Facebook page — that shows a Swift tractor and trailer pulled over off a snowy road (or having slid off the road toward the ditch) — I responded to someone's post as follows (name withheld):
[Name] What an interesting perspective!
How are the "autonomous" (driverless or self-driving) trucks going to install snow chains?
I've seen "automatic snow chains," but I think those are installed only on the tractor, not the trailer.
Has the "switch" to turn on automatic snow chains been incorporated into the autonomous trucks' programming?
Hmm…
Other articles on this topic include:
---
Autonomous truck blowout
In response to a post in a truckers' Facebook group (regarding this November 10, 2022, article), I wrote this comment on November 11:
Quote from article:
"…Kodiak chose to execute an in-lane fallback at a proving grounds in Texas…"
Meaning that the truck stopped in the lane of travel.
Meaning that the truck was not programmed to pull over in the breakdown lane (on the shoulder).
Meaning that the truck is expecting a tire replacement on the highway with traffic whizzing by at highway speeds.
Meaning that the theoretical vehicles traveling behind the truck would be able to avoid a rear-end collision with the stopping or stopped truck.
Did the truck automatically turn on its flashers?
Did the truck automatically put out its set of 3 hazard triangles at the proper distances from the rear of the trailer?
What would have happened in rain, snow, or wind?
What would have happened on an incline or decline?
What would have happened with a partially or fully loaded trailer?
What would have happened on a curve or in the midst of a turn?
This demonstration is, in my opinion, idealistic, but far from reality.
Nice try, Kodiak.
You're not fooling those who have actually driven a tractor trailer for a living!
Other articles on this topic include:
Kodiak Demonstrates AV Skills After a Blowout (link no longer online)
---
Electric vehicles
There's been a huge push to replace petroleum-powered trucks with electric-only trucks.
Yet, electricity to run these trucks does not self-generate, meaning that it has to come from somewhere.
Those who wish to foist a "green new deal" on us to fight so-called "climate change" may want for us to get all electricity from solar and wind sources.
Yet, are these sources "clean and green" as the narrative-pushers claim?
Dr. Annie Bukacek — who has spent over 30 years serving Montana patients, listening to their concerns, and striving to solve problems to improve the quality of their lives — ran for the Public Service Commission in the state of Montana, won the November 2022 General Election, and published this 19-minute presentation on November 15, 2022, answering:
Are Solar & Wind Power & Electric Vehicles Really Clean And Renewable Energy Sources? By Dr. Annie Bukacek
Other articles on this topic include:
---
Emissions
5. Regarding border, broker, business, compliance, and ports:
Border
---
Broker
---
Business
---
Compliance
---
Ports
6. Regarding economy, pay, and rates:
Economy
---
Pay
---
Rates
7. Regarding parking, sleep, snow removal, and equipment:
Parking
---
Sleep
---
Snow removal
---
Equipment
8. Regarding employment, technology, and ELDs:
Employment
---
Technology
---
ELDs
9. Regarding accidents, alcohol, drowsy driving, and fatality:
Accidents
---
Alcohol
It is never acceptable to drink alcohol and drive a vehicle, especially a commercial motor vehicle.
---
Drowsy driving
---
Fatality
Three of the four articles just below refer to the same fatality, of a man who was "dancing" on top of a tractor trailer that was rolling down the road, went under a bridge, and was killed.
We extend our condolences to the man's family.
My questions include:
How would a trucker know that someone is on top of his trailer, especially if the person on top was lying down when the driver did a walk-around pre-trip inspection?
Assuming that a person on top of a trailer is spotted by someone else, how is he/she to notify the trucker that there's someone on top of his/her rig?
How would the trucker know that the person who is notifying him about a hitchhiker on top of his trailer is serious and not trying to get him to pull over for nefarious reasons?
Please comment through the form below.
10. Regarding fraud: bribery, fraud: CDLs, and fraud: pay:
Fraud: bribery
---
Fraud: CDLs
---
Fraud: pay
11. Regarding credit card, discount, fees, lottery, and millionaire tax:
Credit card
Do your due diligence before you accept any credit card.
---
Discount
---
Fees
---
Lottery
Let's hope that the "winner" has financial discipline.
---
Millionaire tax
12. Regarding awards and recognition:
My husband Mike and I wish you — and all professional truck drivers — safe travels and lots of money saving opportunities on the road.
---
---


Return from TDMST Weekly Round-Up: 2022.11.19 to our TDMST Weekly Round-Up Trucking Commentary or our Truck Drivers Money Saving Tips home page.
---