Would you rather eat Thanksgiving dinner in a restaurant (paying others to prepare and serve it and clean up afterwards) — or
prepare it yourself,
exactly how you want it,
as much as you want,
with the possibility of tasty leftovers, and
save hard-earned money in the process?
We chose the latter so that we could show truck drivers that they can prepare this meal in an 18-wheel tractor trailer, too.
Holiday Meals Eaten Out
To provide a little background, please understand that during the times when we have been on the road together, we've had multiple opportunities to eat a Thanksgiving meal on the road.
The first two years when we drove as a team, we ate a traditional turkey meal at two different truck stops in New Mexico.
The third year, we prepared it ourselves and had such a smashing success that we never looked back.
Our In-Truck Thanksgiving Dinner Menu
The photo here shows a plate with the dishes we prepared for our Thanksgiving dinner in 2009 — along with some store-bought cranberry sauce.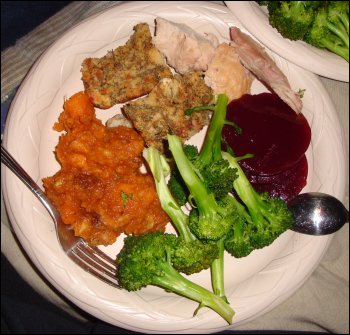 Our full Thanksgiving dinner menu in 2009 was:
Boneless turkey (both light and dark meat);
Bread dressing (cheap white bread, water, eggs, sage and turkey broth);
Sweet potato casserole (sweet potatoes with margarine, brown sugar and nuts);
Broccoli;
Cranberry sauce (whole berry for Mike and jellied for Vicki); and
Welch's Sparkling Red Grape Juice (non-alcoholic).
We cooked the turkey, bread dressing, sweet potato casserole, and broccoli in the truck Mike drove for his at-that-time trucking company.
Video
We prepared a video to show you how we did it:
Planning Ahead
To give the cranberry sauce and grape juice enough time to cool to the desired temperature (cold), we put them on ice in our ice chest two days before.
Mike prepared the turkey to cook in our medium-sized crock pot while he was driving from the Memphis, TN, area to lower-state Mississippi, a 5½-hour drive.
When we arrived, he turned off the crock pot and began preparing the other dishes.
Mike's Famous Bread Dressing
When Vicki was growing up, her family ate a commercially prepared stuffing mix with their Thanksgiving dinner.
However, when she married Mike and he fixed his famous bread dressing — which uses broth from the turkey — she has never wanted to go back to traditional stuffing.
His bread dressing tastes better!
Mike's bread dressing consists of
cheap white sandwich bread (although we have used wheat bread as a substitute),
two beaten eggs,
plenty of sage and
broth straight from the bird (perhaps diluted a little with water).
In the photo shown here, Mike Simons prepares his famous bread dressing by tearing slices of cheap white bread into pieces.
Note: this is not "cornbread dressing," but a sage-seasoned dressing made of white bread.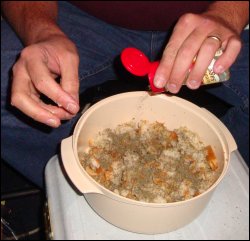 After dampening the bread with water, adding in two beaten raw eggs, and mixing the ingredients thoroughly, Mike added the most important spice or seasoning for making bread dressing: rubbed sage.
He remixed the ingredients to make sure the sage was evenly distributed.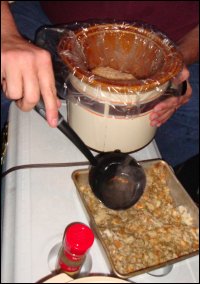 After adding in enough sage to pass the "sniff test," Mike pressed the bread dressing mixture into a pan previously coated with non-stick spray.
Then, he ladled over it some of the cooked turkey broth.
He added enough broth to wet the bread but not so much that the bread was floating in it.
In times past, in order to keep the bread dressing from tasting too strong,
Mike has diluted the broth slightly with water.
This is a matter of taste.
Mike noted that the name brand rubbed sage that he used in 2009 was stronger than the less expensive brands we have used in the past, therefore requiring less of it in the making of this dish.
However, the taste of the finished dish was just as tasty as it would have been if he had used more of a cheaper brand of sage.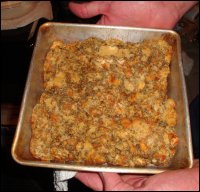 In this photo, Mike is holding the pan of baked bread dressing.
He baked it at 350°F for about 20 minutes in a toaster oven that we had in the truck at the time.
This was long enough to
cook the eggs through and
make the top of the dressing slightly crisp, such that when it was tapped with a fork, the dressing "sounds hollow," he said.
Bread dressing has become an expected part not only of every Thanksgiving dinner we have, but also of every turkey dinner.
Sweet Potato Casserole
While the bread dressing was baking, Mike worked on preparing the sweet potato casserole.
Steaming Broccoli
Because of its sensitivity, we cooked the broccoli last.
This photo shows the broccoli crowns that Mike prepared for steaming for this meal.
We put the prepared broccoli in the fryer/steamer basket that came with our hot pot for steaming.
The basket was set on the side of the hot pot to hover above the already-boiling water.
To save time, we steamed the broccoli over the water that had been used for boiling the sweet potatoes.
Note: The broccoli did not pick up the flavor of the sweet potatoes.
Preferences in Cranberry Sauce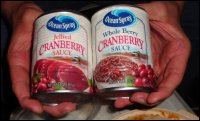 In our family, we prefer two different types of cranberry sauce.
Here, Mike is holding both types:
the jellied variety that Vicki likes and
the whole berry variety that he likes.
For us, Thanksgiving dinner just isn't complete without cranberry sauce.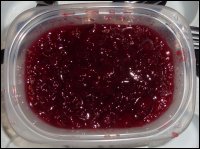 This is a close-up view of the whole berry cranberry sauce.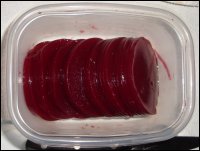 This is a close-up view of sliced jellied cranberry sauce.
Thanksgiving Dinner Is Served In-Truck!
When the turkey was cooked and sliced, the bread dressing baked and sliced, the sweet potato casserole prepared, the broccoli steamed and the cranberry sauce ready for serving, our meal was ready.
Thanksgiving dinner is served!
Both plates shown in the photo here contain a serving of turkey, bread dressing, sweet potato casserole and steamed broccoli.
The plate in the foreground also shows slices of jellied cranberry sauce.
You can see
the edge of the bowl with whole berry cranberry sauce on the right and
the pan containing the remainder of the bread dressing in the background.
If we say so ourselves, this was a beautiful meal and we did ourselves proud by fixing an elegant-looking, very delicious and well-rounded Thanksgiving dinner.
What's even more exciting is how much money we saved by doing it ourselves!
Equipment We Used to Prepare Our 2009 Thanksgiving Dinner
Crock pot liner;
Toaster oven;
Cutting board (to place under the toaster oven);
Hot pot (with fryer/steamer basket);
Solid surface for cooking;
Can opener;
Bowls and plates; and
Cooking and eating utensils.
Cost of This Meal in 2009
| | | |
| --- | --- | --- |
| Ingredient | Total cost | Cost per meal for 2 people |
| Turkey (3 pounds, 3 meal's worth for 2 people) | $8.47 | $2.82 ($1.41 per serving) |
| Slow cooker liner (box of 4) | $1.87 | $0.47 |
| Olive oil (estimated) | N/A | $0.05 |
| White bread (per loaf) | $0.78 | $0.39 |
| Sage (bottle) | $2.50 | $1.25 |
| Eggs (two from dozen) | $1.09 | $0.18 |
| Non-stick cooking spray (estimated) | N/A | $0.02 |
| Sweet potatoes (three medium, 2.17 pounds, 2 meals' worth) | $0.54 | $0.27 |
| Margarine (estimated) | N/A | $0.10 |
| Brown sugar (estimated) | N/A | $0.25 |
| Walnuts (estimated) | N/A | $0.25 |
| Broccoli (estimated) | $0.85 | $0.85 |
| Cranberry sauce (per can, on sale) | $0.59 | $0.59 |
| Sparkling red grape juice | $2.97 | $2.97 |
| Total | — | $10.46 |
Imagine walking into some restaurant and wanting to eat from their Thanksgiving dinner buffet for $5.32 per person (tax and tip included).
Can it happen?
Read on…
---

Money saving tip: The day before Thanksgiving, we ate lunch at a Petro in Monee, IL.
They served a buffet for $9.49 and were advertising their Thanksgiving Day buffet for $16.95 per person (not including tax, not including tip).
Most likely, any drink other than water would have been an additional cost.
(Of course, sales tax rates vary throughout the United States.)
Assuming a tip of 20%, that's an additional $3.39.
Calculating various sales taxes and adding in a 20% tip, here's what you would pay per person for the privilege of eating a $16.95 Thanksgiving Day dinner.
We have also calculated the cost for 2 people to eat.
| | | | |
| --- | --- | --- | --- |
| Sales tax | Dinner + tax | Dinner + tax + tip | (Dinner + tax + tip) * 2 |
| 5% | $17.80 | $21.19 | $42.38 |
| 6% | $17.97 | $21.36 | $42.72 |
| 7% | $18.14 | $21.53 | $43.06 |
| 8% | $18.31 | $21.70 | $43.40 |
| 9% | $18.48 | $21.87 | $43.74 |
| 10% | $18.65 | $22.04 | $44.08 |
For less than 25% of the cost of the high-end restaurant-prepared Thanksgiving dinner for two, we were able not only to eat as much as we wanted of our favorite dishes, but we also had enough turkey left over for at least two more meals!
Of course if you don't feel like preparing and cooking the whole meal yourself, it is possible to buy a few things already prepared.
If you have a home support team, some of those items can be prepared at home, taken with you and heated up at the appropriate time.
Just bear in mind to keep perishable foods at the correct temperature and re-warm foods to the correct temperature before eating.
Update: Aaron Crowe contacted us about cooking food on an engine. Vicki responded that the photos referencing doing that on our cooking turkey page were done in fun. We didn't know any truckers who cooked using their truck engine heat. However, you may be interested in reading his article, linked here because he linked to us: How to Cook a Thanksgiving Meal on Your Car's Engine. (Thanks, Aaron!)
---
Return from Prepare Thanksgiving Dinner Frugally in Your Truck on the Road to our Food and Recipes page or our Truck Drivers Money Saving Tips home page.
---