This is the TDMST Weekly Round-Up of news affecting professional truck drivers, written by Vicki Simons for the week ending August 10, 2019.
We welcome your comments, thoughts and feedback on the items of your choice below.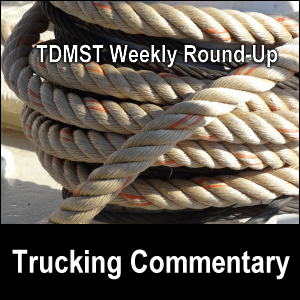 1. Regarding a trucking industry "market correction":
One report stated that "The trucking industry took in almost $800 billion in revenue in 2018 representing a nearly $100 billion jump from 2017."
With that kind of climb, it seems only reasonable that things would "settle down" or "back off," so to speak.
Whether or not the definition holds true in the trucking industry sense, I don't know, but according to InvestingAnswers.com:
"A market correction refers to a price decline of at least 10% of any security or market index following a temporary upswing in market prices."
Three statements in an August 2, 2019, article refer to a decline (perhaps temporary) within the trucking industry:
"Truck orders for July came in below 10,000 units, according to preliminary data compiled by FTR — a level not seen since 2010."
"July orders were 24% below an already low June and dropped 82% year-over-year. Class 8 orders for the past 12 months total 288,000 units."
"In its Commercial Vehicle Dealer Digest, ACT Research noted that the heavy truck and trailer industries are each heading toward a 'market correction' in 2020."
More about truck orders being down was written here.
Another article addressed "the latest reports on trucking business indicators on rates, freight, equipment, the economy and more."
Yet another article referred to "Mixed Signals" for the trucking industry.
If we are not yet in a "truck recession," it always helps to be prepared for one.
Just remember that nature teaches that there are cycles,
like breathing in and breathing out,
like day and night, and
like summer and winter.
Be aware of all of this and prepare now to the best of your ability.
If you don't know where to start, I strongly recommend:
2. Regarding autonomous trucks:
A U.S. Government Accounting Office (GAO) report — entitled "Automated Trucking: Federal Agencies Should Take Additional Steps to Prepare for Potential Workforce Effects" — was released on March 7, 2019.
The report opens as follows:
What could self-driving trucks mean for hundreds of thousands of the nation's long-haul truck drivers?

We found two possible scenarios:

Long-haul highway driving will be fully automated, resulting in fewer trucking jobs and possibly lower wages, or
Self-driving trucks may still need operators, possibly changing the skillset and wages without significantly affecting the number of trucking jobs[.]
—–
After publishing on my personal Facebook profile about commenting on autonomous trucks while the comment period is open, one response I received was about those trucks not being able to navigate truck stops.
I replied that without a truck driver, trucks would not need to "stop" in a truck stop.
Furthermore, I added that trucks would not need to go to truck stops for fuel if they ran on electricity.
An August 1, 2019, article provided, "Five Reasons to Consider Electrification".
Although the article doesn't mention it, I strongly suspect that electrification in today's trucks will pave the way for automation in tomorrow's trucks.
—–
I submitted my contact information in order to receive the whitepaper entitled "Automation in the Commercial Trucking Industry" — available here — but have yet to read it through.
—–
An article published here stated: "Self-driving technology start-up Kodiak Robotics on Tuesday announced it has begun commercial deliveries in Texas with a safety driver behind the wheel."
Other articles about Kodiak Robotics' announcement were published here and here.
—–
Loadsmart and Starsky Robotics recently made what has been called:
—–
Be aware of all of these moves to automate the movement of freight and do what is necessary to prepare, perhaps by starting to earn a second income from the cab of your truck.
3. Regarding truck parking fines:
"There is outrage among truck drivers passing through Kentucky lately, and their anger is focused at retail giant Walmart," states an August 5, 2019, article.
wkyt.com/content/news/Kentucky-truckers-angry-over-500-fines-for-parking-at-Walmart-521482141/ (no longer online)
The article goes on to say that the Walmart in Williamsburg, Kentucky, has partnered with a management company whose job is to prevent truckers from parking in their lot by taking the following actions:
putting a boot on the truck;
issuing a ticket for $500 that "must be paid in an hour"; and
if drivers don't take the required action, towing their trucks away.
I posted the following comment on Facebook:
I agree that Walmart is not responsible for truck parking.

My husband Mike and I have parked at that very Pilot truck stop many times in the past and it fills up quickly.

However, a $500 fine or boot seems way over the top.

The Hours of Service (HOS) regulation — especially with the mandated 30-minute break — has always been a recipe for disaster.

Where did the FMCSA think that truckers were going to park — safely and legally — even for 30 minutes?

Do they want for truckers to park on the shoulders of entrance or exit ramps if there is no truck parking?

What about states that prohibit truck parking on the shoulders of highways?

Weren't the FMCSA and DOT supposed to publish a new HOS regulation by now?
BTW, yes, the FMCSA again missed their projected publication date for the new Hours of Service rules.
4. Regarding cargo theft decline but… :
According to an August 5, 2019, report here, "Cargo theft recording firm CargoNet received 150 cargo theft reports during the second quarter of 2019, a 14% decrease from the same period a year ago."
This news was also reported here and here.
Please note that it is never time to relax one's position on making sure that freight is properly protected from theft.
Stay alert and continue to practice freight safety at every turn.
5. Regarding the so-called driver shortage:
An excellent article published on August 5, 2019, covered why truckers aren't "buying" the reports about the so-called driver shortage.
The author referenced a story about the ATA's report and wrote:
Almost every comment speaks to how working conditions have deteriorated over the years, how pay has remained stagnant relative to inflation, and how the regulatory burden have all conspired to make the cab of a truck an unpleasant and unrewarding workplace.
Furthermore, the author wrote:
One solution is to pay drivers by the hour, or with a salary with a guaranteed minimum based on availability and readiness for work. That takes the onus for the foul-ups off the drivers and gives the fleets a darned good reason to work harder to make sure things don't go off the rails too often.
An August 8, 2019, article reported that readers are divided on the issue about being paid for time spent in their truck sleeper berths.
For example, one driver was quoted in that article as saying, "If you're responsible for the truck/trailer/cargo and not allowed to leave, then yes you must be compensated for your time."
I certainly agree with paying drivers for all of their time and having those who are responsible for such to use a proven load board for obtaining loads.
6. Regarding reserved truck parking:
Jubitz Travel Centers in Portland, Oregon, announced on August 1 that they "are now offering 18 paid reserve trucking parking spaces in the main lot."
Based on the information on their website, I did a little math based on a randomly selected hypothetical 50% fill rate (which may be high or low):
18 spaces * $15/space/day = $270/day

$270/day * 365 days/year = $98,550

$98550 * 50% fill rate = $49,275
In another article about this announcement, we read: "Jubitz said the majority of its 250 truck parking spots remain free on a first-come, first-served basis."
An online poll asked, "How often, if at all, do you pay for the ability to reserve a parking space?"
If you're a company driver, we'd like to know if your trucking company is paying for the truck you drive (their truck) to be parked in any reserved parking spaces.
Please comment through the form below.
7. Regarding how not to deal with a messy truck:
An argument over "the messiness of the truck" escalated to the point where one co-driver stabbed his co-driver "multiple times in the abdomen" on October 12, 2018.
The trucker who did the stabbing "was found guilty by a New Jersey jury of various charges including attempted murder, aggravated assault, and possession of a weapon for an unlawful purpose."
Another article about this stated that the stabbed trucker "was transported to a nearby hospital in Trenton where he underwent successful surgery to save his life".
This stabbing was also reported here and here.
While truck cleanliness is important, disagreements can be handled in a calm and rational manner.
If trying to work things out with your team driver does not achieve the results you desire, contact your driver manager about the issues you're having so that if necessary, you can
either be assigned to drive with another co-driver;
or be assigned to a drive truck by yourself.
Do not allow your irritation to escalate into physical violence or worse.
And if the irritation is against you,
be sure to report it and
protect yourself to the best of your ability.
8. Regarding violating a "no trucks" sign leading to downed power lines and a fire:
An August 1, 2019, article stated, "Pennsylvania police shared [a] video of a semi truck taking down power poles and power lines, sparking a fire and knocking out power in the area."
Although it's a bit hard to see because it's at the very top of the video, the low hanging wire was snagged by the truck.
As another article reporting this accident stated, "What part of 'NO TRUCKS' did you not understand?"
No matter the situation, pay attention to and heed "No Trucks" signs and do not risk a low clearance accident.
9. Regarding checking your trailer tandem locking pin setting:
A video embedded here shows a trucker hauling a trailer that has no tandems under the rear end.
Although there is a "stay" that prevents tandems from being moved too far forward on a trailer, some trailers may not have the same kind of mechanism to prevent the tandems from moving too far back.
The DOT bumper is not designed to prevent the tandems from sliding out from under these trailers.
When you're adjusting your trailer tandem setting, always make sure that the locking pin is put back in place in a hole on the slide.
10. Regarding being prepared for brake inspections continuously:
There are numerous emphases and planned truck inspections that are announced throughout the year.
But what about those "surprise brake blitz" events?
According to an August 7, 2019, article, the CVSA stated that their unannounced brake safety inspection that "took place on May 15, 2019, in the U.S. and Canada", resulted in 1,667 trucks (16.1% of those inspected) being "placed out of service for brake-related critical violations."
Ouch!
The article also listed "the top five brake-related violations."
The statistics from this event were also published here, here, here, here, here, here and here.
If you do not have a group of mechanics who are regularly keeping your truck properly maintained to the point of staying safe and legal, you'll want to arrange for them.
Truck violations have increased in price and being put out of service can take a huge bite out of
your work week and
your paycheck.
11. Congratulations!
Congratulations to the five finalists for EROAD National Driver of the Year!
ATA President and CEO Chris Spear stated, "These drivers uphold the important standards of professionalism and safety on the road, and I applaud them all for their dedication and hard work."
Also, we congratulate the eleven first-year drivers who were named "finalists in Trucking's Top Rookie contest," the winner of whom will be announced at this year's Great American Trucking Show (GATS).
The finalists were also listed in this article.
Way to go!
My husband Mike and I wish you — and all professional truck drivers — safe travels and lots of money saving opportunities on the road.
---
---
Return from TDMST Weekly Round-Up: 2019.08.10 to our TDMST Weekly Round-Up Trucking Commentary or our Truck Drivers Money Saving Tips home page.
---