This is the TDMST Weekly Round-Up of news affecting professional truck drivers, written by Vicki Simons for the week ending December 3, 2022.
We welcome your comments, thoughts and feedback on the items of your choice below.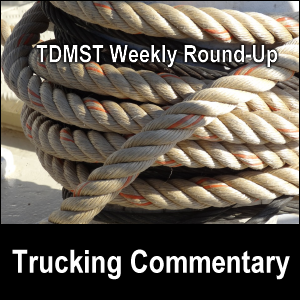 1. Regarding railroad strike, exemption, inspections, Tesla, and predictions:
Railroad strike
While I appreciate that a rail strike has been averted (at least temporarily), I bear in mind that the federal government — according to The Constitution of the United States — does not have the authority to clear up this matter. (See the Tenth Amendment to the Constitution.)
Even so, here are some of the most recent articles on this topic:
---
Exemption
Do you find it odd that there are times when the DOT/FMCSA makes exemptions to the federal Hours of Service regulations for emergencies — including bad weather and sometimes for very long periods of time — but they reject requests for exemptions from others?
I do.
Here are some of the most recent articles on this topic.
---
Inspections
If you keep yourself and your truck in perpetual readiness for an inspection, you'll never be caught off-guard.
---
Tesla
Be watching what happens to these Tesla commercial motor vehicles over the long-term.
The reason why I say this is because I have seen photos of "graveyards" full of electric vehicles that are no longer being used because replacement batteries are far more expensive than the vehicles are to replace!
---
Predictions
---
2. Regarding fuel, autonomous vehicles, electric vehicles, and emissions:
Fuel
---
Autonomous vehicles
I totally oppose the operation of self-driving, driverless, and autonomous vehicles on the public roads with non-commercial vehicles, but share these articles as a courtesy to help you stay current with the topic.
---
Electric vehicles
One speaker whom I heard on Saturday night, December 3, 2022, said that even if the whole world were to try to go "electric," there is about forty times less lithium in the world than is needed.
I have not investigated this topic well enough to verify that number, but I simply ask that you do your due diligence before you go all-in on an electric commercial motor vehicle.
At least with fuel-powered CMVs in the USA (at least as of this writing), you know that the infrastructure is in place to supply many types of fuel to run the trucks.
Let the buyer beware.
---
Emissions
3. Regarding accidents, fatalities – crush, fatalities – road rage, and clearinghouse:
Accidents
Please familiarize yourself with the types of accidents described in the articles listed below so that you are not involved in a similar situation.
---
Fatalities – crush
Our condolences go to the families who lost loved ones this way.
---
Fatalities – road rage
How would one avoid becoming the victim of a road rage incident?
The only way I know of is, if at all possible, to not engage someone intent on road rage.
---
Clearinghouse
4. Regarding bids, bypass, chains, and driving behavior:
Bids
---
Bypass
---
Chains
Please bear in mind that snow chain regulations or laws in various states or local jurisdictions are apt to change or be updated from time to time.
---
Driving behavior
Quote from the article linked immediately below:
"We have very good information on crashes on roads," Helmut Schneider, executive director of the Center for Analytics and Research in Transportation Safety, said in a statement. "But we don't have information regarding driving behavior on roads that may lead to crashes. This grant will help to provide information about driver behavior on roads, especially around commercial vehicles."
The article does not say how much money is being used on this study.
Does this study have any "teeth" in it regarding educational resources to help people stop the types of behavior that leads to crashes?
5. Regarding economy, employment, fees, furlough, and lottery:
Economy
These are some of the most recent articles about the economy from the trucking industry's perspective:
---
Employment
---
Fees
Although the term wasn't used in this article, the system described in the article linked immediately below sounds a lot like a "VMT" or Vehicle Miles Traveled type of taxing or fee-based system.
It also sounds a bit like a backdoor method of needing to have an Electronic ID on a truck and trailer.
Please be on your guard.
---
Furlough
Quote from the article:
FedEx Freight, the nation's largest less-than-truckload carrier, will begin furloughing an undetermined number of drivers on Sunday [December 4, 2022], the FedEx Corp. unit confirmed Wednesday.

The voluntary furloughs will run until March 6, with drivers getting a guarantee to return to work, the unit confirmed.

FedEx Freight is offering drivers a $300 weekly incentive to accept a furlough. The total payments will be made when the drivers return to work, according to the FedEx (NYSE: FDX) unit.
OK, so let's say that a driver goes on furlough on December 4 through March 6 at $300 per week.
Looking at the calendar, that looks like about 13 weeks (about one-quarter of a year).
I researched "how much fedex freight truckers earn per week" and found:
Selecting the salary for a "Long Haul Driver" from the Indeed.com article — $84,322 per year — let's divide that number by 52 weeks, which results in around $1,621.58 per week.
So, $300 / $1,621.58 = 18.5%
The ZipRecruiter.com article puts the "Fedex Freight Truck Driver Salary" at $60,906, which calculates to be around weekly wages of about $1,171.27 and a percentage at:
$300 / $1,171.27 = 25.6%
Would either of those amounts be enough to keep you hanging around waiting to go back to work with that company?
Also, please look at the comments under that article and understand how easy or difficult it would be to "qualify" for this program.
Two questions that I think must be answered are:
Will the truckers be able to supplement their furlough pay with other types of income?
Given this quote from the article — "The total payments will be made when the drivers return to work" — will truckers have enough to make it through the quarter financially without any pay at all?
---
Lottery
Without having some financial discipline in place first, some lottery winners turn out to be bigger financial losers after the fact than they were beforehand.
So please be on your guard.
6. Regarding drugs, theft, predatory towing, and legal:
Drugs
It is never right to haul illegal drugs, no matter how big of an incentive you're offered.
---
Theft
Please don't engage in dishonest practices.
---
Predatory towing
According to a November 28, 2022, news release:
Predatory towing is any incident in which a tow truck operator egregiously overcharges, illegally seizes, damages by use of improper equipment, or withholds release of a truck and/or cargo. Recognizing its persistent negative impact on the industry, ATRI's Research Advisory Committee (RAC) identified the need to better understand this problem as a top research priority earlier this year.
The news release says: "Motor carriers and drivers are encouraged to complete the survey by clicking here."
Some other articles on this are listed here:
---
Legal
Quoting the last article in the section immediately above:
The trucking industry has not been immune to this trend. In fact, it's an exemplar of the destructive effect that nuclear verdicts can have on an industry essential to the national economy and to basic, everyday life. The fact is, we are living in the Nuclear Verdict Age and it impacts all of us.
7. Regarding holidays, guarantee, rates, and tolls:
Holidays
---
Guarantee
---
Rates
---
Tolls
8. Regarding technology, electronic IDs, and recalls:
Technology
---
Electronic IDs
Please note that I wrote and submitted my own comments on this as documented here.
---
Recalls
9. Regarding high winds, insurance, training, transition, and weather:
High winds
You may find value in our article:
On Driving in Wind — Strong Winds — in a High Profile Truck
---
Insurance
---
Training
---
Transition
Quote from the article linked immediately above:
Owner-operators are often characterized by their rugged independence. These skilled and experienced professionals provide their own equipment, set their own rates, and make their own rules. Owner-operators who are wary of the changing market can align with larger carriers as contractors, allowing them to keep their trucks and still preserve control of their businesses.
Are you an owner-operator who has had to pivot?
Please contact us through the form below to share your story with us. Thanks!
---
Weather
10. Regarding last mile, LTL, medical clinic, medical episode, and safety:
Last mile
---
LTL
---
Medical clinic
---
Medical episode
---
Safety
11. Regarding oversized, parking, ports, service, and supply chain:
Oversized
---
Parking
---
Ports
---
Service
---
Supply chain
12. Regarding recognition and freebies:
Recognition
---
Freebies
You may wish to familiarize yourself with what is involved in getting a freebie before you attempt to get it.
My husband Mike and I wish you — and all professional truck drivers — safe travels and lots of money saving opportunities on the road.
---
---


Return from TDMST Weekly Round-Up: 2022.12.03 to our TDMST Weekly Round-Up Trucking Commentary or our Truck Drivers Money Saving Tips home page.
---