TDMST Weekly Round-Up 2023.01.14 is the trucking commentary on news affecting professional truck drivers for the week ending January 14, 2023, written by Vicki Simons.
We welcome your comments, thoughts and feedback on the items of your choice below.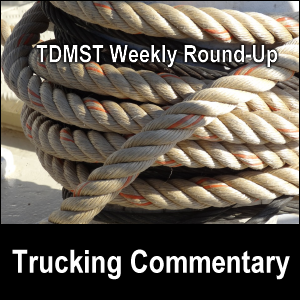 1. Regarding fatalities, accidents, move over, and legal:
Fatalities
If I'm not badly mistaken, this is the largest number of articles that I've compiled in a single week having to do with fatalities involving Commercial Motor Vehicles (if not for all-time, then certainly in a long time).
It may be speculated that some drivers are having medical episodes while driving — and that those medical episodes have been brought on by the driver having taken a jab.
Please drive defensively and take care of your health.
---
Accidents
Please take a few moments to scan through the articles linked in this section so that you know what led up to each accident, so that you don't get yourself involved in the same situations.
---
Move over
---
Legal
2. Regarding economy, fines, tolls, price gouging, and lottery:
Economy
The following articles reflect what has been happening most recently in the trucking industry as it affects the economy.
---
Fines
Please take a look at the fines that have been put in place, so that you know how much they are and that you don't find yourself on the receiving end.
---
Tolls
---
Price gouging
One definition of "price gouging" is:
"When a seller increases prices of goods, services, or commodities to a level much higher than is considered reasonable or fair."
---
Lottery
I hope that this trucker has financial discipline so that he doesn't end up in worse shape after winning the lottery than he was before.
3. Regarding drugs and alcohol:
Drugs
Never ever haul illegal drugs, no matter how big of a promised payout there may be.
---
Alcohol
Never ever drink alcohol before you drive any vehicle!
Never use a mouthwash that contains alcohol, lest your exhalation into a breathalyzer shows a bad rating.
4. Regarding batteries, electric vehicles, autonomous vehicles, fuel, and emissions:
Batteries
---
Electric vehicles
---
Autonomous vehicles
I am totally opposed to operating commercial motor vehicles that are "autonomous," self-driving, or driverless, on the same roads as the motoring public.
---
Fuel
---
Emissions
5. Regarding destroyed, theft, scam, and violence:
Destroyed
---
Theft
Please work to reduce and eliminate ways that someone can steal something from you, your truck, or your trailer.
---
Scam
---
Violence
We extend our deepest sympathy and condolences to the family of this trucking couple.
6. Regarding trucking, parking, and incentives:
Trucking
---
Parking
---
Incentives
7. Regarding operations, brakes, border, bypass, and California:
Operations
---
Brakes
---
Border
---
Bypass
---
California
8. Regarding age, CDLs, and certify:
Age
---
CDLs
---
Certify
9. Regarding employment, AB5, and exemption:
Employment
---
AB5
---
Exemption
10. Regarding ports, supply chain, technology, and weather:
Ports
---
Supply chain
---
Technology
---
Weather
Please be aware of bad weather before you head into it and if it is really bad, safely park and wait to drive until the bad weather system has moved out of your area.
11. Regarding predictions, roads, and run on less:
Predictions
---
Roads
---
Run on less
While it's a good idea to maximize fuel economy, be aware that going electric may not be as efficient as petroleum-based fuel or other types of fuel.
Please do your due diligence.
12. Regarding HOS, inspections, CARB, and EPA:
HOS
---
Inspections
---
CARB
---
EPA
My husband Mike and I wish you — and all professional truck drivers — safe travels and lots of money saving opportunities on the road.
---
---


Return from TDMST Weekly Round-Up: 2023.01.14 to our TDMST Weekly Round-Up Trucking Commentary or our Truck Drivers Money Saving Tips home page.
---