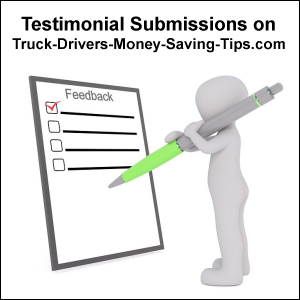 Among our site's readers are those who send a testimonial about how helpful they find our information.
On this page, not only do we list some, but we provide an opportunity for you to submit yours.
On January 20, 2009, we started this site because truckers know that no trucker deserves to be stung financially.
If our site has helped you, please let us know how.
Note: By submitting your testimonial through the contact form below, you are authorizing us to use it in conjunction with our marketing endeavors.
---
---
Jeffery Rodgers, a professional driver, wrote this testimonial on June 4, 2009:
"I read your entire web page and put all your advice towards my own goals and they worked. I mannaged to save enough money to own my own rig and I feel that I am now ready and confident to do long hauls with my wife by my side. …"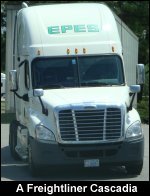 Jeffery also requested specific help with a situation having to do with his wife riding with him, to which Vicki responded.
On June 8, in response to Vicki's email, he wrote:
"… I run a Freightliner Cascadia … Please continue updating the site. I have told others about it and yes you can use it in a Testimonials page. …"
It was evident in the first email that Jeffery wrote that his wife is his home support team.
Karen wrote a testimonial on December 3, 2009:
I found your site… just wanted to tell you that your site is great!

Looking at it made me want to go out and buy a truck. And that is a big statement because I travelled around Australia for 12 months a few years ago towing a caravan. Overseas visitors constantly claim that they didn't realise how huge it was. Hey, I have lived here all of my life and even I didn't know. The last thing that I would ever want to do is drive long haul every day. But for a moment, you made me think about it lol. I think that you are going to do great with your site. If you had that affect on me imagine how people looking for this info are going to feel.

Good luck to you both.

Karen…
Lynda originally contacted us through the Feedback Form on our Crock Pot page.
She suggested a number of dishes to fix in it. When Vicki wrote back, she asked Lynda to submit the dishes (individually) through the form on our Food and Recipes page, which she was kind enough to do.
Then, Lynda wrote this testimonial on December 8, 2009:
Hello Vicki,

Thank you so much for your comments and request. I have done as you requested and submitted each recipe individually. My husband and I have run team for 18 years, until December of last year when I was forced to come off the road by health problems. He continues to drive cross country however, so with our income halved we are supremely budget conscious. What a blessing to find your site and your suggestions.

There are hundreds of truckers sites out there for job placement, finding truck stops, chrome shops, etc., but so few who actually supply drivers with information on how to make their lives better. Kudos to the two of you for seeing that need and trying to fill it. Thank you for your dedication to drivers and the industry.

I look forward to seeing how your site improves and to contributing when I can. We figured out a long time ago that the only way to stay healthy and save tons of money was to stay out of truck stops except for fuel and showers. My husband still practices this philosophy even after a year of running solo. It has allowed us to fully pay for 2 houses, our pickup, and his bass boat over the course of the last 6 years. I am so glad to see someone advocating this to new drivers, who far too often don't realize how much they spend in them.

I intend to put a link to your site on trucker's forumn.com another web site which I highly respect for their dedication to drivers and not just the companies who pay them to recruit for them.

Good luck in your endeavors. Be careful out there and God's speed to the two of you.
---
Testimonial Snippets from Emails Received
Ilene:
I've looked at your site; it is very unique; well written, organized, and informative!
Alex:
I've read through parts of your site and I love it. Great job on it.
Betty:
You have a wonderful site.
Dagmar:
What a great and a good cause website! Congratulations.
Connie:
Hello, I love your website!
Kerry:
I just checked out your site and wow! It looks and reads FANTASTIC!
Sandy:
I have to tell you I think your site is absolutely wonderful! […] good luck with your site … it really is great!
Giovanni
Love the website!
Jon
Vicki,

Just checked out your website – brilliant stuff…
---
In April 2010, we received the following from Pat Jernigan, who is just entering the trucking industry:
I just wanted to say thank you for your web-site. I just finished school and have a CDL in hand. I am seeking the right company to start with. Your mention of seeking the Lord's guidance was uplifting and encouraging as I too, do not find the crass off-color jokes of recruiters, instructors, etc. amusing. In fact, I expect them to be professional.

I am a Christian, age 55, retired Cop, seeking a 2nd career. Your web-site is a God send for good information. Thanks and God bless you folks.

…

In Christ,

Pat Jernigan
Receiving this unsolicited testimonial was so encouraging and inspiring to us. We wrote back with some helpful information about sitting down and talking with the trainer before going on the road as a trainee, to which Pat responded:
… Thanks for the advice on sitting down with my trainer and learn what is expected. That sounds like sound advice. …
In May 2010, Erich sent the following testimonial:
I just want to say thank you very much for setting up this website. I have found it very informal and very entertaining. I especially enjoy the links located within the each paragraph. I had to stop myself once because I opened up 6 different tabs from one page LOL! You have a very nice website and I thank you both very much for sharing your experiences and knowledge. It was also very encouraging to be able to view everything for free. I have seen countless other websites that claim they want to share money saving information only to find out they also want me to send money. You guys are truly sincere on helping people save money. May God bless you both!
In late July 2010, Melissa sent this testimonial:
I am SO happy to have found this site! I'm 98% sure I will be joining my husband otr and we will be becoming "homeless". I have searched high and low on the internet looking for someone like you to get some sage advice from. This site has been wonderful and encouraging. Thank You!! Can't wait to peruse the whole site.
In mid-August 2010, Amanda's testimonial went like this:
Hello Mike and Vicki! I just wanted to say thank you for setting up such a great website with so much information! … I have found all of your information so helpful. Its great! … Again, thank you so much and I will definitly be singing up for the monthly newsletter! Oh, and if you have any more tips as far as storage/storage containers and organization on the truck, I would love to hear some or you ideas! Thanks again!
In mid May 2011, Becky sent this:
Hi, Mike and Vicki, … I have looked on the internet for months to try and find a web site like yours to get real life info from a couple who has driven together. Thank you for all your hard work. I love this site you are creating for us.
On June 10, 2011, Cynthia wrote this:
YOUR SITE IS A BREATH OF FRESH AIR. GOD BLESS
In mid June 2011, a YouTube subscriber wrote this testimonial:
I sincerely thank you for your kind and SELFLESS help to see other truckers succeed. If we had more people like yourselves in this country, it would have been a better place to live. You are a PATRIOT, and may the Lord bless you both.
In mid-July 2011, Bill sent this:
Just found your site. TERRIFIC!!! … Thanks for being here.
From @ProTREAD on Twitter in August 2011:
LOVE your site, by the way. So good for the industry. …
In mid-September 2011, @ChrisandCasey wrote this testimonial on Twitter:
@TruckersSavings I can't stop reading your site! I'm still new to being a truckers wife and your posts are so helpful. Thank you!
and then later
@TruckersSavings Thanks to you as well for such a wealth of knowledge that you share. I truly appreciate it!
Allen and Donna Smith of AskTheTrucker and Truth About Trucking sent this in an email to us on August 29, 2011:
…
We love what you do  🙂
Jennifer wrote in mid-September 2011:
… I am devouring your site and learning a whole lot.  …  Thanks for all of your hard work!
@ElitesTrans wrote on October 18, 2011:
@TruckersSavings Not a problem at all. You guys always tweet great stuff!
Juan C. wrote on November 21, 2014:
Vicki thank you so much for your help and information. I did exactly as you told me to. …works perfectly fine now. Again thank you so much. And also thank you guys for sharing a lot of very useful information in the trucking business.
---
Owner operators, independents and company drivers can all benefit from the money saving tips on this site. We're looking to add your testimonial of how this site has helped you, right here on this page.
---

Money saving tip: It is satisfying to us to know that our readers are being helped by what they read on our site. Receiving feedback from readers helps us to know that what we are providing is relevant to you.
Also, we are helped when other drivers submit money saving tips of their own! We encourage you to take a few moments to share your thoughts with us.
For example, Jeffery passed along a money saving tip of his own in his second email:
"… By the way…don't know if you have heard about fuel pumps being rigged or not but check your receipts and make sure the total adds up to the gallons. There is a big thing about it. A friend filled his pickup truck up. It took 28 gallons…problem was he has a 25 gallon tank so do the math. … "
To that, we say, "Thanks, Jeffery!"
---
Return from Testimonial Submissions on Truck-Drivers-Money-Saving-Tips.com to our About Us page or our Truck Drivers Money Saving Tips home page.
---