This is the TDMST Weekly Round-Up of news affecting professional truck drivers, written by Vicki Simons for the week ending September 14, 2019.
We welcome your comments, thoughts and feedback on the items of your choice below.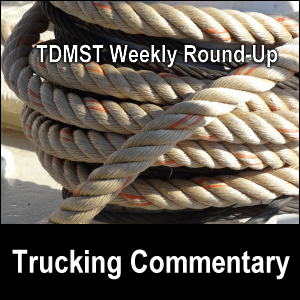 1. Regarding more trucker appreciation during NTDAW:
National Truck Driver Appreciation Week is drawing to a close and we want to say once again how much we appreciate truck drivers year-round.
We agree with the quote by John Leo Post: "Truck drivers are the backbone of our economy, getting things to the people who need them when they need them. I think this week is about establishing a culture that highlights the importance of these individuals to the nation, and to bring awareness to people on how the industry works."
More articles and videos about appreciating truckers have been published here and here.
2. Regarding Brake Safety Week:
The Commercial Vehicle Safety Alliance (CVSA) is holding their annual Brake Safety Week event starting on Sunday, Sept. 15, 2019.
While we believe that it is necessary to keep truck brakes in tip-top condition and adjustment year-round (not just in advance of this event), it is a good time to verify that all is as it should be.
Recall our article about Money Down the Drain During CVSA Brake Inspection, which stated:
The cost of getting his truck's brakes adjusted before the brake inspection was $40.

The cost of getting his truck's brakes adjusted during the brake inspection was a whopping $700:

$200 for the ticket (which the trucker said was at the State Transport Police's discretion) and
$500 for the mechanic to come and make the adjustment.
Articles about this event and how to prepare for it have been written here, here and here.
3. Regarding autonomous trucks and telematics:
4. Regarding Hours of Service regulations:
The Insurance Institute for Highway Safety (IIHS) has expressed concerns about the FMCSA's proposed Hours of Service regulations change, according to a September 10, 2018, article.


The IIHS said that in a study of large trucks involved in crashes with injuries or deaths, researchers from IIHS and the University of North Carolina Highway Safety Research Center found that drivers using a short-haul exception had a crash risk nearly five times higher than those who weren't.

Specifically, truckers who reported driving after it had been at least 12 hours since an extended sleep period were 86% more likely to crash than drivers who had been awake for less than eight hours. Truckers who reported driving more than five hours without stopping were more than twice as likely to crash as those who drove one to five hours.

On September 12, 2019, the FMCSA was slated to officially remove from the Hours of Service regulations the "limitations for the use of a 34-hour restart enacted in 2013":

"which have not been enforced since December 2014";
which "limited truck drivers to one restart per week and required the restart to include two 1 a.m. to 5 a.m. periods"; and
which "were suspended by Congress in December 2014, though they technically remained on the books."

Professional truck drivers and others have the opportunity to voice their opinions about the proposed changes to the Hours of Service regulations through October 7, 2019, on Regulations.gov:
More than 1,000 comments have already been submitted, most of the "common complaints [being about] the 'pause' button [that] could make it possible for unscrupulous carriers and dispatchers to push drivers into an even longer work day."
More about the proposed HOS change was written here.
5. Regarding the fuel efficiency roadshow:
"Ten drivers have been selected to participate in Run on Less Regional, a fuel-efficiency roadshow," states a September 10, 2019, article.
The time frame for the event starts on October 7 and "ends in Atlanta during the North American Commercial Vehicle Show Oct. 28–31.
Just so you know, Mike and I have registered to attend this year's NACV Show.
6. Regarding how the "trucker shortage" doesn't exist:
An economist at the Department of Labor's Bureau of Labor Statistics — Dr. Kristen Monaco — recently stated that the "driver shortage within the trucking industry" is "the industry's driver churn rate, with industry recruiting practices exacerbating the issue".
As a reminder, this is what OOIDA's Todd Spencer has been saying for a long time.
Dr. Monaco further said:
"if you want to attract drivers into the market, they will react to wage increases"; and
"If companies offered higher wages instead of sign-on bonuses, … not only would driver turnover go down, but it would be better for the industry as a whole."
I agree.
7. Regarding truck maintenance:
We read in a September 11, 2019, article, "Seasonal changes bring with them changes in driving conditions, placing a different emphasis on truck maintenance."
The article specifically addresses antifreeze, air systems, air dryers, lubrication, and oil.
8. Regarding overpass and bridge plunging accidents:
At least two articles — here and here — shared the tragic news of how a truck driver was killed after his semi plunged off a bridge on I-5 in southern Oregon.
Our condolences go to his family.
Given the time at which this accident happened — around 3:30 a.m. — I wonder if the driver simply fell asleep or became fatigued at the wheel.
If you find yourself getting drowsy, seek a safe and legal truck parking space as soon as possible.
9. Regarding tolls:
A September 12, 2019, article stated that tolls could soon be coming to Interstate 80 in Wyoming.
Meanwhile the American Trucking Associations (ATA) has come out against road tolls "to finance infrastructure construction and maintenance [because it] is inefficient, unsafe, and harmful to the trucking industry."
10. Regarding worker classification:
Land Line Magazine stated, "California lawmakers have passed a bill, AB5, that would change how workers are classified in the state."
The article also stated:
Supporters of AB5 called it a win for the worker, while some trucking groups said the future of independent owner-operators "is hanging on the line." Businesses, such as Uber and Lyft, also are opposed to the bill.
Before you go to work with any trucking company, do your research and ask questions about worker classification and what that will mean to your wages.
11. Regarding the driver's line of sight:
Although I'm sure that the owner is proud of the custom rig that "took 7 years and $7 million to build", I couldn't get past all of the "stuff" sticking up right in the line of sight of the driver!
The FMCSA's PDF entitled "DRIVER DISTRACTION IN COMMERCIAL VEHICLE OPERATIONS" referenced "Driver 1 Vision Obscured by" … "207 = Vehicle related vision obstructions."
I'm almost positive the FMCSA never envisioned a vehicle built with huge pieces coming off the motor that appear to permanently obscure the driver's ability to see the road in front of him/her.
I hope the owner/driver of this tractor never gets involved in an accident, but I don't see how that is going to be unavoidable at some point down the line.
If you are asked to drive such a vehicle, I strongly urge you to refuse on the grounds of safety.
12. Congratulations!
We applaud Timothy Chelette, Rodney Hagan and William McNamee for winning first, second and third places in the Road Warrior contest as described here and here.Each of them won a cash prize.
Congratulations to the six winners of Acuity Insurance's sponsored "essay and video contest for high school students" on National Truck Driver Appreciation Week.They also won a cash prize.
Meanwhile, according to this article, the search is on for the "Company Driver of the Year" and "Owner-Operator of the Year".The top drivers will each win a cash prize of $25,000 and runners-up will each win a cash prize of $2,500.We look forward to learning who wins these designations.
My husband Mike and I wish you — and all professional truck drivers — safe travels and lots of money saving opportunities on the road.
---
---
Return from TDMST Weekly Round-Up: 2019.09.14 to our TDMST Weekly Round-Up Trucking Commentary or our Truck Drivers Money Saving Tips home page.
---