Once, when Mike was southbound in a CMV on I-95 near New York City, we saw a trucker bike braced against the back of the sleeper of a big rig.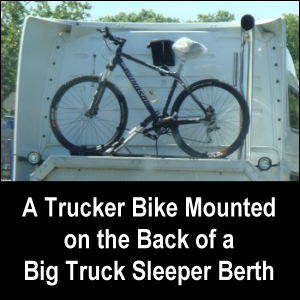 Had the driver not had a flatbed and no load on board, we would never have been able to see it so well.
A Trucker Bike on the Back of a Truck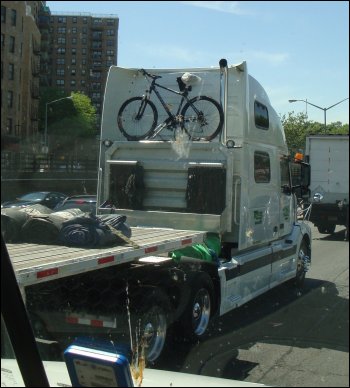 This was the view of the bike on the back of the sleeper of a large truck that day, through the passenger side windshield.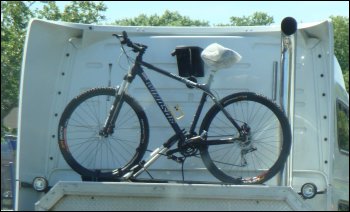 This was a better view from a slight angle.
It is obvious that the bike's tires are resting in a track on top of or just in front of the headache rack and that the seat is covered.
The brand name of this trucker's bike is Windsor.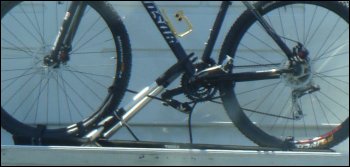 A close-up view shows a bit about how the bike was anchored.
There appears to be a large hook installed on the back of the sleeper, but the bike is not in it.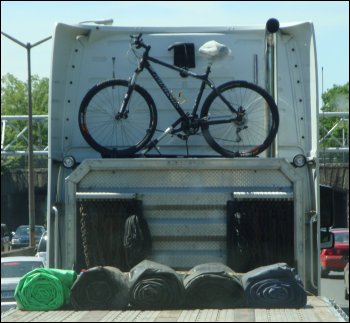 Some kind of cable is used for a tie-down and there is a brace that is keeping it from flopping over.
The top of the trucker bike on the rack does not come up to the top of the truck, so it is protected from the wind coming over the top.
Going Riding on a Trucker Bike
In order for any professional driver to utilize his or her bike on the road, he/she obviously will need to have a good safe area to ride it.
To our knowledge, none of the truck stops we've been to have what could be considered a good neighboring bike path.
So we wonder where this driver chooses to ride.
Surly Long Haul Trucker Bike
We do not know if there is any advantage for professional drivers to have a "Surly Long Haul Trucker Bike" — especially for the price.
When we looked it up on Amazon.com, the one shown is the one that had the lowest price!
It seems to us that there should be other bicycles on the market that are just as good for less money, but then again, we're sure the manufacturer is of the opinion that their bike is worth the asking price.
Before you take a trucker bike with you on the road, here are some questions you may want to ask:
How often are you going to ride it (especially during foul and cold weather)?
Where will you ride it?
Do you need any other equipment (such as a helmet or reflective vest) to go with it?
How will you store it on or in your truck?
Can it be easily assembled and disassembled for easier transporting (such as where the front wheel comes off)?
If you store it on your truck (such as the driver whose rig is shown above did), how will you help prevent it from being stolen?
Update:
On January 29, 2012, Michael Taylor wrote to us to say:
"Surly makes high quality bicycle frames in USA. That is why they cost more. $1000 is a benchmark for a touring bicycle. The Surly Long Haul trucker is a touring bicycle that is made for comfortably riding long distances (hundreds of miles) with cargo (panniers)."
Thanks for your comments, Michael!
---

Money saving tip: Bicycle riding is an exercise that burns calories depending on the speed and terrain you choose.
You may wish to use a calculator to determine the rate.
However, it is just one form of exercise that can help you with your health and wellness program.
There are others which take no exercise equipment at all, such as body weight exercises.
If you are in the market to buy a bike but you've never bought one before, we recommend that you research the subject to make sure you don't under-buy or over-buy.
One of the things you'll want to be sure about is buying the right size bike.
Also, there are different configurations of bicycles.
Some allow you to sit rather upright, others have the rider lean toward or over the handlebars like an Olympic racer, and yet others allow the rider to lean back (a recumbent bike).
Choose the one that works best for you and your health goals.
---
Return from On Riding a Trucker Bike for Fitness and Exercise on the Road to our Health and Wellness page or our Truck Drivers Money Saving Tips home page.
---